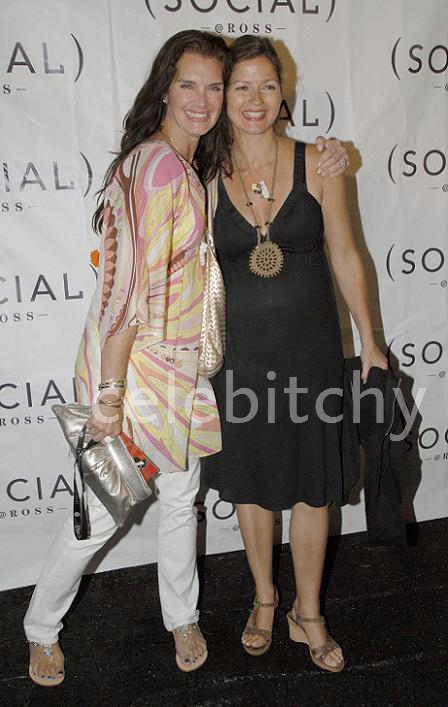 It's kind of nice, in this day of over-indulged kids, to hear a famous parent say that they are strict with their kids. Brooke Shields talked with Redbook recently about the challenges of being a parent. Brooke and her mother had a famous fallout over her career in the 80's. A lot of people thought her mom, Teri, was using Brooke and exploiting her celebrity. And by most accounts, she was nothing like Dina Lohan or Lesley Panettiere.
"'I think a lot of these girls are young, and it's all so tempting,' Shields, 42, tells Redbook in its September issue. 'For some reason I wasn't tempted. I don't know why.'

"Looking back, she says, 'Sometimes I wish I was a little more tempted to have a little more fun. But then I see them' – Shields mentions no one by name – 'and someone will ask, "Well, what do you want to say to so-and-so?" I don't want to say anything to them. I want to talk to their mothers.'

"Shields's own mother, Teri Shields, who originally managed her daughter, came under a firestorm of criticism for her treatment (some said exploitation) of her budding star. The two eventually separated professionally.

"'People used to say my mom used me as a commodity,' the actress now says. 'But you know what? She did her own version dysfunctional behavior, sure, but nothing like you see these days.'"
[From People]
Brooke has two daughters, Rowan, 4, and Grier, 13 months. She famously battled postpartum depression and wrote a book where she talked about her struggles in an attempt to help other mothers understand that they weren't alone. She definitely did a lot of good in taking the stigma away from it. Brooke says that she's a pretty strict mom, and she knows that she can seem overbearing to others.
"Shields says: 'I always feel like the odd mom out, because trust me when I tell you I'm on my girls. And every time I am, I know from the outside it looks like I'm an overbearing, controlling parents. But I don't think we have any responsibility to anybody else but our kids and ourselves.'

"Not that Shields apologizes for being strict. 'The worst part about it is when I look at my daughter [Rowan], and she'll be fighting with some other kid, and I have to be careful not to always make it her fault. But I can only tell her what to do – I can't tell the other kid. I'll tell her, "Hey, you suck it up; you give him the toy, and we'll talk about it later."'

"Admits Shields, 'So she's the one who always has to take the high road, which is hard for a 4-year-old.'"
[From People]
That sounds like it might be tough on her kids, but it's probably better to error on the side of caution and be a little too strict when you're raising kids in Hollywood. It's important to find a balance, but it seems like too many parents are trying to be their kids' friends rather than parents. That's a blurry line that only leads to trouble (in my inexperienced opinion). Brooke Shields is freakishly smart, so I'd guess her daughters have a pretty good chance of turning out well.
Picture note by JayBird: Here's Brooke with her kids out wit her daughters in Brentwood, California on August 7th. Header image of Brooke with actress Jill Hennessy at the Hampton Social James Taylor concert this past weekend.
Images thanks to WENN.