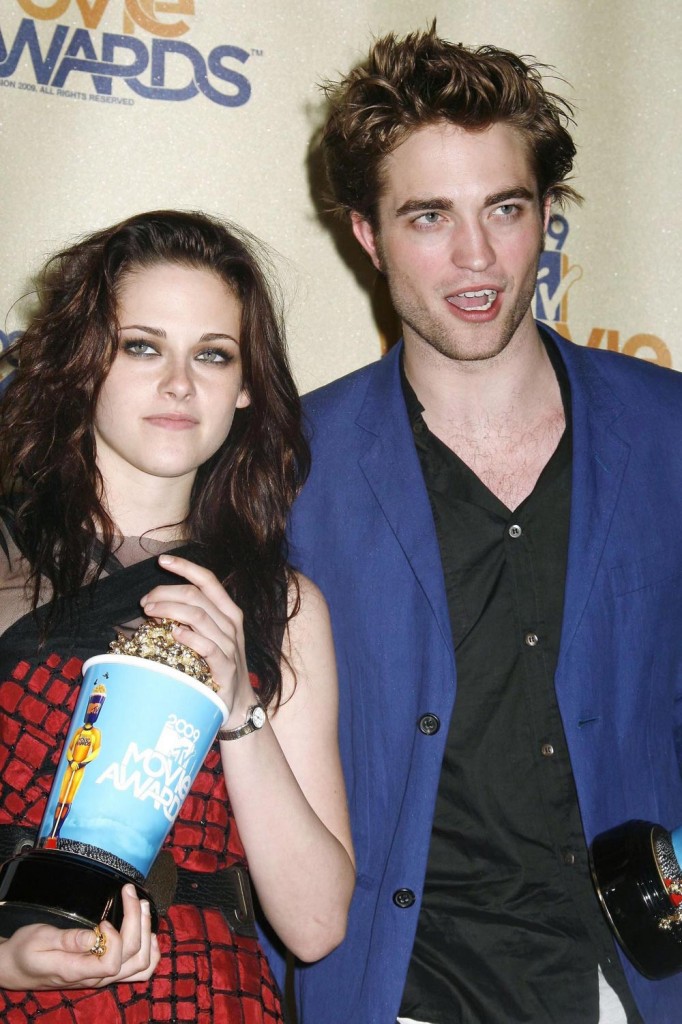 The MTV Movie Awards were held Sunday, and Twilight came out the biggest winner of the night, picking up awards for everything from Breakthrough Male Performance (Robert Pattinson) to Best Female Performance (Kristen Stewart), to Best Kiss, to Best Movie. I have to admit, I missed the first part of the show, and when I finally tuned in, I immediately felt the need for a drink. Something about all of those young people who looked like they were on drugs (and by "those young people" I mean Kristen Stewart). But after a Scotch on the rocks (or three), I was really feeling the love for Robert Pattinson. True, I've been feeling the love for him for a few weeks now, but after the MTV Awards, my crush has grown. He's absolutely lovely. He's so tall, and he stands with very cute little hunched shoulders. He seems genuinely humble and sweet, too. Unlike Kristen Stewart, who was too busy rolling her eyes and acting like she was above everything. Very ungrateful. K-Stew is totally unworthy.
I've also come out of the MTV Movie Awards feeling very strongly that R-Pattz really does have a serious crush on Kristen Stewart (K-Stew). Something about the way they "performed" their Best Kiss win. They both seemed to be acting silly, playing with the audience, who so clearly wanted to see them kiss (full disclosure: I was rooting for them to kiss too). R-Pattz looked into it, even though it was just a "game". K-Stew totally teased him – she was the one to pull away, and R-Pattz looked disappointed. Was he "acting"? Though I love him (today), I don't think he's that good of an actor.
And now for the non-Twilight winners, losers and other. I'm just going to make a list of random thoughts I had during the show:
*Oh my God, Eminem's bodyguards are going to kill Sacha Baron Cohen. More on that later.
*Zac Efron's hair needs its own agent. It's getting ridiculous, the way he has to have it styled so obviously, highlighted pieces falling just so across his forehead. His hair is ridiculous. Also: He seems nice, professional and epically boring.
* Vanessa Hudgens got a kiss from R-Pattz. You know she was into it way more than pretending to kiss The Styled Hair of Efron.
*Amy Poehler wins the newest MTV award, the WTF Award, for the peeing-in-the-sink scene in Baby Mama. Her speech in funny, though heavily edited for broadcast.
*This whole show is an extended promotion for Twilight/New Moon.
*Best Comedic Performance: Jim Carrey for Yes Man. Seriously? No, Man.
*Keifer Sutherland, fake crying during his presentation for the Generation Award, given to Ben Stiller. Pretty good fake cry. Felt embarrassed for Stiller, though. Instead of a toast, it was a roast, with Triumph leading the way.
*The whole LeAnn Rimes/Chris Isaacs thing, where they sang Andy Samberg's songs, was ridiculous. Epic Fail.
*Forest Whitaker singing "D-ck in a Box". Enough said.
*Why is Leighton Meester wearing a bondage outfit?
*Miley Cyrus wearing something out of the "whorish 40-something Kim Cattrall" cocktail dress collection. Miley wasn't wearing a bra, you could tell, and she thanked God for her Best Song win by saying "I love you so much" to God and her manager.
All in all, the show was pretty good. Better than I expected, anyway. Host Andy Samberg seemed to channeling his alter-ego Mark Wahlberg, and he was dressed up in lovely suits and acting the gentleman. It's difficult to really judge the MTV Awards – it's not like the Oscars or even the Independent Spirit Awards. The fact that Twilight swept the awards speaks volumes about the film-snob priorities. It just made me feel like an old fart, though.
Here are the photos. Shown on the red carpet are Anna Faris, Hayden Panettiere, LeAnn Rimes, Leighton Meester, Kristen Stewart, Whitney Port, Audrina Patridge, Lauren Conrad, Cameron Diaz, Sofia Vassilieva, Abigail Breslin, Channing Tatum, Taylor Lautner, Zac Efron, Miley Cyrus, Sienna Miller, Vanessa Hudgens, Ashley Tisdale, Sandra Bullock, Ryan Reynolds, Paris Hilton, Doug Reinhardt, Kristen Bell, Rumer Willis, and Sacha Baron Cohen. Thanks to Juan Rico/Fame Pictures. Shown in the press room are Robert Pattinson, Kristen Bell, Andy Samberg, Taraji P Henson, Chris Isaak, Robert Pattinson, Lil Wayne, Cam Gigandet and Ben Stiler. Thanks to WENN.com