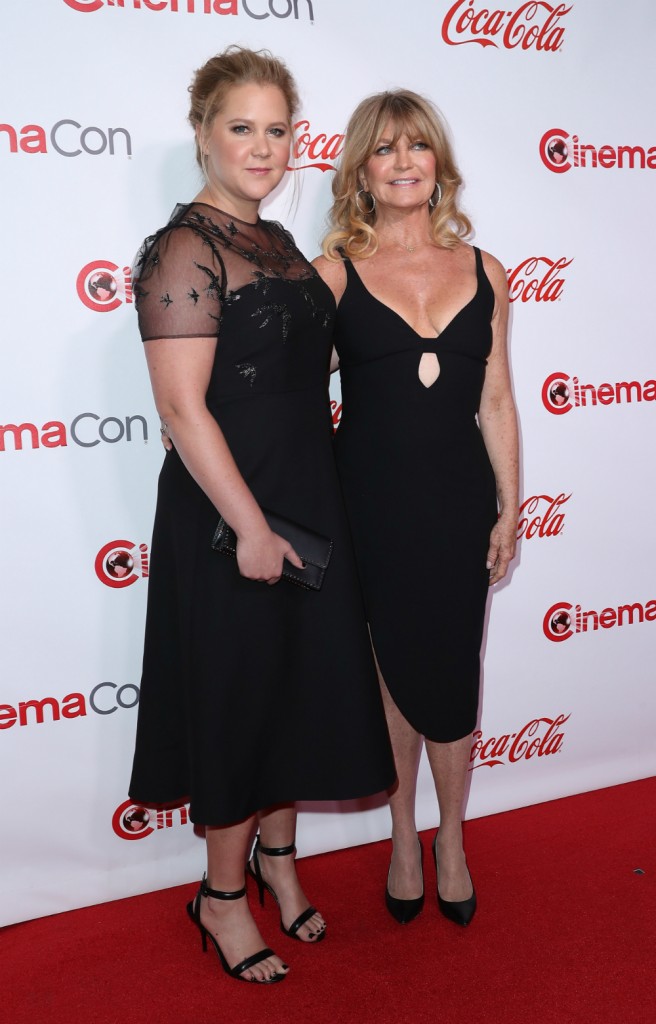 The Amy Schumer/Goldie Hawn movie, Snatched, comes out a week from tomorrow. Goldie plays Amy's mother in a mad-capped, carpe-diem-gone-wrong adventure/comedy. I'm still not sold on it. The two ladies are making the press rounds for the film, which is a great strategy because they have good chemistry together. Watching them together in interviews almost makes me think I can stomach the film. Of the many wonderful things Goldie has done, Kurt Russell has been the longest. Because of their multi-decade union, people always seek relationship advice from them. Amy was no exception and asked Goldie to tell her "how it works." I'm going to walk by every available joke for that comment and just get to the advice: want to be there. Okay.
As far as lasting Hollywood romances go, Goldie Hawn and Kurt Russell are arguably the gold standard. After 33 years together, the couple knows a thing or two about long-term love and Hawn's  Snatched costar Amy Schumer made certain to solicit her advice.

"[Goldie] and Kurt have been together forever," Schumer, 35, told PEOPLE at the film's New York City screening on Tuesday, hosted by Entertainment Weekly and  InStyle. "You're like, 'Tell me how it works.' Of course you want to ask her as soon as you see her."

So what were the golden nuggets Hawn, 71, shared with her?

"You have to want to stay together is what she always says," Schumer shared. "It's like two people have to want to be in it. You can't work on that, either you want to be together or you don't."

Schumer has been dating boyfriend Ben Hanisch for over a year after meeting on a dating app. The actress, who previously called Hanisch "the love of my life," went public with her then-budding romance in January 2016.
Wait, I thought Amy denied those "dating app" rumors? Did she flip back? Or did she use another app? Gawd she makes conversation so hard – just pick a statement and stay with it! So the advice that Goldie gave her was that Amy and Ben should want to stay together for it to last. I can't fault the advice. Of course, there are many other things involved to wanting to stay together but yeah, 'wanting it' isn't going to hurt. Goldie's daughter Kate Hudson has said her mom gave her similar advice (as well as be true to yourself, which is good advice for any scenario… unless you have weird habits like rooting for the Dallas Cowboys or something). I applaud Goldie for keeping it simple. Advice should be as unique as the people within the relationship so sticking with one basic, solid comment is a good way to go. She knows she's going to get asked, better to have something like this chambered. Maybe she could print it on business cards and pass them out? I don't really care what Goldie advises, just that she and Kurt never, ever split up. Never. Ever.
Amy and Goldie appeared on Graham Norton last Friday and addressed their relationship – was it more mother/daughter or "regular" friends? Goldie said they were more friends but there were times she'd feel maternal about Amy. The discussion then turned to Goldie saying she could see Amy as her daughter but added, "(Amy) would've been a trouble daughter. It would have been someone I had to deal with." Amy also tells a story about Kurt telling her how happy he was to finally meet her, which led Amy to remind him they'd sat next to each other at the Golden Globes. The clip is worth a watch. Goldie is, well – golden.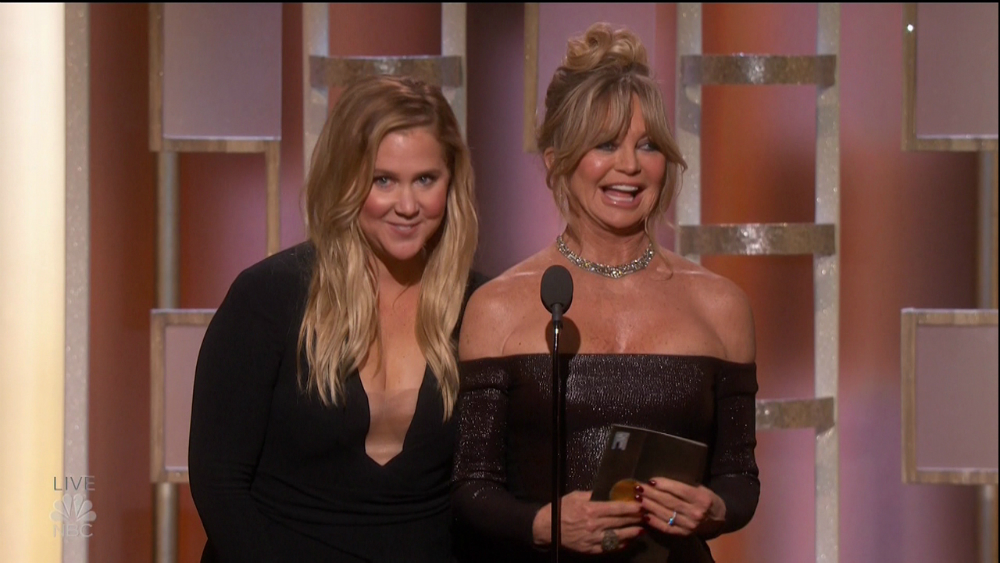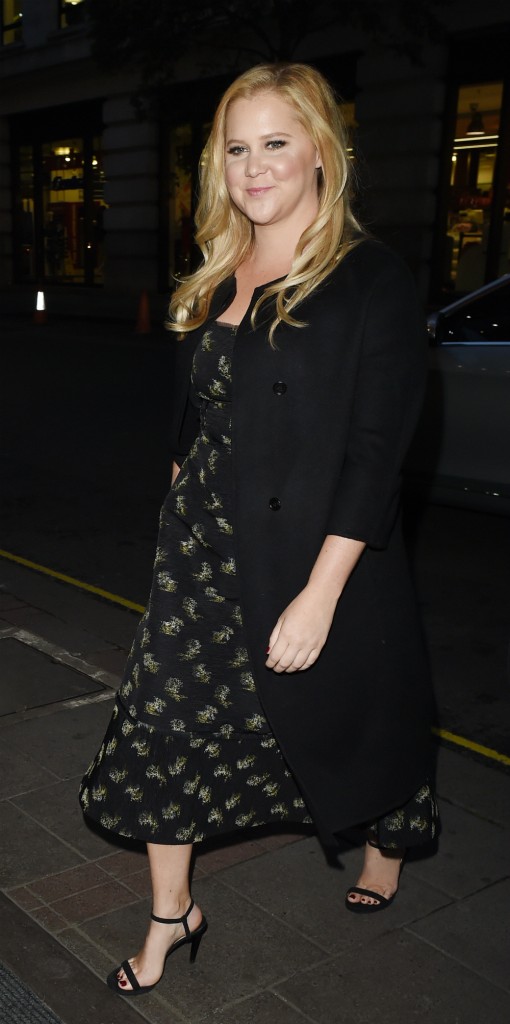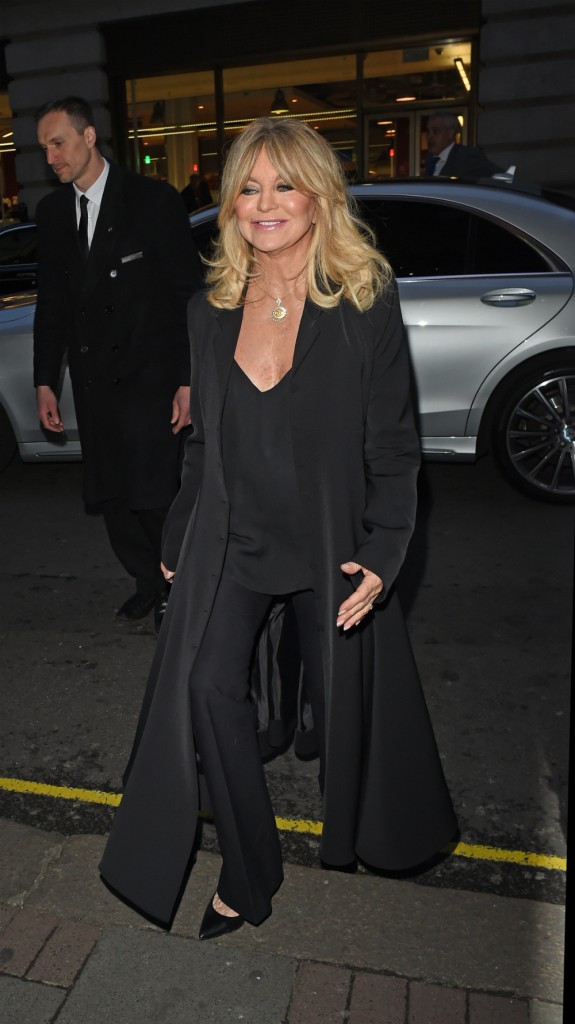 Photo credit: WENN Photos and YouTube