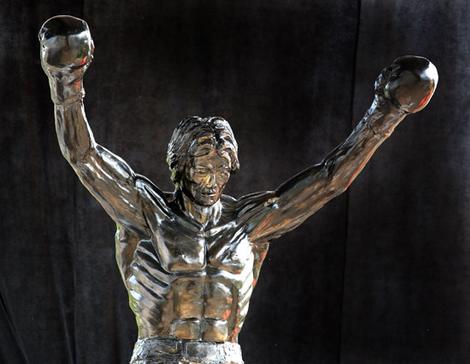 If you're a poor Serbian village, subjected in recent years to floods and landslides, what do you do to get past the bad times and give the town a lift? Put up a statue of Rocky!
A Serbian village, worn out by floods and misfortune, has erected statue of Rocky Balboa in the hopes of a turn in luck.

Zitiste, about 60 kilometres north of Belgrade, yesterday unveiled a huge monument to actor Sylvester Stallone's film character in the village square to attract tourists and show a new face to the world.

The monument is three metres high and made of concrete by a Croatian artist.
I thought this was a very original idea, having a statue of a fighter, admittedly fictional, who won out against adversity. Or something. I think I missed Rocky at the movies. All six of them.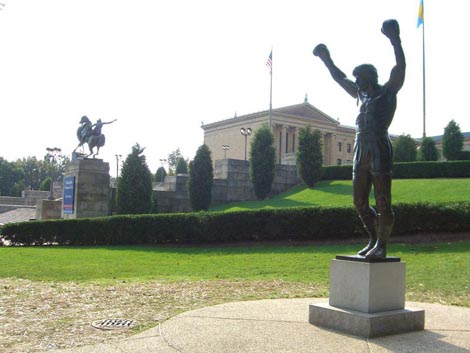 Anyway, turns out the concept isn't so original after all, and that Philadelphia has a Rocky statue as well. The reason for the Philly statue is not to cheer people up, but because this is where Rocky runs up the steps after a particularly gruelling training run. You know, then he leaps up and down waving his arms? Even as ignorant as I am of Sylvester Stallone movies, I know that scene. Dad used to do it at some steps near our house when I was a kid. Perhaps a third statue could join in the party? Australia has a drought, it could use some cheering up.