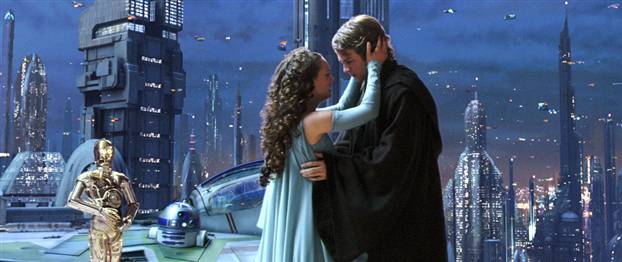 A recent poll of couples with the least chemistry on screen has been released.
1. Natalie Portman & Hayden Christensen – Stars Wars: Episode II
2. Jennifer Lopez & Ben Affleck – Gigli
3. Keira Knightley & Orlando Bloom – Pirates of the Caribbean
4. Madonna & Adriano Giannini – Swept Away
5. Catherine Zeta-Jones & Sean Connery – Entrapment
6. Andie MacDowell & Hugh Grant – Four Weddings and a Funeral
7. Kate Bekinsale & Ben Affleck – Pearl Harbor
8. Nicole Kidman & Tom Cruise – Eyes Wide Shut
9. Jake Gyllenhaal & Heath Ledger – Brokeback Mountain
10. Kate Winslet & Leonardo DiCaprio – Titanic
Now, I have only seen bits and pieces of the Star Wars movies, but I have seen the interaction between the princess (Natalie Portman) and that other guy (Hayden Christensen), and I found it hard to believe they were in the same room, let alone a couple. I mean, it's science fiction, I though she was talking to a hologram.
Ben Affleck is unfortunate enough to make the list twice, and maybe he should have been on there a third time for his partnering with Gwyneth Paltrow in Bounce.
As far as the Brokeback Mountain romantic pairing goes, how romantic do you expect cowboys to be?
I'm glad the 39-year age gap between Catherine Zeta-Jones and Sean Connery made the list too, as I just can't see a hot young thing like her going out with someone so old, even if he does have a great accent. Surely she could have taken up with a young hot Scottish man like…Ewan McGregor?