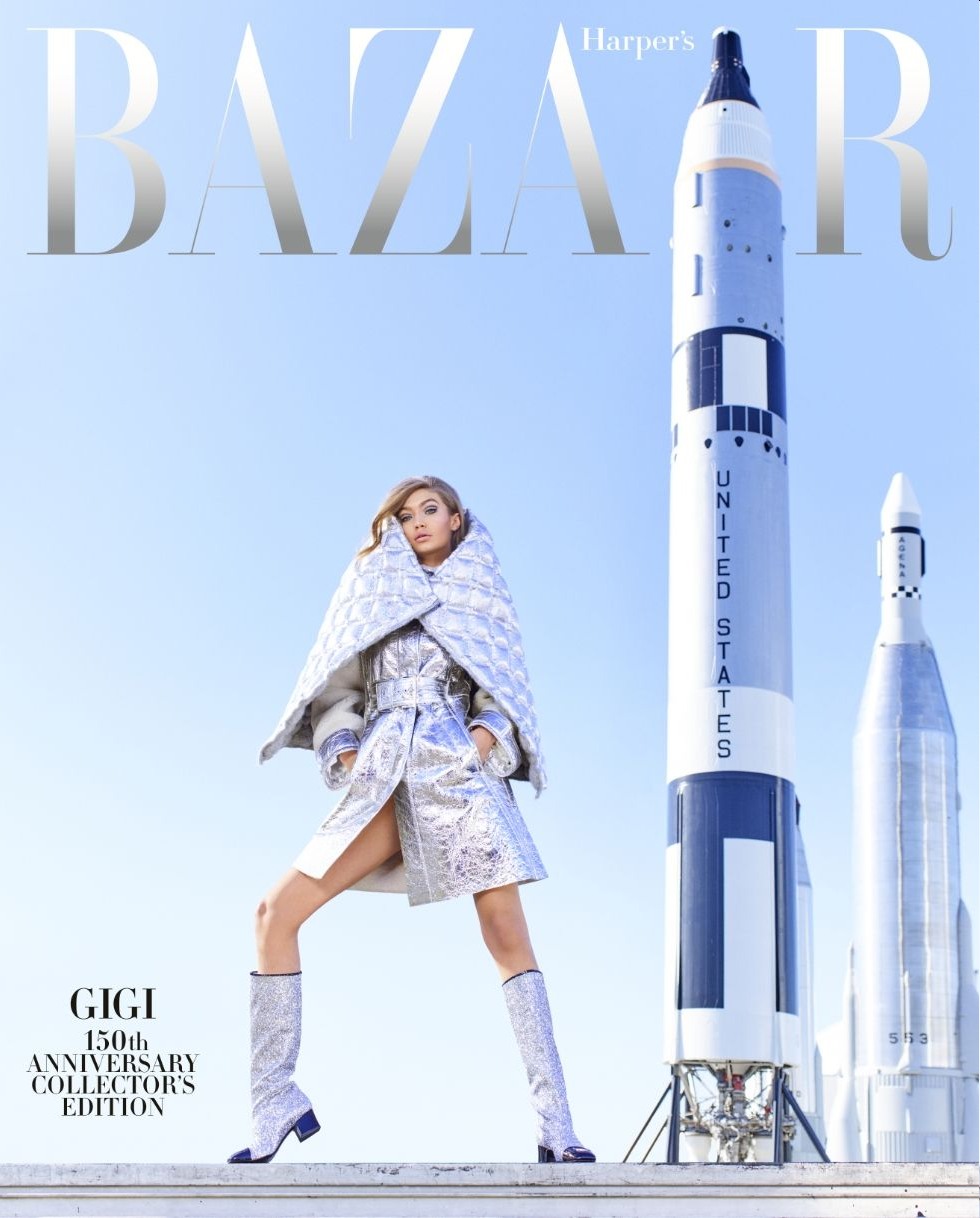 Gigi Hadid covers the June/July issue of Harper's Bazaar, which happens to be their anniversary issue. So the magazine went all-out and took Gigi to Kennedy Space Center in Florida. I cannot believe that NASA approved this, but it actually happened: Gigi did high fashion with a backdrop of space shuttles and space computers and such. While I like Gigi as a print model, the photoshoot it… awkward for a lot of different reasons, not least of which is the really obvious Photoshop in several pics. Anyway, you can read Gigi's profile here. Some highlights:
Zayn's into aliens: "My boyfriend's really into aliens."

She's a different person when she poses: "Have you ever seen me shoot before?" I shake my head no. "I'm, like…different." Different like Beyoncé's alter ego, Sasha Fierce? I ask. "I wouldn't say I'm as major as Beyoncé or Sasha Fierce…but, yeah, I understand what she's talking about."

The criticism of her crappy runway walk: "I've really been working on trying to get better and to learn from every show, so I take it as a learning experience, because I always want to do my best. But I think it's always going to be nerve-racking for me. There's always a little thing, like the shoes [are tight] or the dress is heavy or whatever, so that's what you're focused on, to make sure your walk is going to go well… I'm flat-footed, and I pretty much have a forced arch in my foot from playing volleyball my whole life. In the last six months, my walk has really improved because I've started to learn how to pad my shoes correctly to support my feet. It's like you learn little tricks, and you focus on those."

On her sister Bella and their work ethic: "She's so understanding of the demands of this job, and it's really great that I can talk to her about it. Because a lot of the time I feel suffocated by my own work ethic and by the expectations I put on myself. It's really nice when you have people who say, 'It's okay to take time for yourself.' I'm so excited about the jobs when I get them, so grateful, and it's my dream to be doing this. But I think anyone in this industry will tell you you're lying if you say that the constant traveling isn't hard."

Taylor Swift on Gigi: "As a friend, Gigi is one of the first people I go to for advice. She has this incredible ability to see all sides of a situation and simplify it for you, to see the complexity of people…Gigi's #1 rule is to treat people the way she'd want to be treated, so she's on time (or early) to work, says hello to everyone on set, asks them how they are, and actually listens to their response. She is an innately kind and inclusive person who has managed to become a huge power player and businesswoman without ever compromising that."
"A lot of the time I feel suffocated by my own work ethic…" O RLY? I mean, she works a lot. She gets hired for so many runway shows (despite her terrible, clomping runway walk) and she's constantly getting magazine covers and all of that. But she makes it sound like she's the most driven and accomplished 22-year-old in the world. Girl, you're a model! As for the rest of it… meh. The most interesting thing is that Bazaar got an email from Taylor Swift. Taylor wants you to know that she's still friends with Gigi. And Gigi is still friends with… Kendall Jenner. So… there's still squad drama, I'm sure.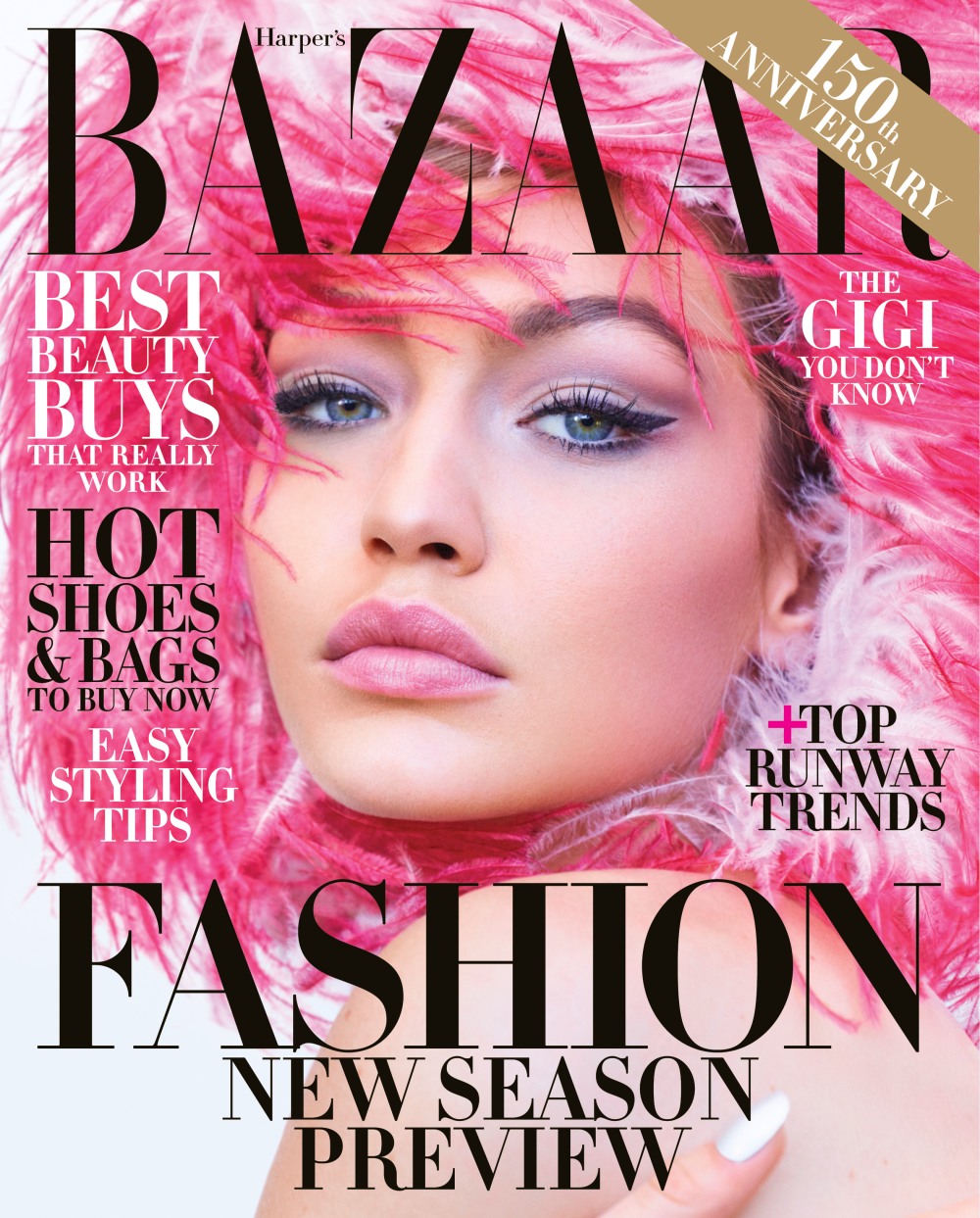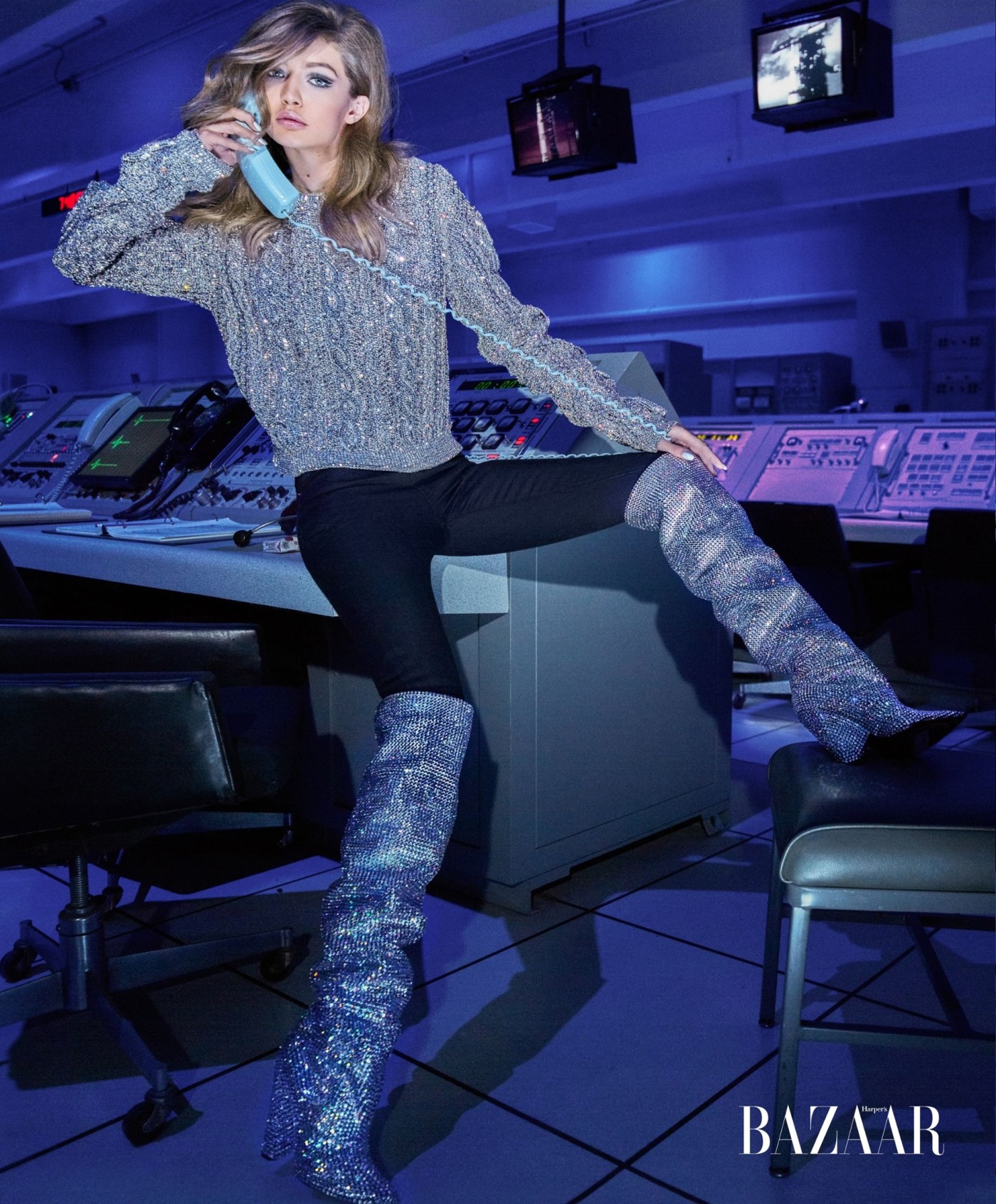 Photos courtesy of Mariano Vivanco/Harper's Bazaar.