If we cut the "with the coparenting skills" from the above caption, it would be one of the most accurate statements this family's ever posted. Kourtney Kardashian and Scott Disick have been playing nice for a while. Scott may or may not be working on his sobriety but he's been a very present dad to his and Kourtney's kids, Mason, Penelope and Reign. He and Kourtney have been coparenting so effectively that most were counting down the moments until a reconciliation was announced. So a recent family trip to Costa Rica seemed to provide the perfect backdrop for these two errant lovebirds to find their way back into each others nests… except that Scott thought it was a +1 situation and brought a random to hook up with while he waited for Kourtney to invite him to her room. When the Sisters Three (and Momifer Kris) took exception to this unexpected addition to their sojourn, Scott had the perfect defense: this is all Kourt's fault. If she'd just let him sleep with her, he wouldn't need to bring a girl with him on vacation because – sex addiction. Let the good times roll.
The ongoing drama between Kourtney Kardashian and Scott Disick came to a head and actually found some resolution on Sunday's heated Keeping Up With the Kardashians.

Picking up where the show left off last week, Scott was being interrogated by his ex-girlfriend, her sisters Kim and Khloe Kardashian, and their mom, Kris Jenner, over whether or not he had brought a random girl to their family vacation in Costa Rica.

After admitting that he had, Scott tried to defend himself, saying, "Obviously, we're both trying to move on. That's what we've all been saying. So I'm trying to do everything I can f**king do to not think about her." 

The embattled reality star tried to defend his actions, claiming that, in order to emotionally cope with not being able to get back together with his ex, he "had to go back to a different lifestyle," which includes drinking and hooking up with random women. 

"Then you shouldn't have come on a family vacation if you can't go four days without bringing some random girl in," Kourtney fired back. "That's just not cool." 

"So let me f**k you then, and I won't have to do s**t like this," Scott yelled, before claiming, "I'm a sex addict! I'm a f**ked up, horrible sex addict." 

However, Scott admitted in a solo interview that his claim was mainly just to defuse the tense confrontation. 

"Saying I'm a sex addict is honestly the first thing that popped into my head, and I don't really think it's my actual problem," he explained. "But it's definitely not easy to hear everybody attack me and tell me how disrespectful I am, and I don't know, literally, what else to say." 

Khloe had no interest in Scott's claims, and made her frustration known with a shower of ice water. 

"If you need to get your d**k wet that badly, then get your f**king d**k wet," Khloe said as she stood up and threw a full glass of water in Scott's lap before walking off. Kim followed her after throwing another glass of water in Scott's face. 

After most of the water had been thrown and most of the people had left, Scott walked up to Kourtney as she was leaving and laughingly said, "So, should we head home together? You and me?" His advances were roundly rejected.
I'm not sure where to start with this. I guess 'Scott packed a random for his trip' would be a pretty good place to begin – who does that?!? It's not like he doesn't know this family, in what reality were they going to be okay with this? And his defense is, well indefensible. But then he goes on to admit it was a lie, something to diffuse the situation so he wouldn't get picked on? Nope, nope, nope – you lose. Do not pass Go and do not collect $100, or whatever the Kardashians have offered so you will generate these kinds of storylines.
Oh how I wish this was all there was to the story. I could throw high-five the Kardashian sisters and mentally splash another glass of cold water in Scott's lap. But it wasn't, of course. Scott somehow grew a conscience and thought returning to the hotel room in which his date was staying was – what, tacky? Fruitless? Too far to walk? So he asked Khloe if he could stay with her instead. Even though she said no, they spoke by text throughout the night. It became apparent to Khloe that Scott like, totally got what he had done wrong so, really, there was nothing to do but to forgive him, which she did. So the whole family, including Scott and Kourtney, went swimming and inner-tubing and had a grand old time. But in the end, Kourt finally said – out loud and to Scott – that they had to move on, to which Scott tenderly responded, "Perfect! You've driven me nuts for 10 years." Tune in next week when this whole, stupid saga rewinds and we have to cycle through their off-again, on-again mess once more.
Am I the only one who wondered what the hell the random was doing while Scott was with the Tribunal? I hope she made the most of those in room services and stuck him with a huge hotel bill.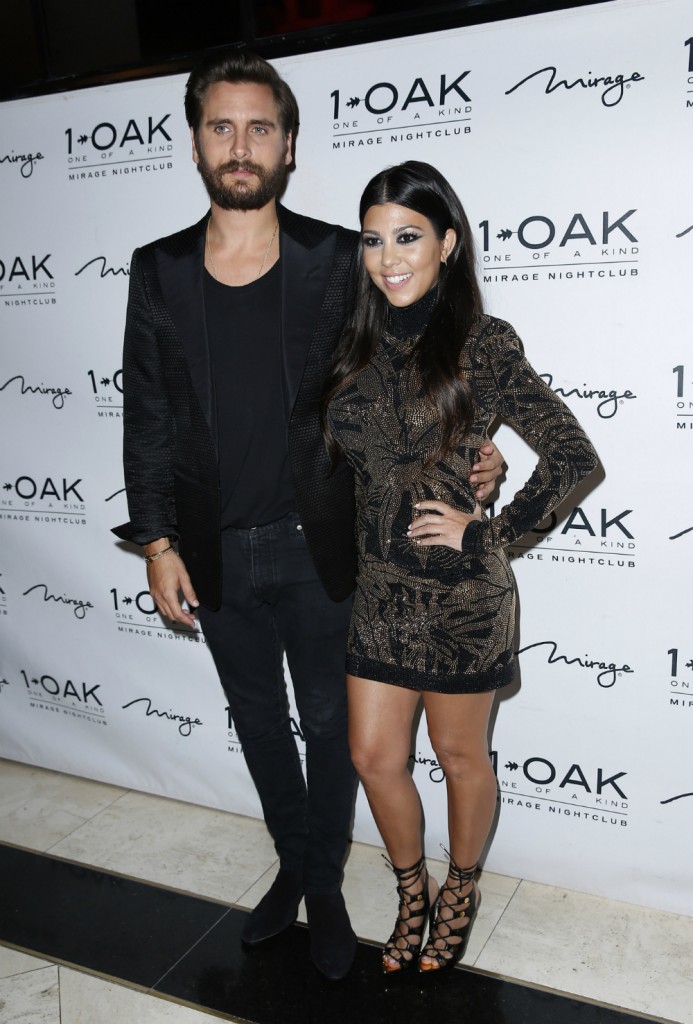 Photo credit: WENN Photos and Instagram