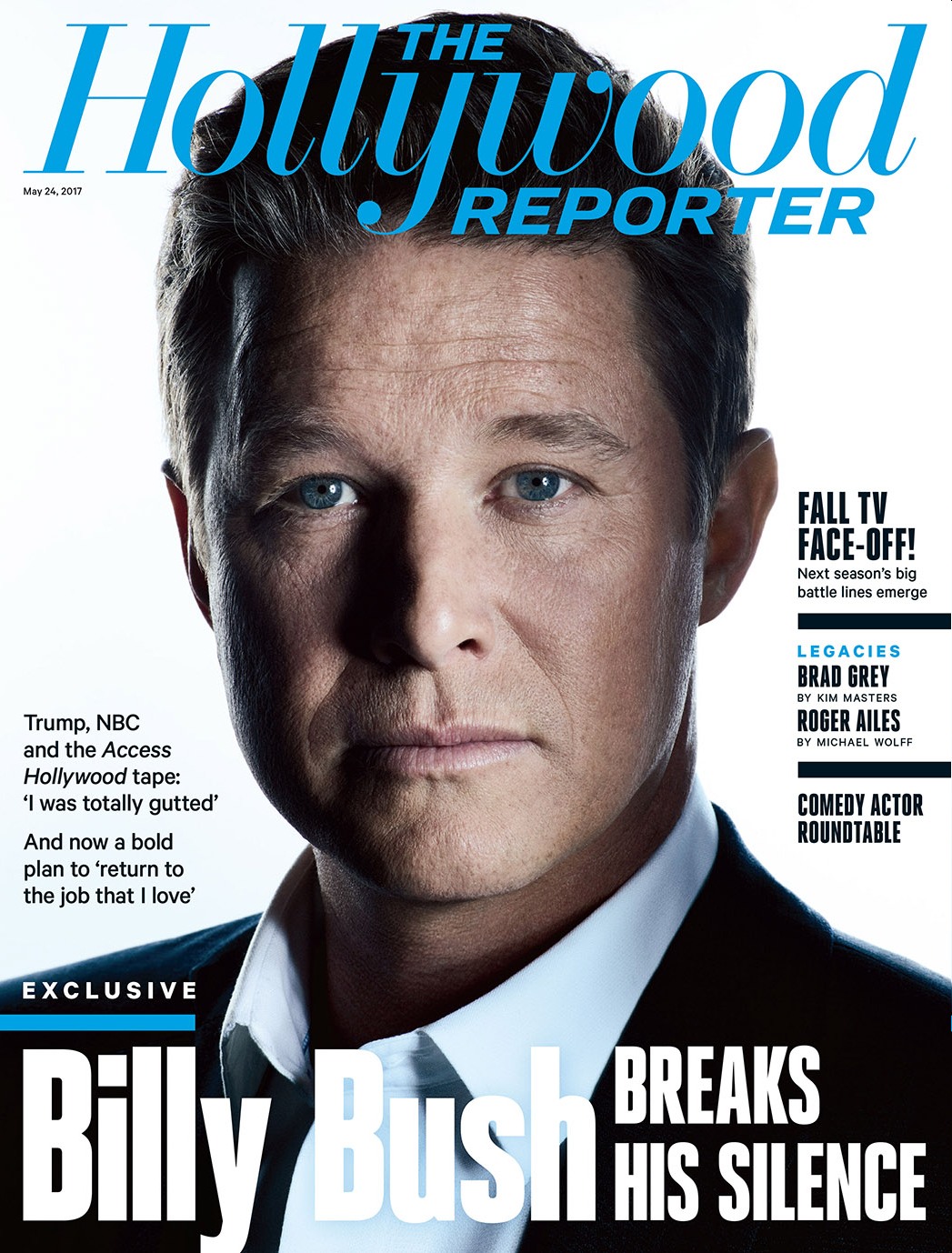 Woe is the justifiably maligned white guy, for he is truly the least among us. Billy Bush covers the latest issue of The Hollywood Reporter, in what is his first in-depth interview since the Grab-'Em-By-The-P-ssy Tape came out last October. It was stunning to me to realize that it's been seven months. It's felt like a lifetime. In 2005, Billy Bush was with Access Hollywood and his assignment was spending the day with Donald Trump. They were on a hot mic and Trump said deplorable things, with Bush actively egging him on. The tape should have derailed Trump's campaign. It did not. It did derail Bush's life though – he was fired from the Today Show and he's spent the last seven months "soul searching," working with spiritual guru Tony Robbins and meditating. You can read the full THR piece here. Some highlights:
How he explained the tape to his teenage daughters: "My [then] 15-year-old, Mary, called me from boarding school, and she was in tears: "Dad, Dad, Dad," and I said, "Everything is going to be fine, Mary. Everything's going to be OK." It's just instinctively what you say to your daughter. And she said, "No, why were you laughing at the things that he was saying on that bus, Dad? They weren't funny." It hit really hard, and I stopped for a second, and I said, "I have no answer for that that's any good. I am really sorry. That was Dad in a bad moment a long time ago. You know me. I am really sorry that you had to hear and see that. I love you." She needed to hear that, and I certainly needed to tell her that.

How he feels about everything that's happened: "I've come out of this with a deeper understanding of how women can connect to the feeling of having to fight extra hard for an even playing field. The ground isn't even. Maybe it's improving, but still it isn't even. When a woman watches that tape — and this is what really hit me — they may be asking themselves, "Is that what happens when I walk out of a room? When I walk out of a meeting, is that what they're saying about me? Are they sizing me up?" I can't live with that. If a moment like that arose again, I would shut it down quickly. I am in the women-raising business, exclusively. I have three daughters — Mary, Lillie, Josie — and I care very much about the world and the people they encounter.

His job at Access Hollywood was to connect with celebrities: "With Donald, there wasn't much interaction. He sort of talks and performs, and everybody reacts. And the topics were usually golf, gossip or women. And boy, do I wish this was a golf day. But I always had a nervous energy through these situations because he also decided a lot of times from day to day, moment to moment, who he liked, who was in and who was out, and my job was to remain in. I needed to be in, or maybe I'd be out. So that was the Trump environment. Looking back on what was said on that bus, I wish I had changed the topic. I wish I had said: "Does anyone want water?" or "It looks like it's gonna rain." He liked TV and competition. I could've said, "Can you believe the ratings on whatever?" I didn't have the strength of character to do it.

Whether he'd heard Trump talk that way about women before: "I don't recall anything to that degree. But he's a provocateur. Shocking statements flow like wine from him. And he likes to captivate an audience.

Whether it was locker-room banter, as Trump claimed: "No. I'm in a lot of locker rooms, I am an athlete, and no, that is not the type of conversation that goes on or that I've participated in.

Whether that was how Trump approached women: "I felt that, in that moment, he was being typically Donald, which is performing and shocking. Almost like Andrew Dice Clay, the stand-up comedian: Does he really do the things that he's saying or is that his act? And in Donald's case, I equated it that way. When he said what he said, I'd like to think if I had thought for a minute that there was a grown man detailing his sexual assault strategy to me, I'd have called the FBI.

NBC knew of the tape for a long time: "I [had] never shared knowledge of the tape with anyone who didn't already know of its existence. And that was plenty of people…I heard it for the first time seven and a half months ago, three days before the rest of the world heard it. I was shocked and alarmed and totally and completely gutted. It was awful. And my participation was awful, too. I remember that guy, he was almost sycophantic. It was my first year as co-host of Access Hollywood, and I was an insecure person, a bit of a pleaser, wanting celebrities to like me and fit in. There is an expression, "Meet them where they are for each person." For Ben Affleck, it's Boston sports. But I went way too far in my desire to keep this No. 1 star happy.
I came out of this feeling rather meh on Billy Bush. I was never angrier at Bush than I was at Trump, though – I mean, Bush was disgusting and enabling in the Access Hollywood tape, but I was always clear: Trump was the deplorable one, he was the one bragging about sexually assaulting women. Bush deserved to be fired, Trump deserved to lose the election. That was how I thought of it. So do I buy Bush's come-to-Jesus moment? The thing is…he makes it seem like he's only worried about women's rights now because he has daughters. That bugs me. But what bugs me even more is that this is just another reminder that NBC sat on a mountain of evidence that Trump was and is unfit for office.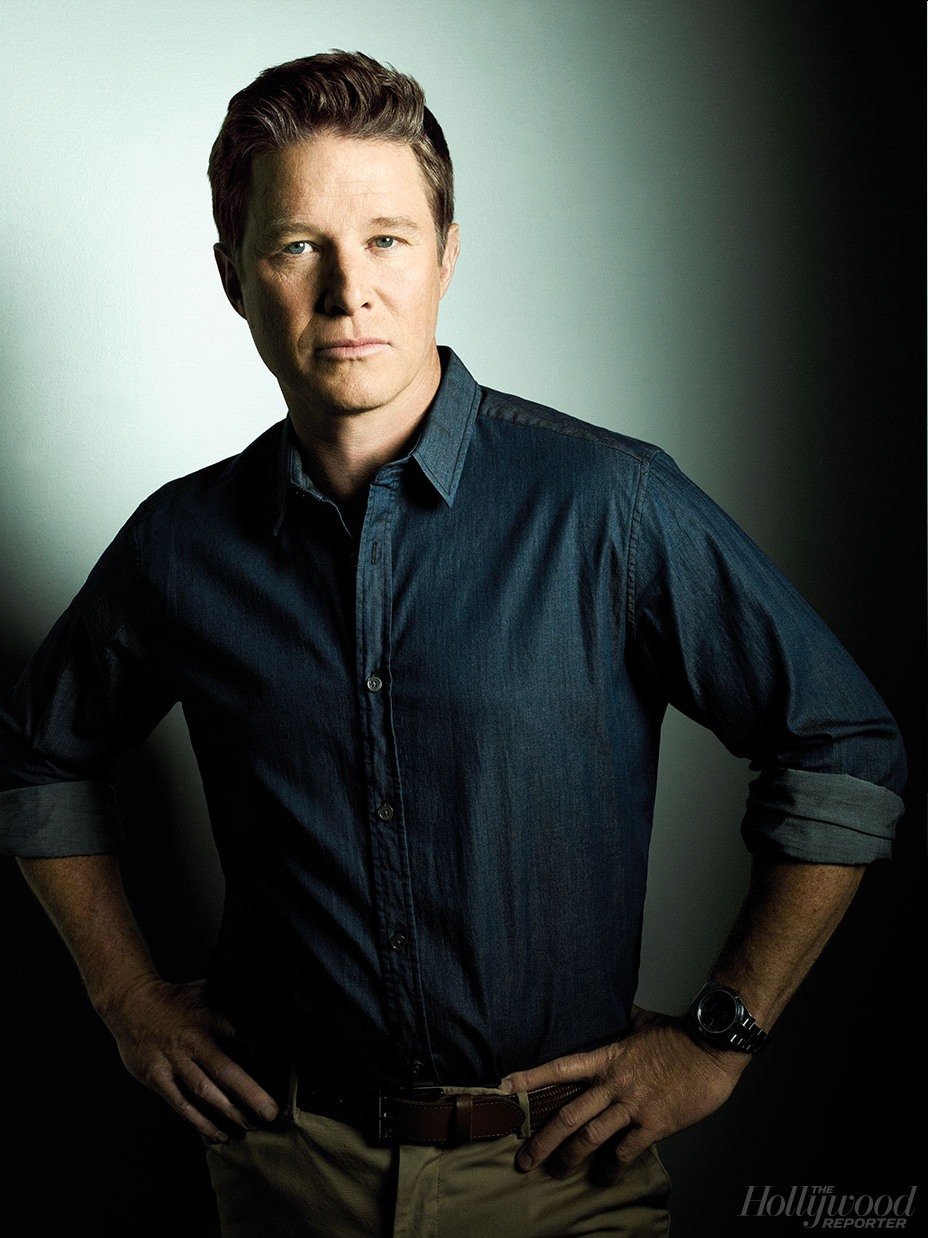 Photos courtesy of THR.