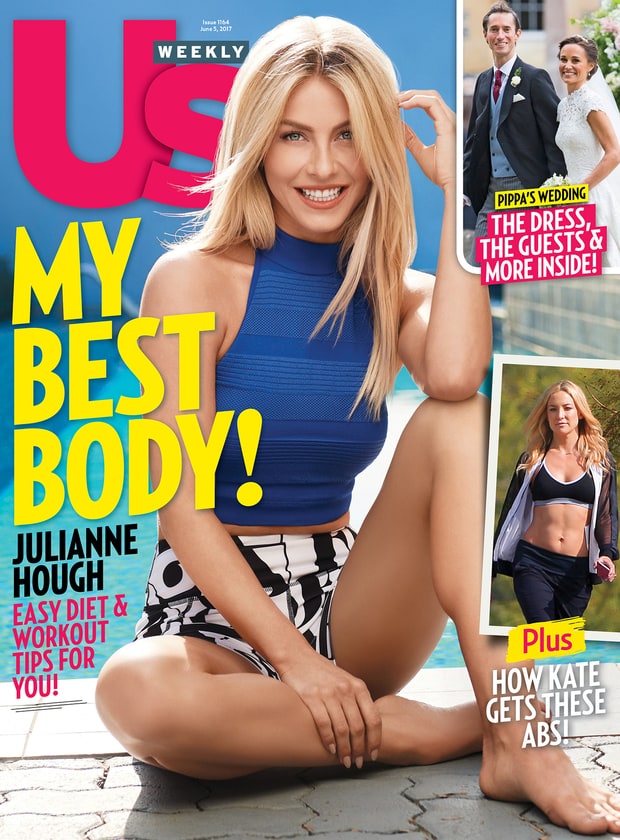 US Magazine features Julianne Hough on the cover with a sidebar of Kate Hudson. Both of those women are body goals for a lot of us. They're clearly trying to appeal to women trying to get in shape right before the summer and while it may move copies it seems kind of basic. That said, I do like how Hough focuses on exercise and following a balanced lifestyle she enjoys for the pleasure of it instead of just achieving an incredible beach body. She's very measured and realistic in both the print and video interview on US's site. She talks about eating carbs, not going on fad diets, and maintaining her weight by eating sensibly and staying active. Here's some of what she said in the video (which I believe is new) and the article:
Why she works out
To workout used to be [about] what I look like. Now I need it for my mental health. If I don't work out, I don't feel like I started my day correctly [or] am in a good place mentally. It's all about taking time for myself. It's so much more fun now.

Her favorite workouts
Dance cardio stuff, Body by Simon or Tracy Anderson. I go to dance classes. I mix it up all the time, that shocks your body.

She was asked her favorite body part
I actually fluctuate quite regularly. I distribute my weight very evenly. It looks like I've only gained five pounds but in fact I've gained 15. My favorite body part is probably my stomach because it never really gets rolls. It's a blessing and curse to have weight [distributed] evenly.

On her workout secret
A lot of people focus on goals. More recently it's become a lifestyle rather than a diet [or] a goal for something. I don't want to fluctuate because that's harder work. I don't think I'll do a pre-wedding workout diet fad thing. I want to look like me.

What she eats
[Carbs] at every single meal. I think when you deprive yourself, that's when you crave pasta and pizza. Everybody is so afraid of carbs – they talk about them in a negative way, like, 'Carbs make me fat or bloated' – but just pick the right one and have a little bit.
I pretty much cosign everything she said about eating and exercise and she summed up my personal fitness philosophy well. I'm also into dance aerobics and Zumba (JJ Dancer on PopSugar is one of my new favorites) and also eat carbs all the time, although I surely should cut back on the sugar and candy.
Compare this interview, which focuses on achieving great abs and staying slim, with America Ferrera's recent interview with Triathlete which we published earlier today. America talked about being her personal best, challenging herself and pushing her limits, not about getting to a certain weight. There's nothing wrong with having number goals and in fact Hough's outlook on that is refreshing and not at all Goop-like. It's just that the angle of Triathlete's interview had much more substance.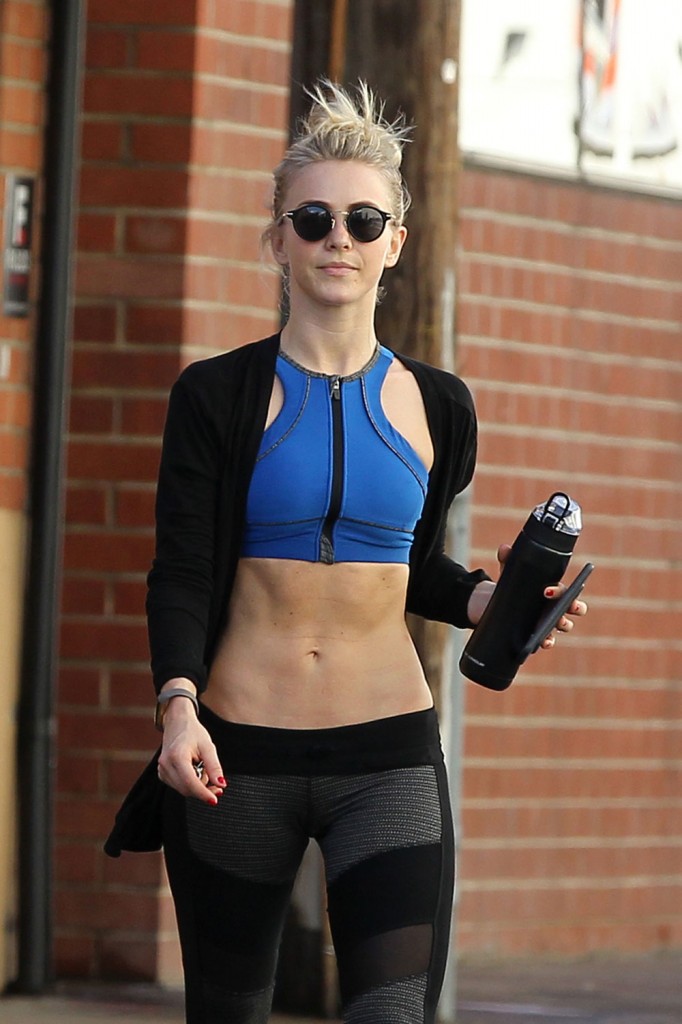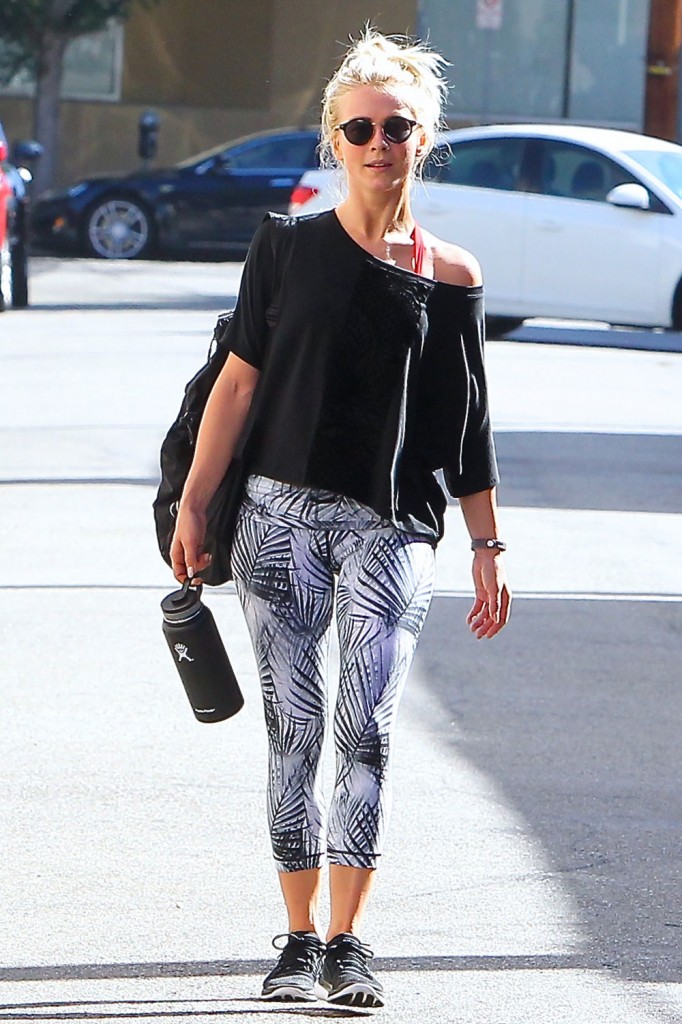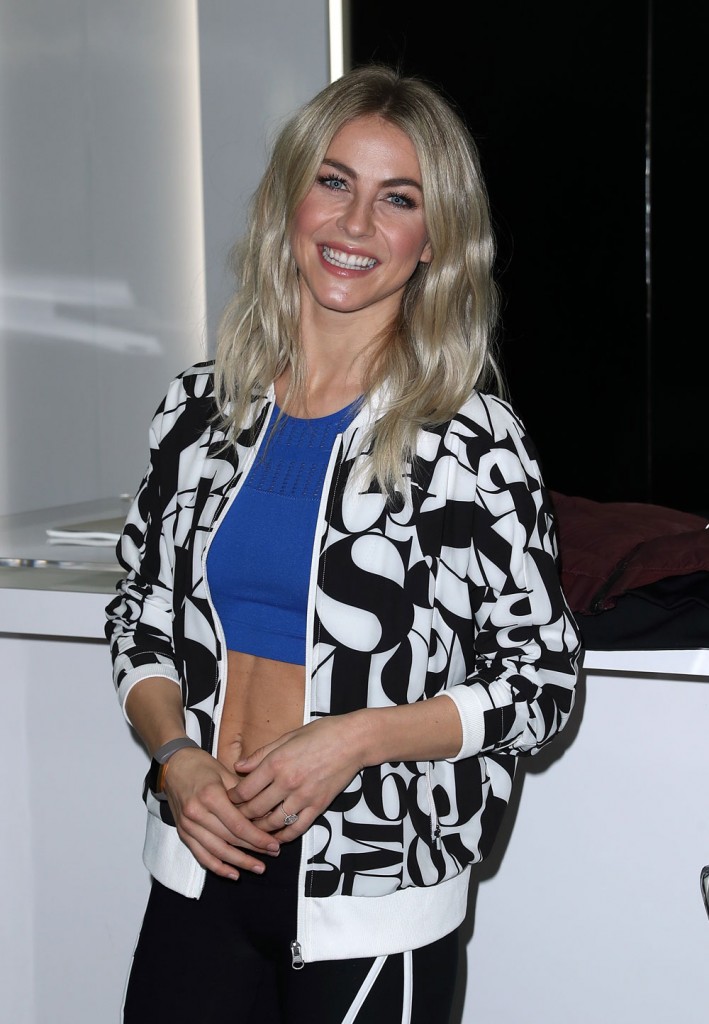 Photos credit: WENN and Pacific Coast News