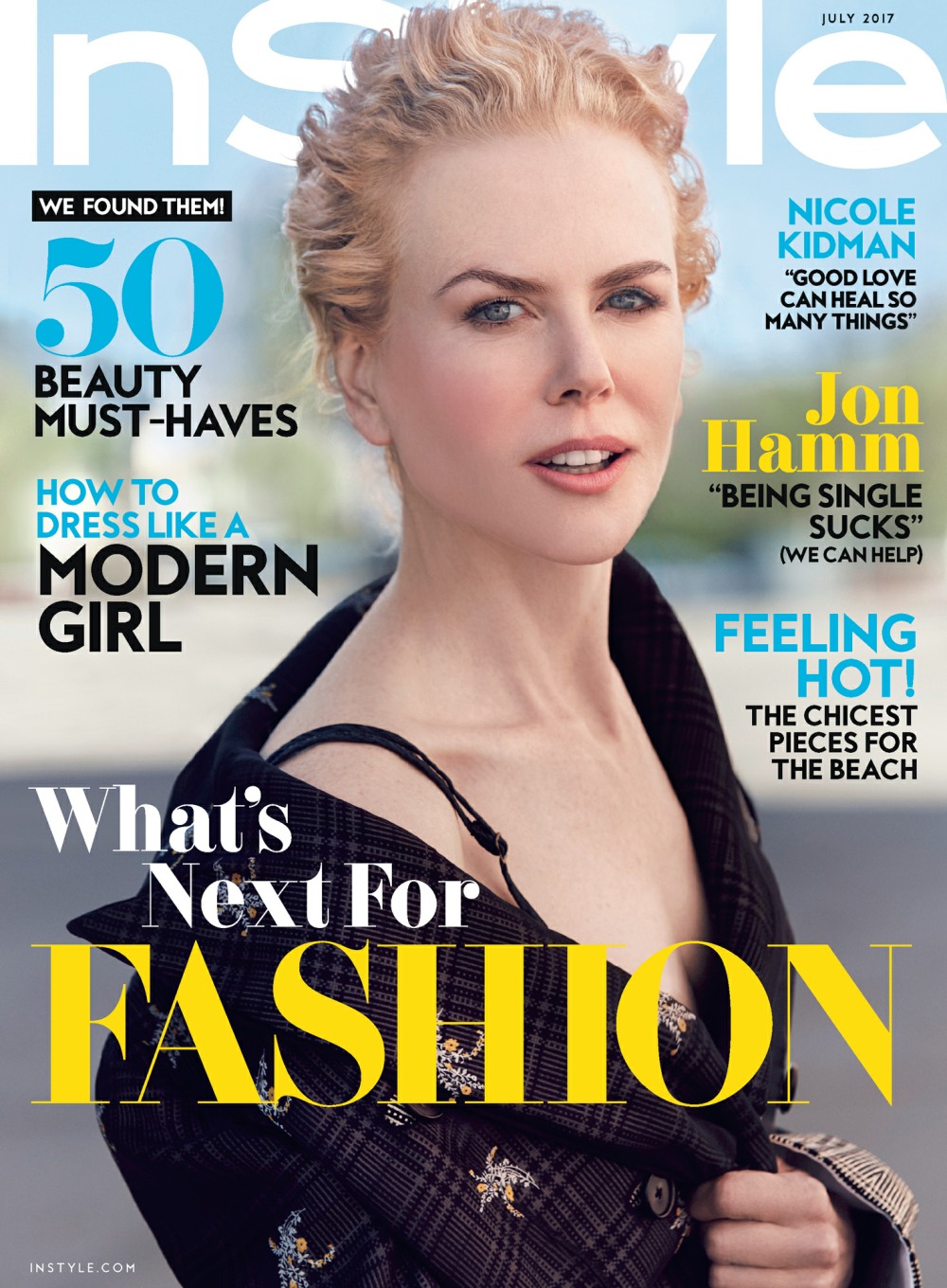 Nicole Kidman covers the latest issue of InStyle Mag, and woo, boy, is this cover shot not great. What's weird is that the rest of the InStyle photos are fine, but this shot just comes in too close, and Nicole's hair is just too light these days. That was the problem I had with Kidman in Cannes too – she was wearing beautiful clothes, her makeup was on-point, she doesn't look crazy-Botoxed these days, but THE HAIR. The hair is struggling. Anyway, Nicole chats about Big Little Lies (for which she'll likely win an Emmy) and The Beguiled. Some highlights:
On working with her friends in the cast of Big Little Lies: "I always say when women unite and work together, we're very powerful. One, because we're very loyal. And two, we're all multitaskers, and we can get stuff done. It's a beautiful thing when you can actually make a project work based on true friendships."

On the apparently glamorous life of an actor: "As much as it looks really glitzy, acting is a job for me. I'm not a celebrity who's going to go out just because. That's not my nature."

On getting into character: "On Big Little Lies I was completely disturbed by it. It penetrated. Everything does in different ways, but that's the place you exist when you work creatively… Also, that was dealing with [domestic violence] issues that are very, very present. I meet people all the time who are going through it. And I experienced it in that way [on set] where I would come home and be physically hurt at times."

On fashion: "There are dreams attached to fashion. When it's presented in a way where you go [gasp], it just makes you feel good. It allows me to express what I'm feeling, as in, I want to wear that because that's actually my rebellion right now. Or that's my way of fitting in. Or it's my way of saying no. Or it's my way of saying I'm different."

On the relationships in her life: "…a lot of my forces are maternal. I mean, they're romantic too. I've always chosen to have really deep, intense romantic relationships. I don't flit around… I don't dabble."

On keeping in touch with friends and family: "I call. People text, and then I text back 'Just call me.' I like the voice. Keith and I don't ever text. We call. That's just what we've always done. We're old school."
I'd rather talk to someone rather than text too, but I suspect that's because I am not one of the young ones. Neither is Kidman – she's turning 50 very soon, so generationally, she has an excuse to not be a texter. As for what she says about "choosing" to have "really deep, intense romantic relationships"… that's interesting. I never really think of it as a choice? Some people are just drawn to those kinds of deep, romantic relationships and some people aren't. Like, I can't do those kinds of relationships. Is that a choice or is it just the way I'm hardwired?
Nicole Kidman on @HBO's #BigLittleLies: "I always say when women unite and work together, we're very powerful." https://t.co/X6ZSXmHVyk pic.twitter.com/uwGaeTuAVf

— InStyle (@InStyle) May 31, 2017
Photos courtesy of InStyle by Will Davidson.