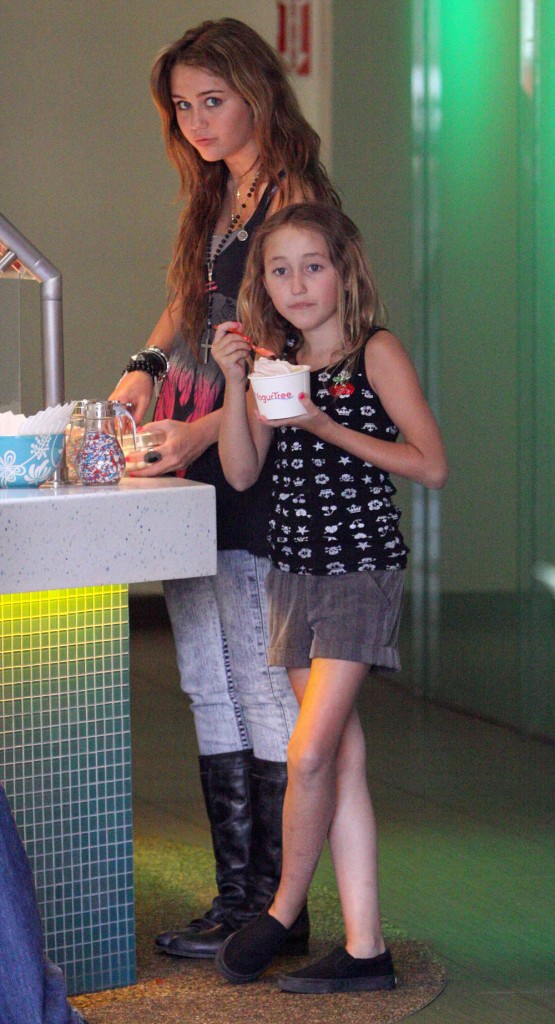 For a while, I actually believed that the rest of Miley Cyrus' family was pretty normal, and that all the fame had just gone to Miley's head, and she was acting out because she's a teenage girl with a big ego. I felt kind of sorry for her after the Vogue photo shoot, and thought that maybe after that debacle, her parents would be more careful. But then she started dating 20-year-old Justin Gaston, he actually moved into her family home, and her parents sent the couple on a romantic Hawaiian vacation. Considering that Miley has been telling her friends that they need to give themselves up to their men, I'm guessing that her whole chastity promise has gone out the window.
Now Miley's little sister Noah is following in her footsteps. First off, she's trying to become a Disney star. And part of being a Disney star is showing up to events and walking the red carpet. So on Saturday, at Brittany Curran's 19th birthday party, Noah showed up with her costar from her show Noie and Em, wearing pink Juicy Couture bathing suits, and about three pounds of mascara and eyeliner. Later on, after taking a dip in the pool, there are photos of her chugging a Red Bull.
The problem? She's nine years old. On her YouTube channel, she says "I love my sister Miley and when I grow up I want to be just like her." Hm. It's pretty obvious that Miley is not the best role model, but it's their parents who are exacerbating the situation. When you're nine years old and your sister has, in your eyes, a glamorous life, it's easy to get swept up into the business so that you can be just like her. More than anything, it seems like Noah's "career" is ego-stroking for Miley and a possible income source for her parents. The Cyruses are parading their youngest daughter around like a beauty pageant contestant, even after seeing what fame has done to their oldest.
The Cyruses need to get their act together if they don't want to end up like the Lohans. They're already part way there.
[Thanks to Ocean Up for the story idea!]
Here's Miley, Noah, and a friend at YogurtTree in Studio City on May 26th, and Noah with Miley's boyfriend Justin Gaston at the celebrity launch party of the 'Lollipops and Rainbows Foundation' at Universal City on May 2nd. Images thanks to WENN.com .