The biopic of Tupac Shakur, All Eyez on Me, opened on Friday. It hasn't wowed critics, currently sitting at 24% on Rotten Tomatoes and one very vocal critic is Jada Pinkett Smith. The 45-year-old actress took to social media after watching the movie on Friday to criticize what she felt were some of the films glaring inaccuracies in the portrayal of her relationship with the late rapper. In the film Jada is played by Kat Graham, who is lovely. Jada, who met and befriended Tupac while they were both students at Maryland's Baltimore School for the Arts, began her Twitter objection by stating:
Forgive me… my relationship to Pac is too precious to me for the scenes in All Eyez On Me to stand as truth.

— Jada Pinkett Smith (@jadapsmith) June 16, 2017
She then took aim at some scenes in the film that she had an issue with and ended her rant with the assertion that "The reimagining of my relationship to Pac has been deeply hurtful."
The reimagining of my relationship to Pac has been deeply hurtful.

— Jada Pinkett Smith (@jadapsmith) June 16, 2017
Back in a 2015 interview with Howard Stern, Jada discussed her relationship with Tupac, saying that they had no physical chemistry at all and that his stint in jail adversely affected their friendship. She said at the time, "Pac and I have always had very intense conversations…we had a very hardcore disagreement. I just wasn't in agreement with the direction he was taking. I told him it was a destructive direction. He felt as though I had changed, I had gone Hollywood."
Jada and the critics aren't the only ones disappointed with the movie. Rapper 50 Cent provided his two cents on the flick on Instagram, posting, "Man I watched the 2 PAC film, that was some bulls–t. Catch that s–t on a fire stick trust me. LOL SMH TRASH." Why he didn't join Siskel and Ebert on At the Movies is beyond me.
The film's producer, L.T. Hutton, responded to Jada's criticism via a video posted on TMZ. In it, he said he was "disappointed, hurt" by Jada's comments and insisted that, while the filmmakers had to take some liberties to tell the story, they remained "very responsible" about how everyone was portrayed on screen. He said he had no intention of hurting Jada and thought that she was good with the finished product, telling TMZ, "People that eat dinner with her all the time have seen the movie and they loved it and they told her about it. They told me that they explained to her and everything was great."
I like some of Tupac's music and I really liked him in Poetic Justice. Biopics can never tell the real story, there's always some creative licensing that occurs. I haven't seen the movie yet,so I don't know if Jada is blowing this out of proportion or not. I definitely want to see it, as my guy, Kevin is in it. He plays a cop and you can see him at the 1:05 mark in this trailer. End cheesy plug.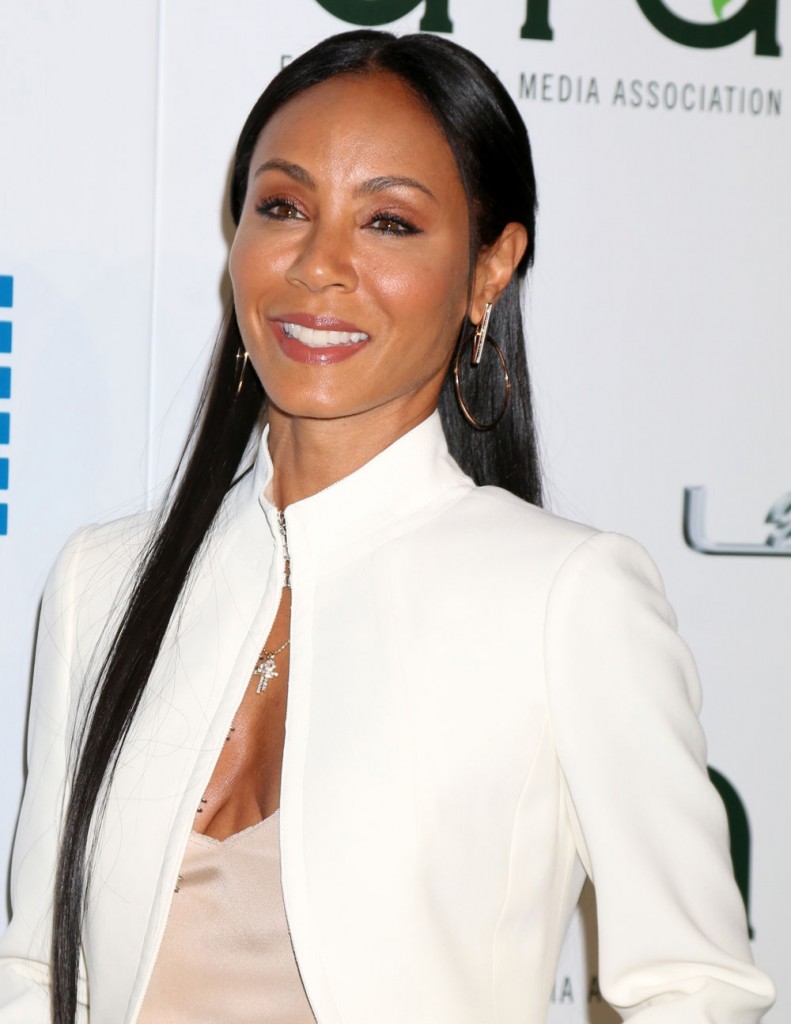 Photos: Getty Images, WENN.com