In "Huh?" news, singers Gwen Stefani and Blake Shelton are collaborating once again, and thankfully, it's not on new music. According to the National Enquirer, the two are teaming up for a new clothing line for men.
A source told the Enquirer that "Gwen wants to create comfortable and casual men's clothes that are cut really well – no dad jeans." I'm not sure where Blake comes into play with this project, as the source added, "He's letting her take the lead and will just weigh in on what guys will and won't wear." Sure he will.
Now don't get me wrong, I like Gwen's fashion sense. I have some of her L.A.M.B. stuff in my closet. I just don't see her eccentric, Harajuku-influenced aesthetic translating to the plaid shirts and Dickies crowd that Blake attracts. But, hey, I could be wrong.
In other Gwake news, Blake turned 41 on Sunday and Gwen treated him with an…ummm…unusual cake. You may have gotten a Fudgie the Whale cake from Carvel for your birthday (do they even still make those?), but Blake got a cake shaped like an armadillo. The singer had to share his big day with Gwen's niece, Madeline Stefani, who just graduated from college. I have questions. Is this the celebratory cake she was expecting? Does she get the front or back end of this thing?
And, since Gwen can't help posting a picture that invites us all to yell, "Get a room, you two" at our computer monitors, she shared a shot kissing Blake with the caption "I get to kiss on the birthday boy." I always seem kind of cynical when I see this and think "Ugh", but I can't help it. But hey, they've stayed together longer than most of us thought they would, so there's that. And Happy Birthday, Blake.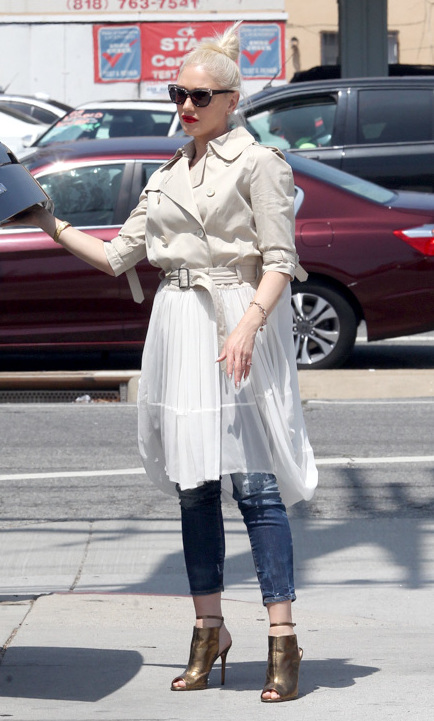 Photos: Getty Images, WENN.com