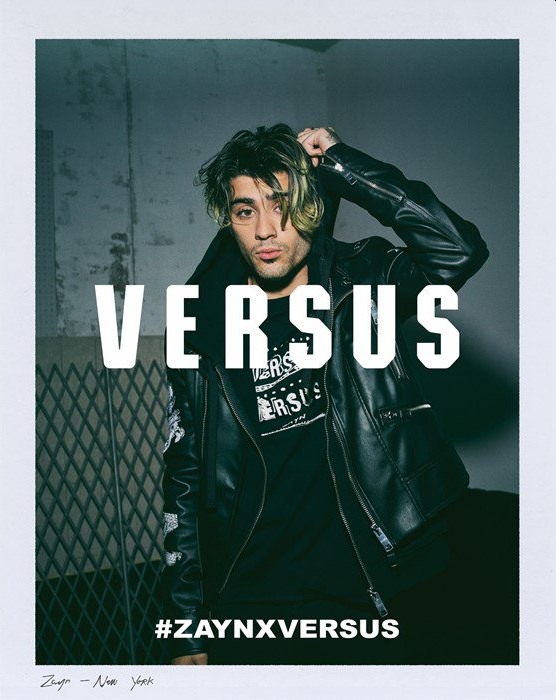 Zayn Malik has a new interview with the London Evening Standard to promote… his new clothing line? It's true. He collaborated with Versace on a capsule collection and he got the Hadid sister who is not his girlfriend to model for the line. Seriously! Bella Hadid and Zayn are the faces of Versace Versus now, I guess. What I like about this interview is that Zayn doesn't just talk about clothes and Hadids. He also talks about what it's like being arguably one of the most famous British Muslim men in the world, and how he's treated when he travels and more. Some highlights:
His level of fame: "It's a really weird world. I don't think there's anywhere I could be anonymous now. In New York [where Hadid is based], you can sometimes get out in the early hours of the morning for a walk. But there's no underground parking here, no escape routes. So they're going to get pictures, they're going to find you. In LA [his own usual US base], it's more catered to these things — you've got back entrances and that."

His Versace capsule collection: "I'd wanted to do something in fashion for a while, even if it was just to bring out a couple of T-shirts so we just thought, 'why not do it with somebody that's got experience and knows what they're doing?' You can't f*** with Versace." He's creative director for the collection, which comprises 10 pieces each of men's and womenswear. "I did sketches and drawings but a lot of the looks came from what I wear every day. It's my brand and their brand coming together."

He smokes: He reaches for a packet of cigarettes on the table, then hesitates. I urge him to carry on. "Would you like one?" he asks, hopefully. I would. "Good," he beams, looking delighted. "Let's 'ave a cig. A cig and a chat."

Whether Gigi helped with the collection: "I didn't want to say but yeah. She's very good, and she definitely assisted me."

Don't call them a power couple: "But I can understand how it can look, that you've got these two people in a 'power couple.' That's not something I want to be a part of. I'm with her because I like her and I hope she's with me because she likes me. When we come home, we don't really talk about that s**t. We just spend time together as a normal couple, cook food, watch TV, have a laugh. I've got into a thing of cooking pies recently. I cook a mean chicken and sweetcorn pie, with Alfredo sauce. I make my own pastry, roll it out and everything."

Being a British Muslim: "I take a great sense of pride — and responsibility — in knowing that I am the first of my kind, from my background. I'm not currently practising but I was raised in the Islamic faith, so it will always be with me, and I identify a lot with the culture. But I'm just me. I don't want to be defined by my religion or my cultural background."

Traveling while Muslim: "The first time I came to America, I had three security checks before I got on the plane; first they said that I'd been randomly selected, and then they said it was something to do with my name, it was flagging something on their system…" he raises one of his lustrous eyebrows. "Then when I landed, it was like a movie. They kept me there for three hours, questioning me about all kinds of crazy stuff. I was 17, my first time in America, jet-lagged off the plane, confused. The same thing happened the next time too. I understand the level of caution that needs to be taken, especially now, in the light of certain events at home. I don't think there's any benefit to getting angry — it's something that comes with the climate. I understand why they've got to do it."

He's baffled by the radicalization of second & third-generation British Muslims: "I don't know how to figure out the psychology of why people do it. And I don't know the remedy for it. I just wish people had more love and care and compassion for other human beings."
[From the London Evening Standard]
It bugs me that Zayn is asked about being a famous British Muslim – and his answer was great, no shade – and then in the next breath, they ask him about radicalized Muslim youths. Like, does every Bernie Sanders supporter have to answer for the actions of James Hodgkinson (the Scalise shooter) or Portland stabber/white supremacist/Bernie supporter Jeremy Joseph Christian? No, of course not – because those terrorists were white guys, and God help us all if we make white guys answer for the actions of their fellow white dudes.
The full #zaynxversus collection
→ https://t.co/2Q1H7XkSd4 🆚🆚🆚🆚🆚 pic.twitter.com/A4YUpzd1kS

— zayn (@zaynmalik) June 19, 2017
Photos courtesy of WENN, Versace.