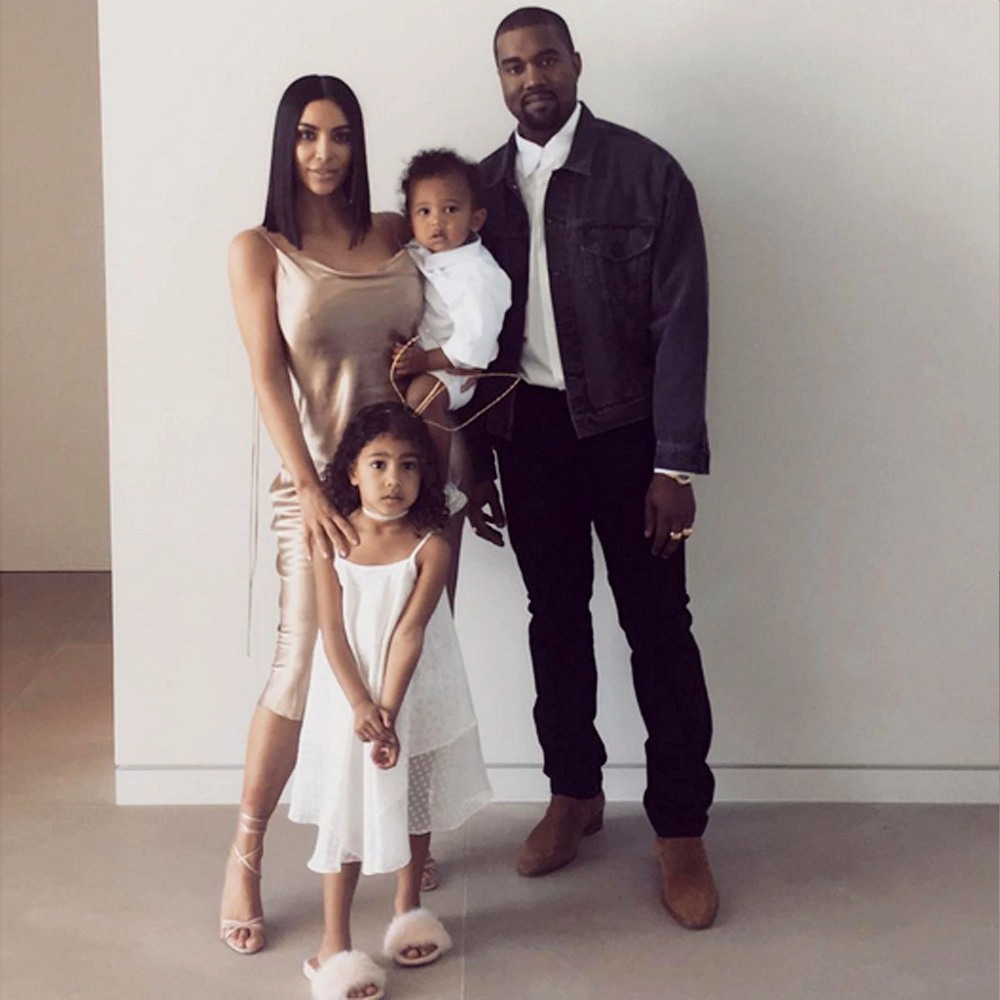 It's been long-rumored, and now there's a confirmation: Kim Kardashian and Kanye West are hiring a surrogate to carry their third child. For the most part, celebrities only announce a surrogacy after the fact, when the baby is in the world. But not Kimye. I guess that's sort of smart of Kim and Kanye, because there's a lot of leaking in that family, and if they had tried to keep the surrogate on the DL, it probably would have blown up in their faces. So, best to do full-disclosure from the very beginning.
The West family is expanding! Kim Kardashian West and Kanye West have hired a surrogate, a source confirms to PEOPLE. Kardashian West has long made it clear on Keeping Up with the Kardashians that she wants another child – even though her doctors have warned her about the health risks of another pregnancy because she suffers from placenta accreta.

The couple, who wed in May 2014, are already parents to 4-year-old daughter North and 18-month-old son Saint.

"I'd just love nothing more than to expand my family and just know that I have this world at home that's safe," she said on the show. "And if for some reason I left this earth sooner than I really wanted to, then my kids would have a support system at home so that I know that they would be okay if I wasn't here."

Kardashian West underwent a procedure to help her become able of carrying another baby if she chooses to, but it doesn't work.

"I can't carry anymore kids … it's the worst," she told close pal Jonathan Cheban. "It's not going to be happy for me.. I had a full break down … I give up."
TMZ reports that the deal has already happened with the surrogate, whom they met through an agency. Everything seems above-board – the surrogate, Kim and Kanye are all working through this agency, it seems, and they are putting $68,850 as "deposit" with the agency. The surrogate will be paid $45,000 in total ($4500 per month for ten months), and "if there are multiples, the surrogate gets $5k for each additional kid." Oh, and "If the surrogate loses reproductive organs, she gets $4,000." Which… what??? I have questions about that one. The surrogate cannot smoke, drink or do drugs and she can't have sex with her partner in the three weeks after embryo implantation. She can't go in hot tubs or saunas. She cannot apply hair dye. She cannot eat sushi. All of the regular pregnancy stuff, basically.
Happy Fathers Day 💙 pic.twitter.com/JZgv9ljFLH

— Kim Kardashian West (@KimKardashian) June 18, 2017
Happy Fathers Day! Thank you for being such a good dad to our babies! pic.twitter.com/HUW4g4n1O2

— Kim Kardashian West (@KimKardashian) June 18, 2017
Photos courtesy of Kim's social media, WENN.