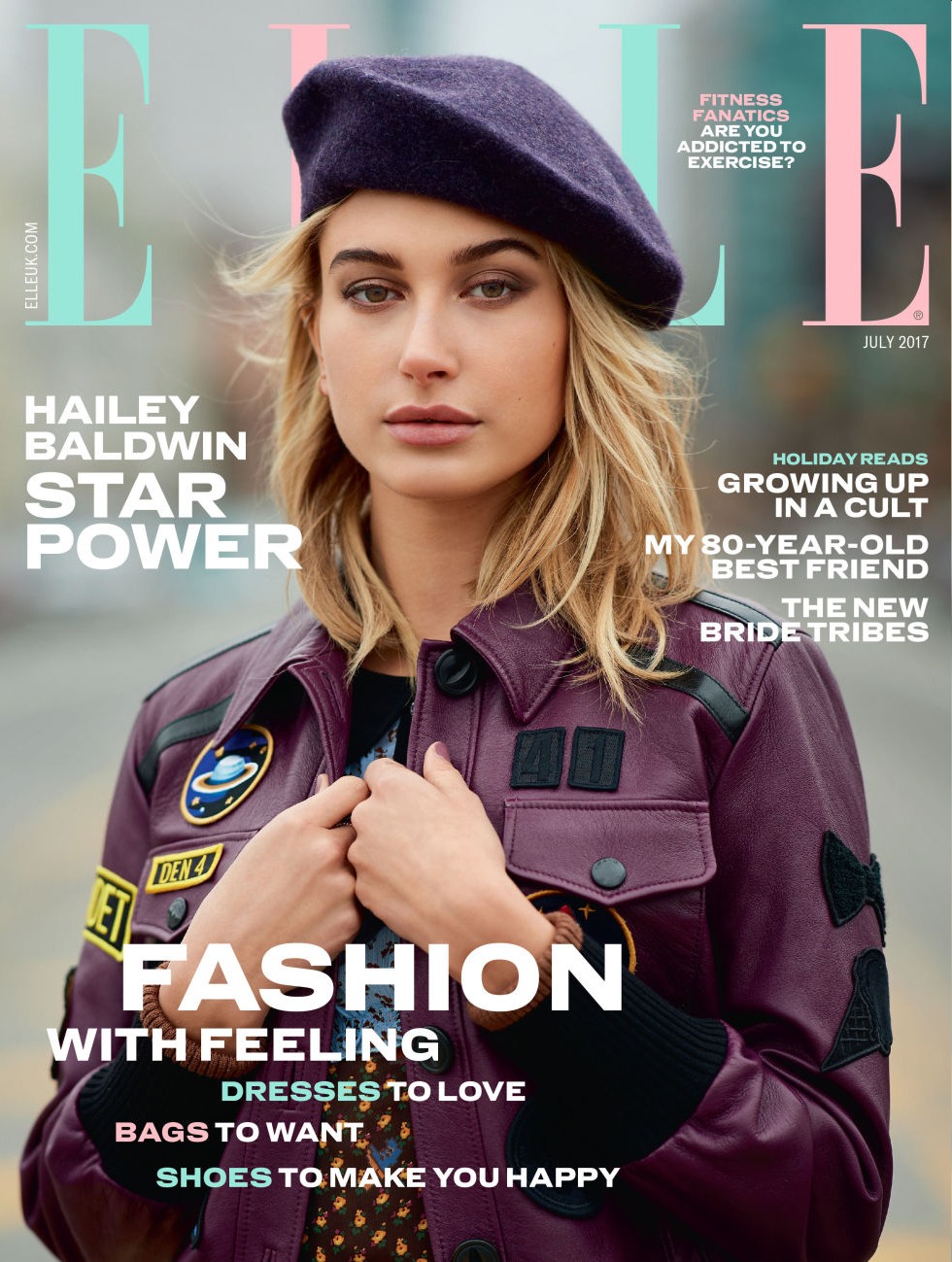 I don't know what's wrong with me, but I literally just saw this Hailey Baldwin stuff yesterday. Hailey is the cover girl for the latest issue of Elle UK. I think I didn't pay any attention to this because I looked at the cover and fell asleep. Seriously, this was the best image they could use for the cover?!? Anyway, Hailey is on the cover because she's a nepotism model and "celebrity," I guess. I mean, we've talked about her before, and she's gotten magazine covers before. But in the scope of Instamodels and nepotism models, I've never really thought Hailey was on the upper tier of anything. She's friends with the Jenners and the Hadids, and she hooked up with Justin Bieber, so maybe she's already there and I'm just an old fart. In any case, Hailey takes issue with being called an Instamodel. Because of course she does. Some highlights from Elle UK:
Don't call her an Instamodel: "I work my a** off to make what I have and to prove that this is what I want to do. I want to be a model. I don't think I would be where I am if people didn't see something in me.I put all my modelling [photos] on my Instagram because I'm showing it to people. It's not about me getting paid to model for things on Instagram – of course, sometimes we do get paid for things we do for Instagram and Twitter – but there is a line of calling someone an Insta model or an Insta star."

Her spirituality: "I quote the Bible all the time. I take it into my everyday life, I'm quite serious about it. It's not funny when people joke about it; I actually find it quite offensive. It's something that's really important to me and I've seen it change a lot of people's lives. It certainly did in my family [her father Stephen became a born-again fundamentalist after September 11]. It's something I plan to stick to for the rest of my life – raise my kids that way, marry someone who believes in the same things. It's important to me. Spirituality is a good way of being able to always be connected with something that's bigger than you. It's an anchor."

Her group of friends: "I'm the 'mom'. I like taking care of people, I like nurturing people…We sometimes call Kendall [Jenner] 'Mamma Kens' because she's very rational. She has a good head on her shoulders and she's a straight thinker…I'm kind of like an encyclopaedia. I'm a little nerdy to be honest."

Her father, Stephen Baldwin, is a Trump supporter: "I've differed with my dad on pretty much everything in politics, especially lately, but I'm 100% my own person…It is what is it. They're my family at the end of the day. I love them to death, but it's never going to permanently change anything for me. I've always had my own thoughts on politics."

Whether she considers herself a liberal: "I don't know if I would necessarily label myself as one thing. I know what's right. I know when I see our nation being destroyed because of poor decisions [made] on other people's part. We're in a horrible time in our country and it's sad, but I think the one positive that's come out of it is people coming together across the world, standing united – that's awesome. You have to try your best to see the positive in all the dark stuff that's going on. That's what I try to do.'
"…But there is a line of calling someone an Insta model or an Insta star." Is there really? Did you nurture a "fanbase" on social media and parlay that into modeling work, which you then show off on Instagram? Do you actually model – for money – on Instagram? Then yes, you are a Instamodel. Even Vogue has embraced the term and Vogue has embraced Instamodels completely, so why all the drama about it?
As for her faith… "It's not funny when people joke about it; I actually find it quite offensive." Everything offends this girl, right? She's offended when she's called an Instamodel. She's offended when people are like, "Oh, I'm sure you were Bible-studying with Justin Bieber all night long."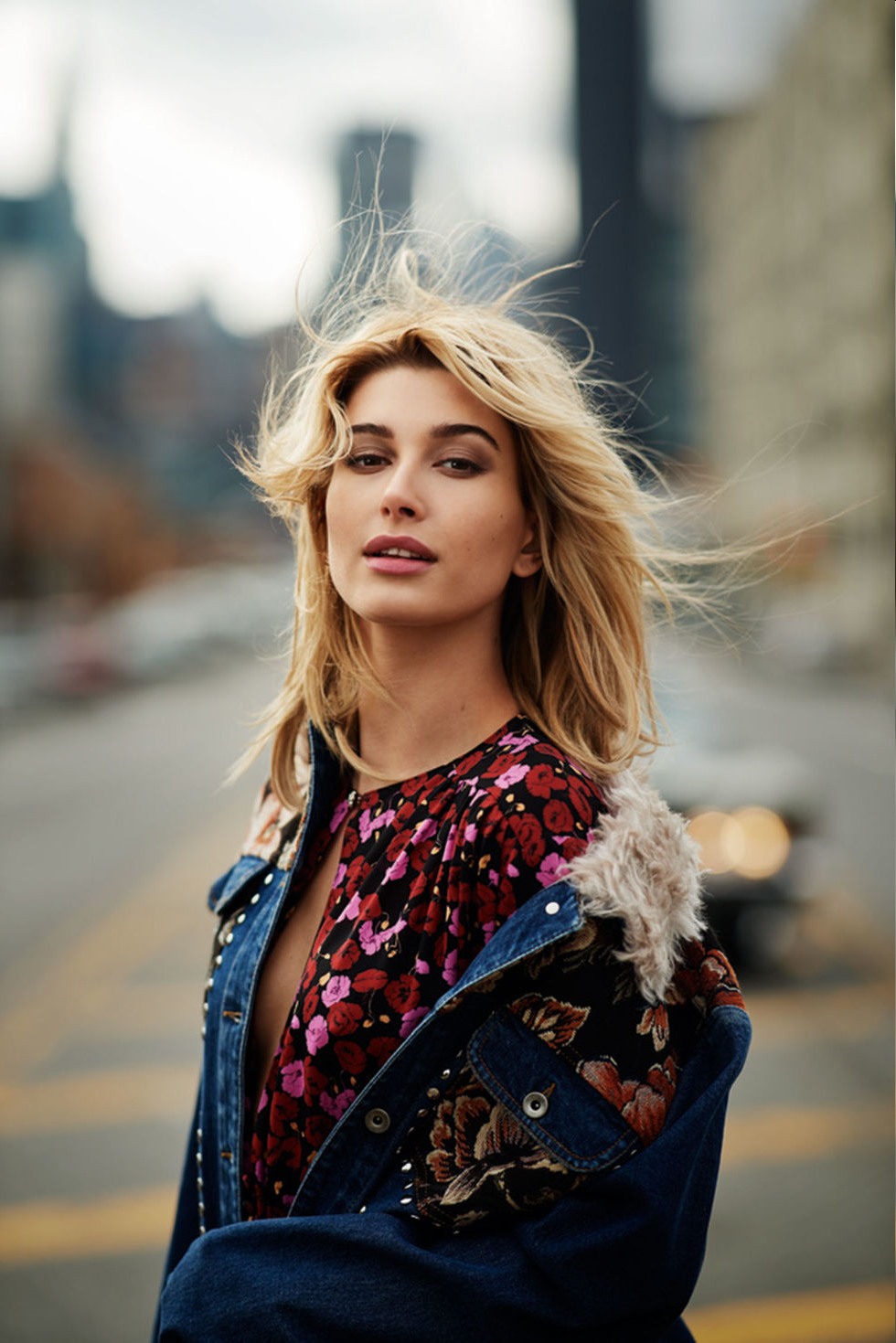 Photos courtesy Elle UK.