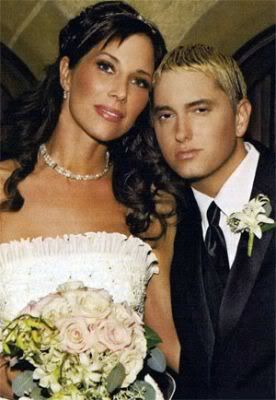 Eminem has filed for divorce from Kim Mathers after a mere three months of marriage. It was his second marriage to the mother of his 10 year-old daughter, Hallie. Eminem should have studied his own lyrics, because he revealed much about his private life and his dysfunctional relationship with Mathers in his music:
You really f***d me Kim, you really did a number on me…
I hate you, i hate you, i swear to god i hate you…
No one can hear you, now shut the F*** up and get what's coming to you.
You were supposed to love me.
Now bleed bitch, bleed!
Eminem may have also revealed the reason why he reunited with Kim – fear of mortality and a feeling of responsibility for his daughter – in the lyrics to his single "When I'm gone":
"Daddy it's me! Help mummy her wrists are bleedin'"

But baby we're in Sweden, how did you get to Sweden?!

"I followed you daddy, you told me that you wern't leavin

You lied to me dad, and now you make mummy sad

And I bought you this coin

It says 'number 1 dad', that's all I wanted

I just wanna give you this coin

I get the point, fine, me and mummy are goin"

But baby wait-

"its too late dad, you made the choice. Now go out there and show 'em you love 'em more than us."
Hopefully Eminem's daughter is cushioned from the blow of her parents' second divorce and this is not too hard on her.
Eminem and Mathers were married for the first time in 1999 and split up in 2001. Eminem received two years probation for pistol whipping a man he saw kissing Mathers outside a club after their first breakup in 2001.