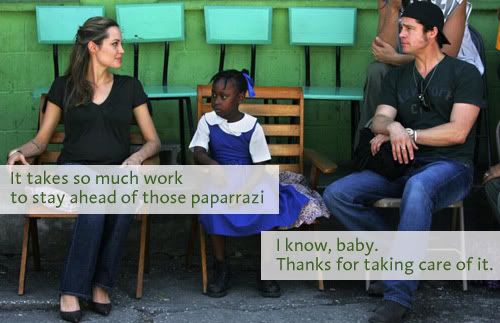 Unless the Namibian government is cashing in on the tourism trend of claiming that the Jolie-Pitts favor your nation, Angelina and Brad are now in Africa. This means that the rumor that Angelina wanted to give bith is Africa may have been true and that we were totally wrong. This will not be the first time.
MEGA stars Angelina Jolie and Brad Pitt arrived in Namibia at the crack of dawn yesterday
. As far as The Namibian was able to establish last night, the couple have reportedly brought their two children – Maddox and Zahara – with them.
It is unclear how long they will stay in Namibia, or what the family's plans are while they are here.
At the weekend, wire reports emanating from overseas speculated that Jolie, who is pregnant with Pitt's child, was coming to have her baby in Namibia.
Alternative reports have suggested that the family is just on a visit…
Sources in Europe earlier told The Namibian that the couple had flown out of Le Bourget airport in Paris in a private jet on Monday night – believed to be headed for Namibia.
Jolie is no stranger to Namibia. The Oscar-winning actress spent time in the country in 2002 during the filming of the international feature movie on refugees, 'Beyond Borders', at Swakopmund.
Namibia is believed to hold particularly fond memories for Jolie. It was here that she took legal custody of her adopted Cambodian son, Maddox, in March 2002.
[via]
Maybe the Jolie-Pitts will get some peace from the paparazzi in the nation of Namibia, or maybe some enterprising Namibians will get out their cameras and start shooting.
Regardless let's hope that Brad is no longer banished to the couch and that he gets some loving in Africa. PopBytes posted these scans of a Star Magazine article that claims that Angelina is uncomfortable in bed due to her pregnancy (been there) and is having Brad sleep on the couch of their apartment in Paris.
Star also claims that Jolie and Pitt are fighting and that Jolie wants her children to grow up in Europe while Pitt is homesick for the comforts of America.
We were reluctant to admit that Pitt and Jolie were having trouble, but this might be true. Maybe after the baby is born and they've carved out a little space for themselves in Africa they'll be on better terms. It certainly must be stressful to have people follow you everywhere, and it can't be easy to move around so much.