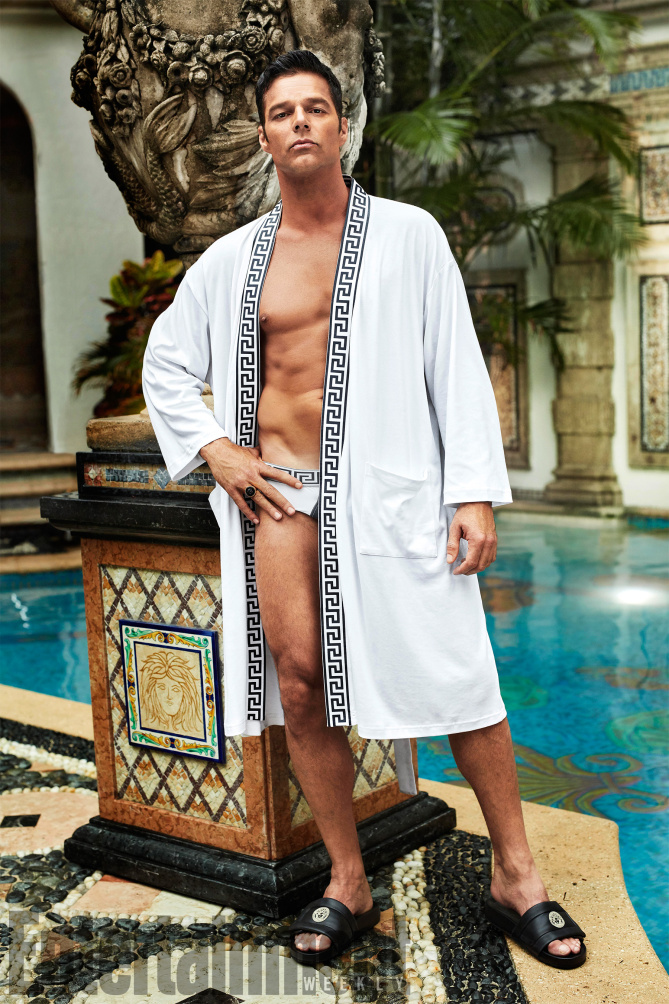 This week's Entertainment Weekly features interviews and photos of the cast of Ryan Murphy's upcoming second season of American Crime Story. This second installment focuses on the murder of famed fashion designer Gianni Versace. In the new series, singer and actor Ricky Martin takes on the role of the designer's longtime partner, model Antonio D'Amico.
Ricky was eager to work with Ryan again, after making a guest appearance on a 2012 episode of Glee as a sexy Spanish teacher. He called Versace's murder "a story that needs to be told." He went on to tell EW:
We're going to go mainstream with a story that talks about homophobia, that talks about hate, that talks about indifference. I feel humbled. It's so raw and honest and so dramatic and sad. But at the same time you show the love of Gianni and Antonio and 15 years of struggling, fighting. It's something that I really wanted to be loud about.
Playing Antonio on ACS is Ricky's first time portraying a gay character, after coming out publicly back in 2010. This career first holds a special significance to him because he was able to relate to the character's struggle. As he put it,
It is special because I am speaking on behalf of a lot of people that can't be heard. There was a scene where Gianni is weak and almost falling on the beach and I touch him and he goes, 'Don't touch me! Paparazzi!' You don't understand. That took me back to eight years ago when I was in the closet and it just moved me.
Another first for Ricky is filming his first on-screen sex scene with co-star Edgar Ramirez, who plays Versace. Despite filming the love scene the same day he met Edgar, Ricky says he felt at ease:
I thought I was going to be more uncomfortable. The exhibitionism kicked in for a moment and all of a sudden I was naked in bed in front of 20 people from the crew and another actor I met that same day. I was not nervous at all. On the contrary, I was ready to do what needed to be done.
I don't know about you, but the prospect of a love scene with Edgar or Ricky might change my opinion on exhibitionism too. Is it hot in here, or is it just me? Edgar posted a selfie of with Ricky from the set of ACS with the caption, "Are you ready for this?" Oh, we are, trust us, Edgar.
Ricky has also posted a few behind-the-scenes shots from the set as well. On May 18, he hosted some special visitors, his 8-year-old twin sons Matteo and Valentino.
And, on May 14, the 45-year-old singer posted a photo with his cast members blowing off a little steam. Along with Ricky and Edgar, the shot shows ACS creator Ryan Murphy, Darren Criss, who plays Andrew Cunanan, and Dascha Polanco, a/k/a/Daya from Orange is the New Black, who also has a role in the series (although it's not been announced whom she's playing). Ricky captioned the snap, "Ready for another week working with this gang. Great days ahead." Great days for you, Ricky, long days for those of us who can't wait to see the show.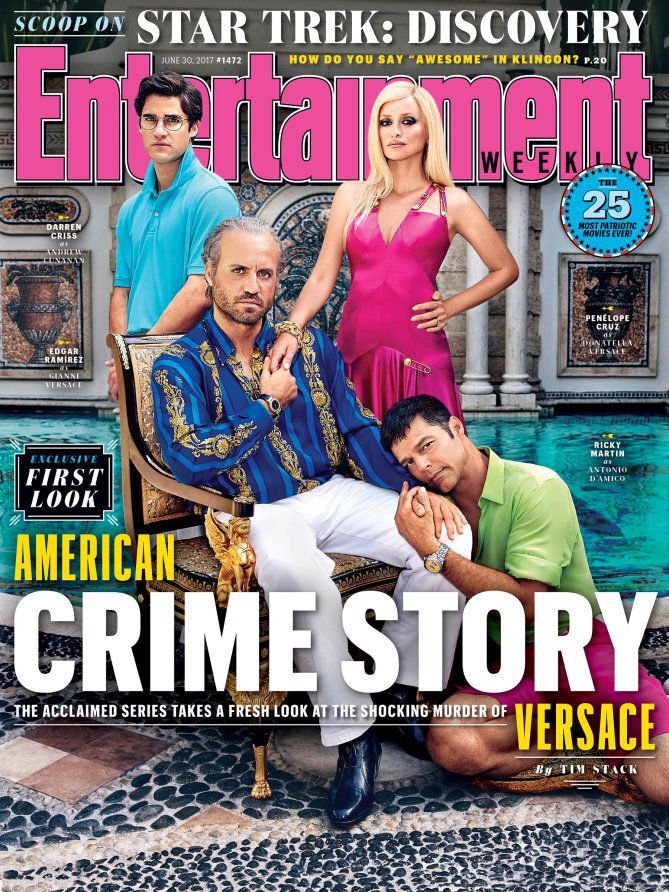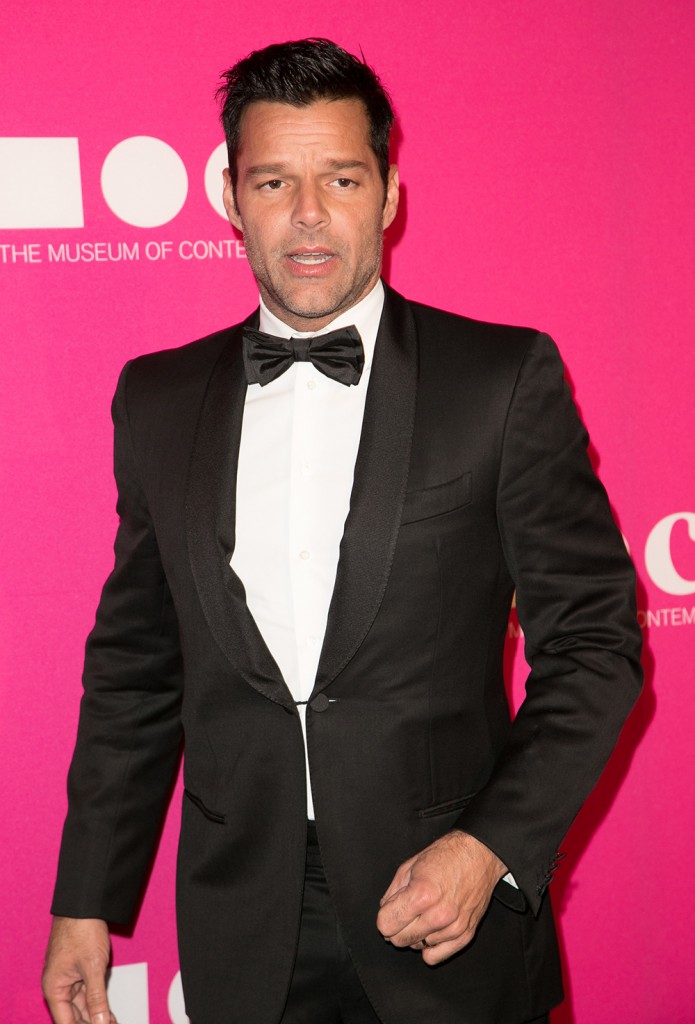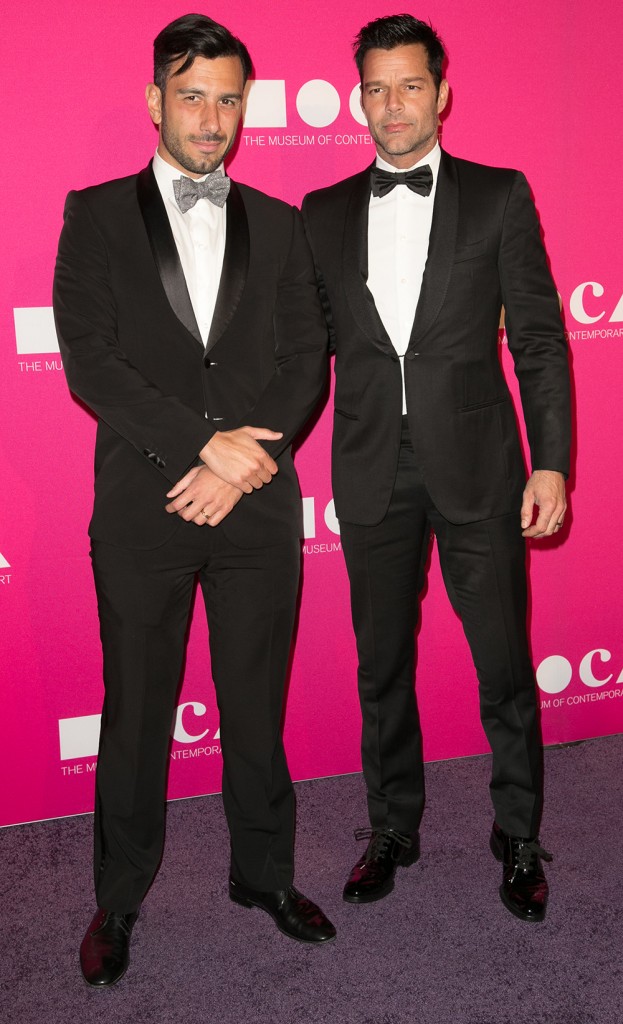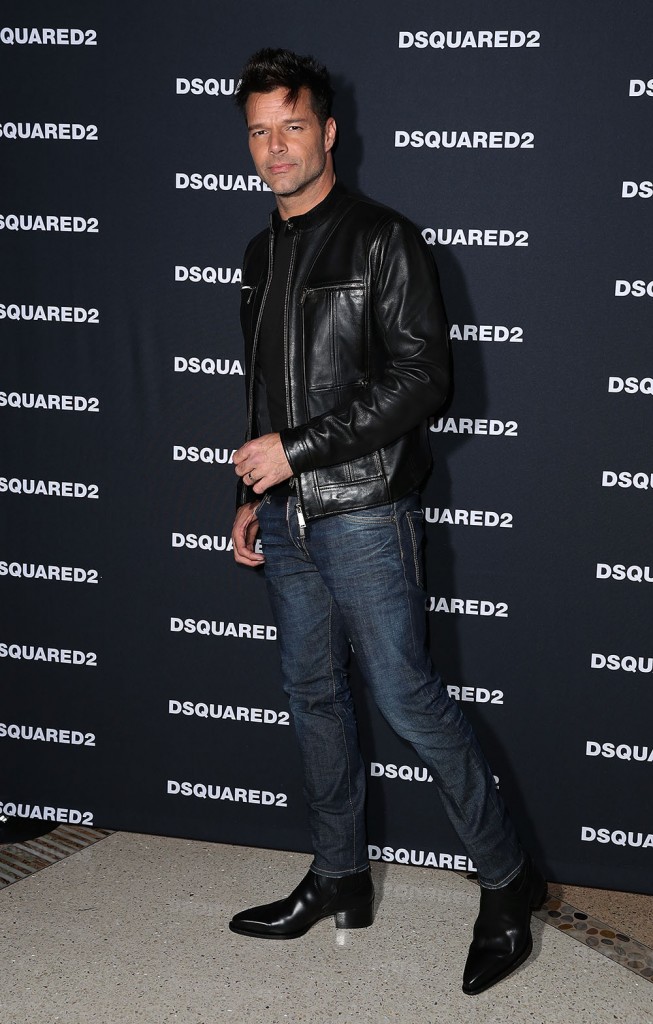 Photos: Entertainment Weekly, Getty Images, WENN.com