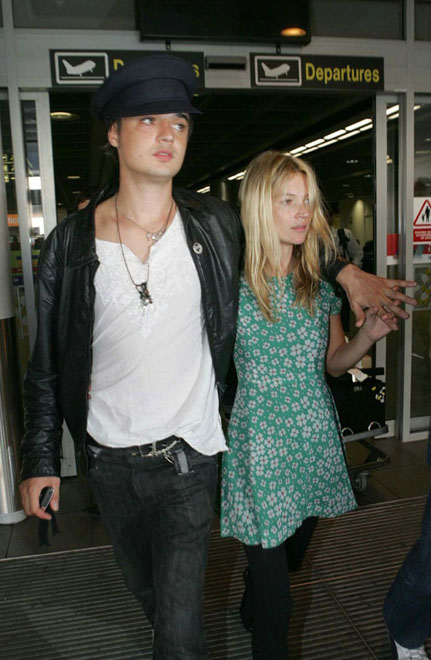 It looks like all it took to drive Kate Moss back into the needle-marked arms of Pete Doherty again was the news that her friend was dating him, because the two longterm lovers were said to be holed up in a hotel suite together for the past five days.
While Kate was on vacation in Spain she gave in when Pete kept calling her and they had a heart to heart over the phone. Then when she got back they are said to have reconciled:
The Daily Mail even reports that Kate is talking marriage and babies again. She kicked him out of her house and changed the locks, but she's too weak to be without him for even a few weeks.
Kate Moss's friends and family are devastated after learning she has run back into the arms of Pete Doherty. The supermodel has been secretly staying with the drug-addicted singer at Claridge's.

The Daily Mail has learned that the pair have been living it up in a £1,500-a-night suite at the Mayfair hotel for the past five days.

On one night, friends had to be ejected by hotel security when their revelry became too rowdy and the number of guests allowed per room was exceeded…

A friend of Miss Moss told the Mail last night: "Linda, Kate's mum, thought the time away from him would break the spell he has over her. She had been on a strict break. They had not even exchanged a word in weeks.

"She has been completely ignoring him. But what is worrying the family most is that Kate feels that the break from Pete has only made her love stronger. Linda is absolutely devastated."

The friend went on: "During her holiday in Spain, Pete was calling her on the mobile incessantly. He could not get through and the line kept going dead.

"She eventually called him one evening and since that conversation they have been continually on the phone. Kate has been like a moth to the flame.

"When she got back to Britain, they met up at the hotel. He cried and she cried. She said to him she had been avoiding him because she had promised everyone from her managers to her mother that she would.

"She told him, 'It's not me. It's just what they all made me do'."

During a late-night heart-to-heart at Claridge's, Miss Moss told Doherty she was "miserable without him and desperately happy with him"…

"Now she is talking about making a grand commitment to him – she wants the wedding over here that was put on hold, and she also wants his children."
Just when you thought Kate Moss got her shit together she goes and runs back to Doherty. Yesterday I was wondering what women see in this guy, and speculated that it must be some level of depth and sensitivity that women see in him that isn't actually there. Commentor Carol chalked it up to women's nurturing instinct and said "Women are always attracted to damaged men and he's about as damaged as they get."
Not only is Doherty lucky in love, he got a big break in yet another drug possession charge when he was let off on a technicality yesterday. Everyone was rooting for jail time for the junkie, but it wasn't to be. Instead of a prison cell he got a $3,000 a night suite with a supermodel and a rowdy party with friends. Life sure is fair.
Header image is an older one of Kate and Pete at the airport on 9/25/06. I've used the "reunited" image below about four times now.