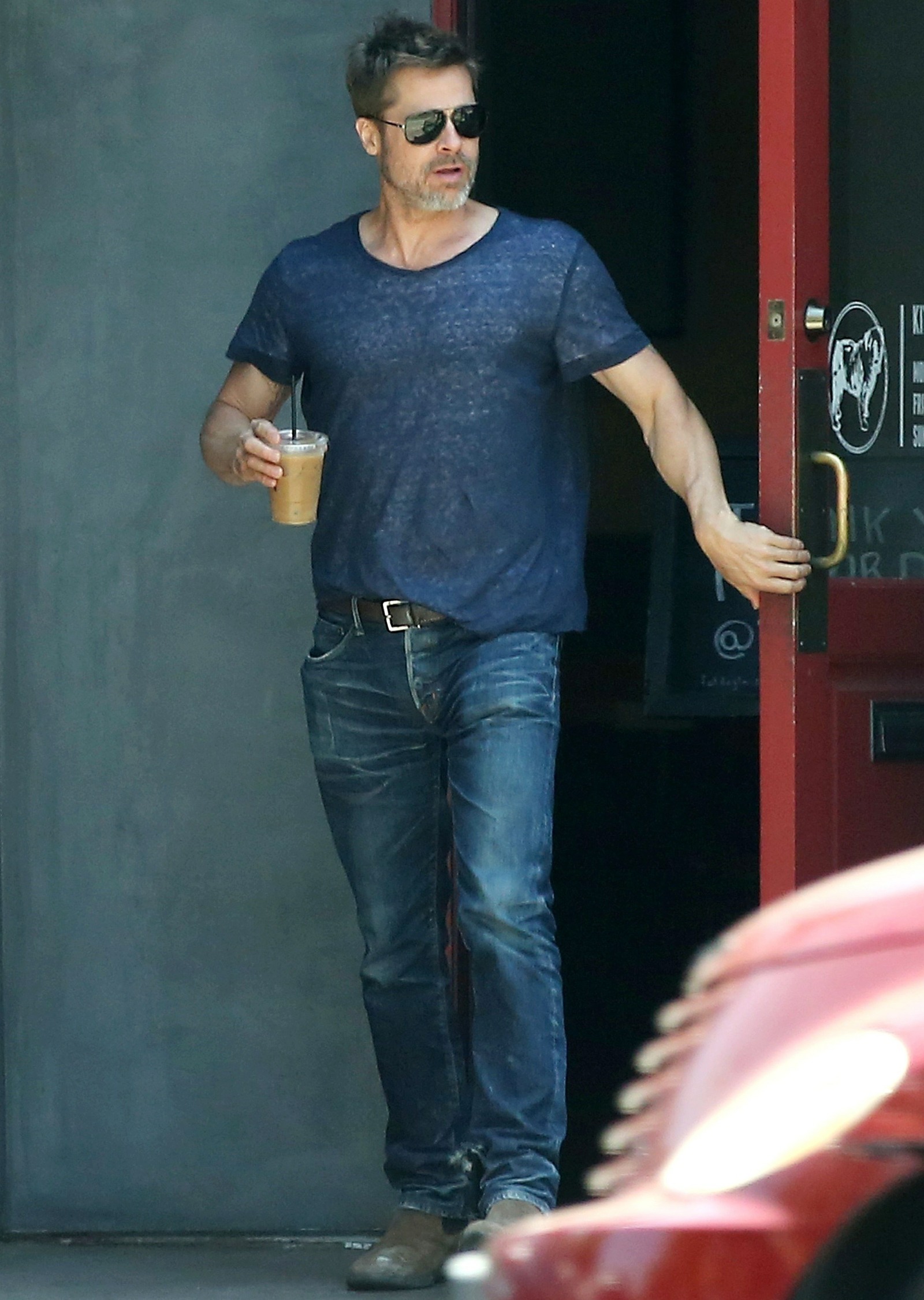 True story: when I looked at these photos in the thumbnails, I thought I was looking at Chris Pine. Which is good news for Brad Pitt, because Brad is the one actually in these photos. Is Chris Pine the New Brad, or is Brad trying to "compete" with the Hollywood Chrises? The answer is probably "neither." Don't get me wrong, I think Brad has that ego and that fear of aging, but I also think he's self-aware enough to know that he's not up for the same parts as The Chrises. I also think Chris Pine is setting off on his own path and not really following "the Brad Pitt Model."
Anyway, these photos. Brad was spotted "having lunch with friends" and then picking up an iced coffee before heading to his office, probably his Plan B office. I have to say… he looks good. He's gained some weight back and he doesn't look so gaunt and "recently detoxed." Plus, the man looks good in blue. He knows he looks good in blue too. But does Sienna Miller think he looks good in blue? Probably. Us Weekly claimed this week that Sienna and Brad are happening and they've been seeing each other for a few months or something. Gossip Cop, on the other hand, calls the Sienna-Brad thing "fake news." Apparently, Life & Style added to the Sienna-Brad story with the claim that Angelina Jolie is so, so jelly.
Angelina Jolie is not "jealous" of Brad Pitt and Sienna Miller, contrary to a tabloid report. Pitt and Miller aren't dating, so Jolie has no reason to be upset. The story is simply fake news.

"Angie's Jealous Over Brad And Sienna," announces Life & Style. According to the tabloid, after Pitt and Miller allegedly showed PDA at the Glastonbury music festival in England, "the news traveled fast, all the way back to Angelina Jolie." A so-called "insider" is quoted as saying, "Angie hit the roof when she heard about it. In her mind, Brad and Sienna are involved in a full-blown romance and she's super jealous."

In fact, the gossip magazine goes on to allege that Jolie had a problem with Miller even before she and Pitt split, leading to "friction" in the marriage. "Every time Brad would compliment Sienna's acting in [The Lost City Of Z], Angie would bristle," the supposed source claims to the outlet, further asserting that Pitt's purported new romance is also affecting custody arrangements.

"Angie made it known to Brad that she doesn't want him bringing 'that woman,' around the kids," the publication's alleged tipster maintains, adding, "Sienna still gets under Angie's skin like no other woman can." Funny, that's what the tabloids typically say about Jennifer Aniston. It's a classic line, one found in countless "jealousy" stories that have been published by the gossip media over the years.

But there's no love triangle here. As Gossip Cop already reported, claims that Pitt and Miller were "cuddling" at Glastonbury are untrue. While both hung out as part of a group of friends, they weren't affectionate whatsoever. Nor are Pitt and Miller dating, Gossip Cop has been assured by sources on both sides of this supposed relationship. Furthermore, Gossip Cop is told that Jolie is well aware there's no romance, and isn't affected by unfounded rumors. She's moving on with her life, and should he choose to, Pitt is free to do the same.
One, I believe that Sienna and Brad are actually seeing each other. I don't believe it's fake news. I think it's for-real gossip. Two, I believe that Angelina Jolie doesn't give a sh-t. I think Jolie was over Brad and his sh-t before "the plane incident" and she's even more apathetic towards him now. Let him bang Sienna if he wants, just don't expect Angelina to play the Wronged Woman card. That's not her style.
Seriously though, how is this NOT Chris Pine??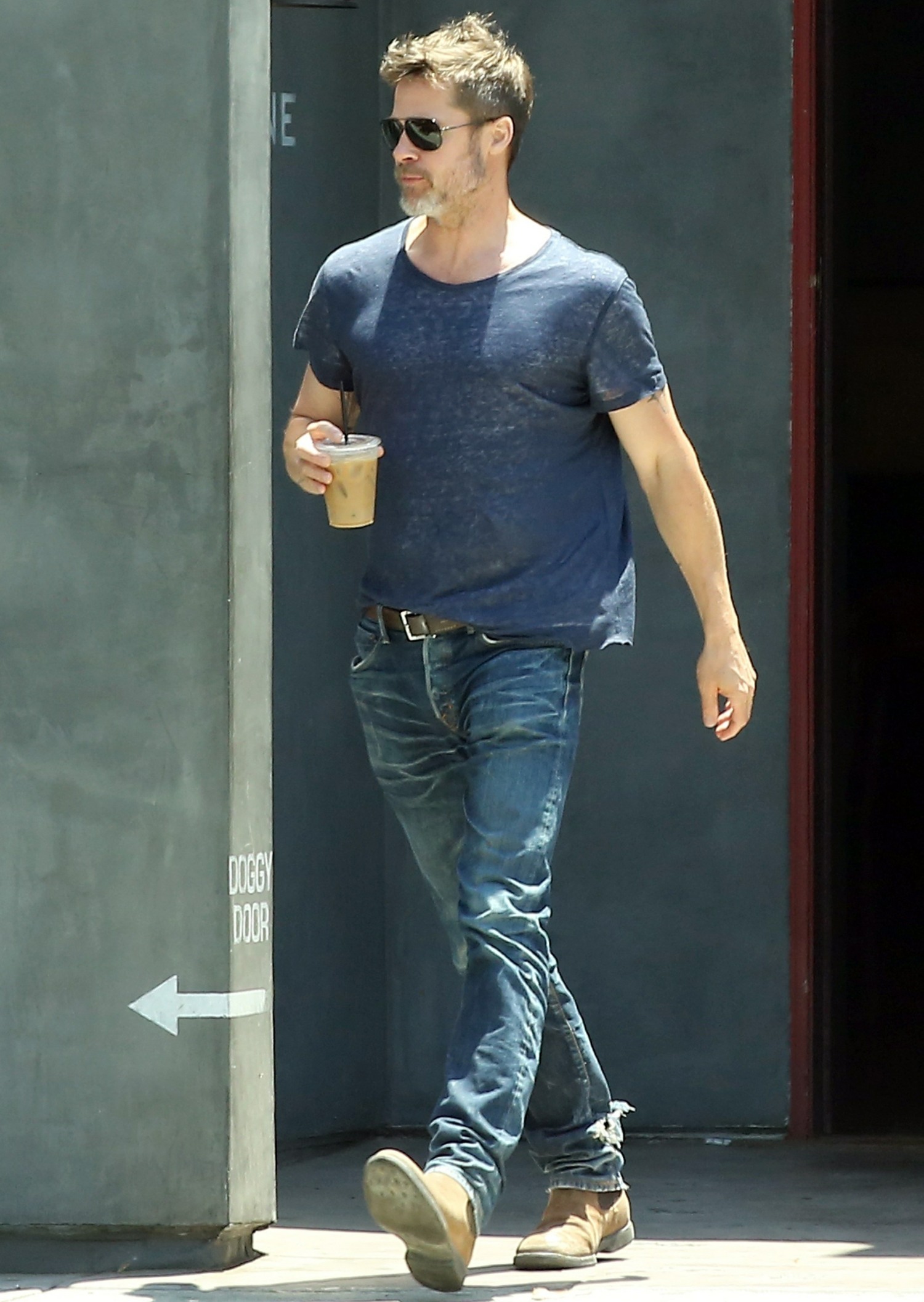 Photos courtesy of Backgrid.