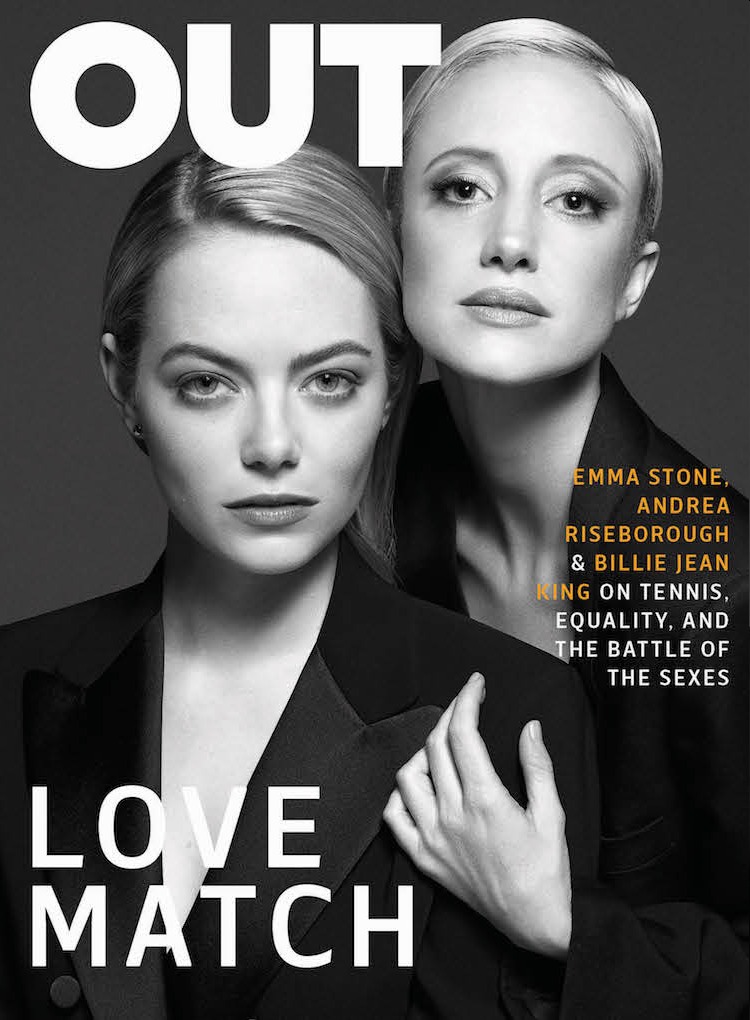 Emma Stone and Andrea Riseborough cover the latest issue of Out Magazine. I've watched the trailer for Battle of the Sexes about a million times already and it's only right now, at this very moment, that I realize that Andrea is playing Billie Jean King's lover Marilyn Barnett. Andrea is a shape-shifter and I feel like I'm face-blind because I never recognize her in photos or movies. Anyway, yes, Battle of the Sexes. It's a film about the famous 1973 exhibition tennis match between Billie Jean King and Bobby Riggs, where Billie Jean beat Riggs and solidified her position as one of the most badass women around. She became a global figure of feminism and the "Battle of the Sexes" match is often listed as one of the most iconic global events and global sporting events of the 20th century. Out got the real Billie Jean to sit down with Emma Stone and Andrea for the cover story – you can read the full piece here. It's worth the read just because Billie is so f–king awesome. Some highlights:
Emma on putting on 15 pounds of muscle: "Yeah, it was like six days a week. I was really going for it. You know, I see old pictures of you, and you're so muscular and sinewy, and I'm like, ugh. Your body was so iconic, and all I wanted was to just match that exactly. You know, my tennis double was such an imperative part of the movie—me being a novice, and Billie Jean being number 1 in the world [laughs]—so thankfully our bodies matched enough that I was like, OK, we've got a happy medium here—it's about the essence of Billie Jean and her heart and her spirit.But god, what I wouldn't give to have those same muscles. You have no idea.

Emma on the responsibility she felt: "The responsibility I felt to Billie Jean is immense. She relieved me when she came to the set and said, "You're never going to disappoint me. You're never going to let me down."… her strength of spirit is unlike that of anyone I've ever met, but there was also this confusion and this pain and things I could really relate to. I'm lucky enough to be at that age right now, and I know all of those stirrings and those feelings in me. I can't understand being the number 1 tennis player in the world. I don't know what it's like to be a hero to millions in that way. But I do know what it's like to struggle and to be afraid and to be a public person, and to feel like you can't share all of yourself, and to be afraid of saying the wrong thing, or not furthering goodness in the world. And somehow f–king it up."

Emma on 1973 versus 2017, and pay equity: "The parallels in this movie are pretty fascinating. We began shooting in the spring of 2016, when there was still a lot of hope in the air, and it was very interesting to see this guy—this narcissistic, self-focused, constantly-stirring-the-pot kind of guy—against this incredible, qualified woman, and at the same time be playing Billie Jean, with Steve [Carell] playing Bobby Riggs. Obviously the way this has all panned out has been fascinating and horrifying, and it still feels like we're in a bad dream, but those parallels make sense to me—the equal-pay issue makes a lot of sense to me. At our best right right now we're making 80 cents to the dollar…. It's a difficult system because it depends on the kinds of films you're a part of, the size of your role, how much the movies make at the box office. And so much of that changes your pay throughout your career, so I go more to the blanket issue that women, in general, are making four fifths at best.

Billie Jean, intersectional feminist, correcting Emma: "White women [make 80 cents to the dollar]. If you're African American or Hispanic it goes down, and then Asian Americans make 90 cents to the dollar.

Emma on how male costars have taken pay cuts: "In my career so far, I've needed my male co-stars to take a pay cut so that I may have parity with them. And that's something they do for me because they feel it's what's right and fair. That's something that's also not discussed, necessarily—that our getting equal pay is going to require people to selflessly say, "That's what's fair." If my male co-star, who has a higher quote than me but believes we are equal, takes a pay cut so that I can match him, that changes my quote in the future and changes my life. And this is Billie Jean's feminism, and I love it—she is equality, man: equality, equality, equality….It's not about, "Women are this and men are that." It is, "We are all the same, we are all equal, we all deserve the same respect and the same rights." And that's really what I've been so grateful for with male co-stars—when I've been in a similar-size role in films, and it's been multiple people who have been really incredible and said, "That's what I want to do. That's what's fair and what's right."
As I said, the whole piece is worth a read. Billie Jean throws some shade on Roger Federer, talks extensively about what it was like to build the infrastructure of the WTA, talks about how much she loves Andy Murray's feminism and more. Emma comes across well, for the most part. You can tell how much she loves and respects Billie and how she really wanted to get everything right. As many have already pointed out: why did Hollywood give Emma the Oscar for La La Land when they could have waited to give her the Oscar for this??
Photos courtesy of Out Magazine.