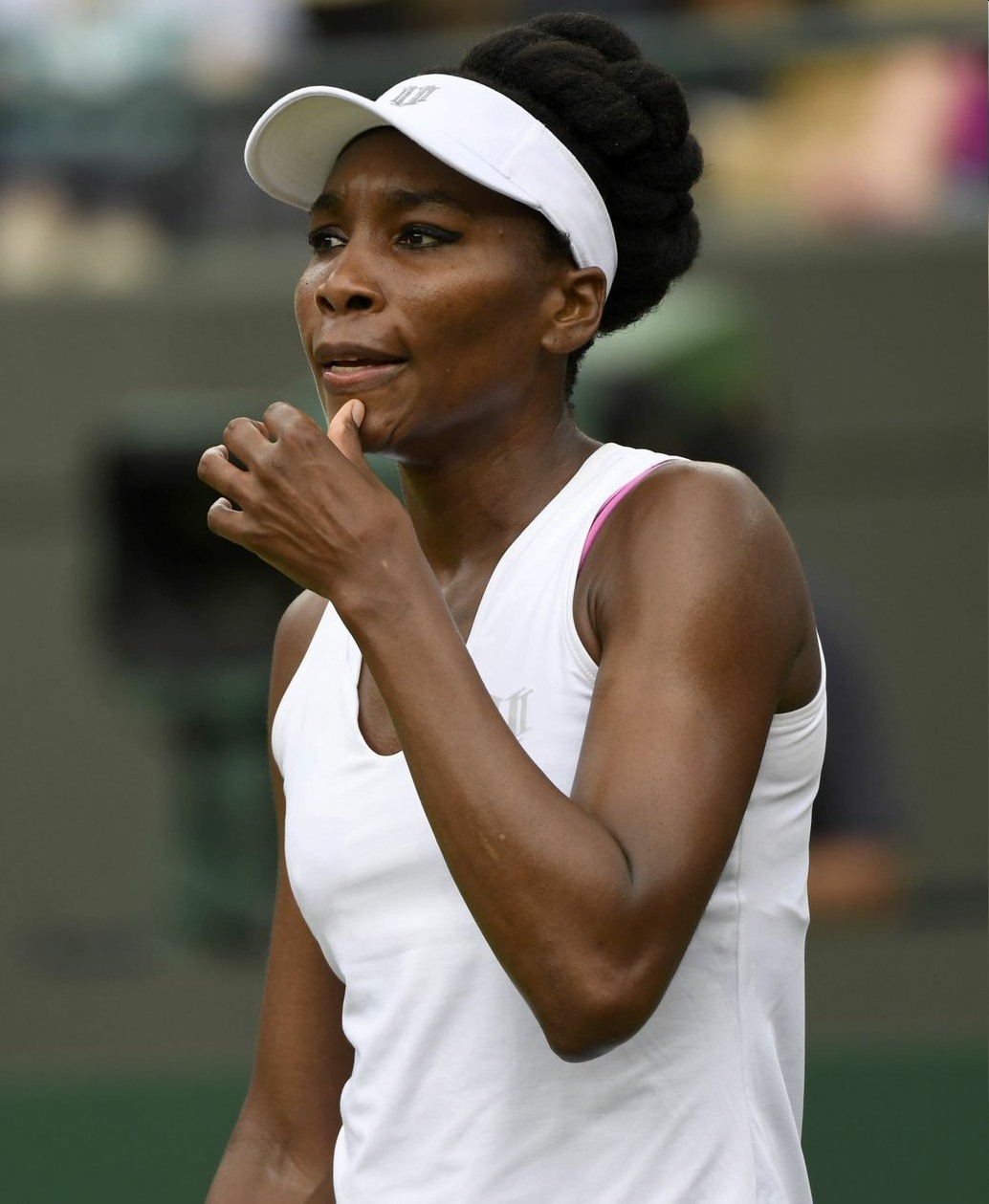 I'm feeling pretty good about my decision to A) give Venus Williams the benefit of the doubt and B) believe Venus's lawyer's statement. As we discussed previously, Venus Williams was "cited" as being "at fault" in a major car accident down in Florida, where she lives. The accident happened a month ago, and Venus's SUV was struck by a car as she made her way through an intersection. A passenger in the other car was hospitalized and died two weeks after the accident. The other driver – now a widow – sued Venus for wrongful death and made a lot of noise about how Venus should be put on trial for, like, vehicular manslaughter or something. Venus has been at Wimbledon for more than a week, and when she was asked about it in her first-round press conference, she broke down in tears.
So, what we knew was that the police publicly declared that Venus was "at fault," even when her lawyer said that no, Venus entered the intersection on a green light. Well, a camera was somewhat angled at that intersection, and wouldn't you know? Venus entered the intersection on the green light and the reason she paused, mid-intersection, as the lights were changing was because she was actually doing exactly what she was supposed to do, yielding the right of way to another car making a turn in front of her. Here's the video:
With the appearance of this video evidence, the Palm Beach Gardens PD have issued a new, revised statement which takes back their initial statement that Venus was at fault:
Police statement: evidence shows Venus lawfully entered intersection before fatal accident. Investigation ongoinghttps://t.co/tjrHwhptkz pic.twitter.com/pjs0o5s4RG

— Christopher Clarey (@christophclarey) July 7, 2017
They're now saying: "After the initial investigation was conducted, new evidence into the incident was located. Based on the evidence obtained in the ongoing investigation, it has been determined the vehicle driven by Venus Williams lawfully entered the intersection on a circular green traffic signal." The police say that the investigation is ongoing and "it is unclear who is at fault." I was always taught – rightly or wrongly – that the person who crashes into another vehicle is always at fault to some degree. Venus didn't hit anybody, yet people were treating her like she was the worst driver and the worst person in the world because someone else hit her. What's interesting is that it really feels like the police department just didn't even listen to Venus Williams' statement, that she had the green light, that she was traveling slowly and cautiously through the intersection. They just went ahead and declared her to be publicly at fault. That's not right.
Venus is still at Wimbledon too. She won her third round on Friday. She faces 19-year-old Croatian player Ana Konjuh in the fourth round.
Photos courtesy of PCN, Getty.