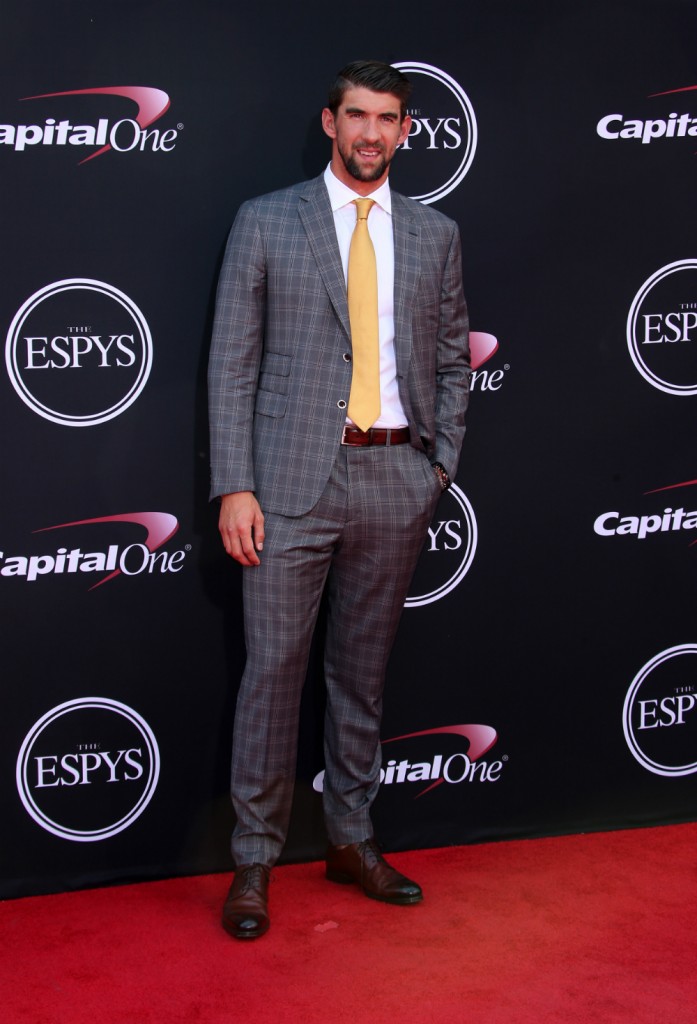 Olympic swimmer Michael Phelps is getting ready to race a great white shark for Shark Week on the Discovery Channel. We're going to come back to that later, but for now I want to talk about the interview he gave to Men's Fitness to promote his Shark Week stunt. Michael spent the first part of the interview discussing his infatuation with sharks and what it was like to be in a cage as they circled him. Then the conversation turned to Michael's life in retirement. It's Men's Fitness so obviously most of the interview is diet and exercise but for a retired athlete, Michael is really specific. Like, he doesn't just know his weight, he knows his body fat percentage and muscle mass. The reason why, though, has to do with past demons. We know that Michael went to a dark place during and after the 2012 Olympics. He let himself go in every sense of the word. Amidst all his other destructive behavior, his weight topped at 235. Because that stood as a symbol of how much he didn't care back then, he has made a point of never getting back to that place in any way.
On taking time off: During the first couple months, I kind of took off. I raced at about 195, 200 (lbs) at the Olympic games—that was my fighting weight. I'm anywhere between 210 and 215. I was kind of lazy the first couple months and wanted to just enjoy retirement, and live life a little bit. Recently, I've started to realize that health and wellness are very large parts of my life, and it helps me be more productive. For me, it is eating a little better, a little different than I was in the past. I'm not burning as many calories as I did in the pool.

He fanboys over The Rock: I saw a workout that [Dwayne] "The Rock" [Johnson] did to get ready for Hercules. Honestly, I did it, and it kicked my ass. It destroyed me—absolutely destroyed me. I'm in the process, now, of building my own gym, and looking for a space to rent, and kind of have my own escape, almost, really, like what The Rock does.

What his Rock Cave will look like: What It's basically a private little place that, when I do go to the gym and I want to work out, I can. I'd rather go in and get my work done that I need to, and kind of not, potentially, be bothered in between a set of squats, or somebody wants to take a photo. I don't mind taking photos, but when I'm there, I want to lift, and I want to get my job done. I do have goals for myself. That's how I've been able to reach the success that I've had, and, for me, I would like to get around 210 and stay around 210, but I don't want to be as lean as I was last year. I mean, I was at 4.5% body fat last year, and that's so low.

His low-point: After 2012, I went from 185lbs to 235, with really doing nothing. I, basically, just got out of shape and didn't really care. Then, that led me to not being in a very happy place, and leading me to a dark place. I know what that feels like, and it's something I never want to happen again. It's that challenge and that motivation to always keep me going, on certain things. It's just fun. For me, life is a lot more fun and enjoyable now, than, really, it ever has been. I think part of that is me coming back, and finishing my career in 2016 in Rio, like I did.

He's still competitive: We took a teacher-run hill (spin) class where we'd try and keep certain RPMs. There were 20 people in the room, and it was fun. It was myself, my wife, Nicole, my training partner, Allison Schmitt, and a buddy of mine, Grant, who's been visiting from Australia for a couple of months. We were basically just trying to compete to see who could get the highest score, and, out of the 10 people, we were top four. I guess the competitiveness is still there, when we're fighting to beat each other.
I would've killed to have been a fly on the wall as Michael, Nicole, Schmitty and Grant were 'racing' each other in spin class. And you know some poor sap spotted Michael and thought, "I'm going to pace with Phelps so I can tell all my friends," and passed out a third of the way into the workout. Plus, I assume this is Grant? Uh – HELL-o!
I get where Michael is coming from. His swimming was the answer to his ADHD as a child. It allowed him control. His desire not to ever be 235 again has little to do with weight and everything to do with him to keep a grip on the growth he has made since his dark days. And I suspect he wants to keep his grip for his son Boomer and wife Nicole just as much as he does for himself. Speaking of Nicole, Michael gave her a sweet shout out at the ESPYs the other night. Not only had she just celebrated her 32nd birthday (4th of July baby!) but it was the couple's 10-year anniversary of meeting at the ESPY awards in 2007.
Now about that race with the great white shark. I was all tongue-in-cheek when I was discussing him actually jumping in the water with one but now I'm not so sure. Michael's not backing down and keeps talking about the challenge of swimming in "their natural habitat." He describes the experience as being, "like swimming next to a school bus in the water," which I don't recommend doing either! Not only that, he says this experience has left him intrigued to see what other sharks he can swim with. Um, how about the blow-up kind that Boomer floats on? Or the gummy kind you can buy in the candy aisle?
It's been a long week – how about some Boomer pics?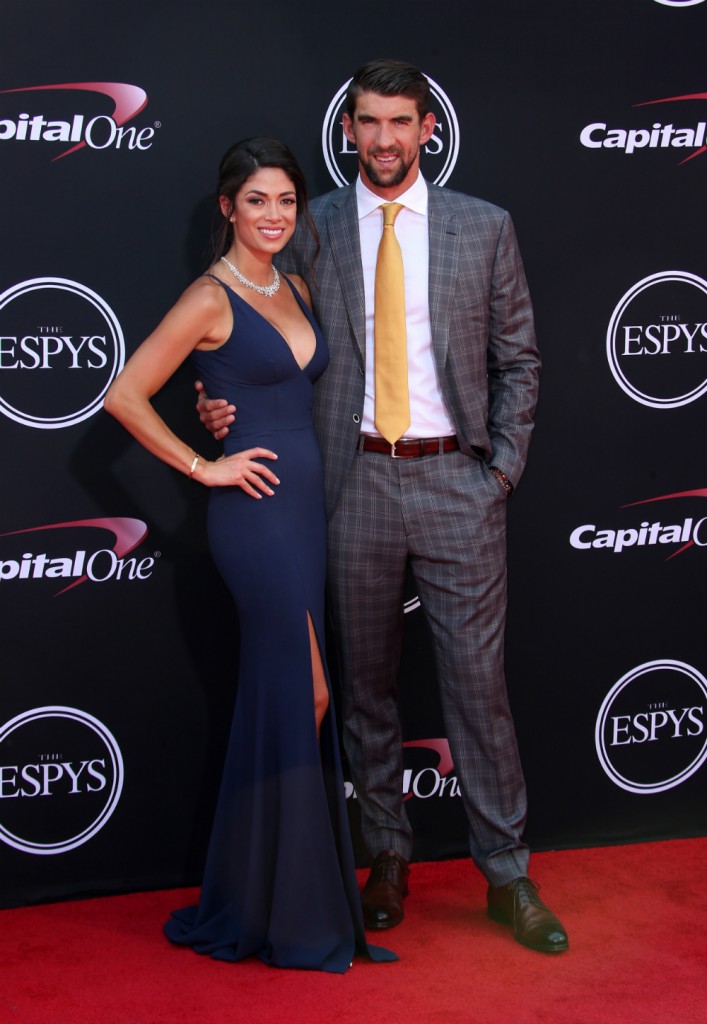 Photo credit: WENN Photos and Instagram