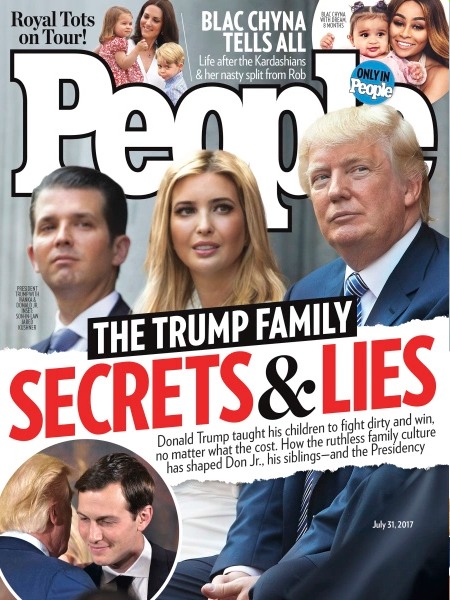 I was going to lump everything together, but this People Magazine story is worth discussing in a stand-alone post. People Mag's cover story this week is about The Terrible Trumps, the Bitchy Biglys, America's dumbass first family. People Mag has been throwing shade – if not outright insulting the Trumps – for months now, but this does feel like a turning point. People Mag, America's go-to celebrity-news outlet, is treating the Trumps like a true-crime story. Which is how they should be treated, quite honestly. You can read the full piece here – the cover story is mostly about how Don Trump Jr. hates his life right now (poor baby) and he wishes his dad was out of office. Same.
On Don Jr.'s admission that he should have done things differently with the Russia meeting: "Those are not words normally heard from a Trump," a source who knows the family well tells PEOPLE in this week's cover story. Those who know and have studied Donald Trump Sr. and the grown children running his empire while he's president—Don Jr., Ivanka and Eric—say the family is guided by their father's creed of winning at all costs and never admitting mistakes.

What his father thinks of Don Jr.: Though the president publicly defended his eldest son, telling reporters 39-year-old Don Jr. is a "good boy" and insisting "nothing happened with the meeting," sources say performance is what matters to the patriarch. "He doesn't like failure and mistakes, and he doesn't accept them," says a source who has had business dealings with Trump. "You have to justify your existence to be in his realm."

Don Jr. is just a humble guy: He "still relishes the quiet of his lifelong loves of hunting and fishing." Most weekends, he escapes Trump Tower Manhattan to a rustic cabin upstate with his wife, Vanessa, and their five children. He's a regular at the Riverside Café in Roscoe, New York, where the manager says Trump Jr. is "good people," doesn't seek attention, and "never has his hair slicked back like he does on TV."

Eric & Don Jr. hate their lives: A friend of the Trump brothers tells PEOPLE they hate their role as First Sons: "Eric and Don, they never wanted this." Adds a source in their circle: "Don can't do any deals, because he'll be overly scrutinized. He just goes to work every day and is miserable."

What one Republican says about Don's Russian meeting: Richard Painter, the chief White House ethics lawyer for President George W. Bush, considers the actions "treason." "It is betraying your own country in the hands of a foreign adversary," Painter tells PEOPLE. He notes that under the Bush administration, Don Jr. would have been in custody and brought in for questioning. "I think there are grounds here on campaign finance violations alone that it is illegal," he says.

Don Jr. is loyal to his dad: "The loyalty within this family is insane," says a family friend especially close to Don Jr. and Eric. "They would never speak against their dad." Adds the source in the brothers' circle, "You can't bite the hand that feeds you, but he [Don Jr.] can't wait for these four years to be over."
This is truly the People Magazine treatment – casting Don Jr. as a victim of circumstance and stupidity, all while throwing around the word "treason." The question is: does anyone actually feel sorry for Don Jr. or any of the Trumps? I'm really asking. I feel sorry for Barron and that's about it. The rest of them need to be handcuffed and frog-marched off to federal prison.
Also: who will turn on the family first? Will Bigly sell out his own son and throw him under the bus? Or will Don Jr. sell out his father?
Photos courtesy of Getty, cover courtesy of People.