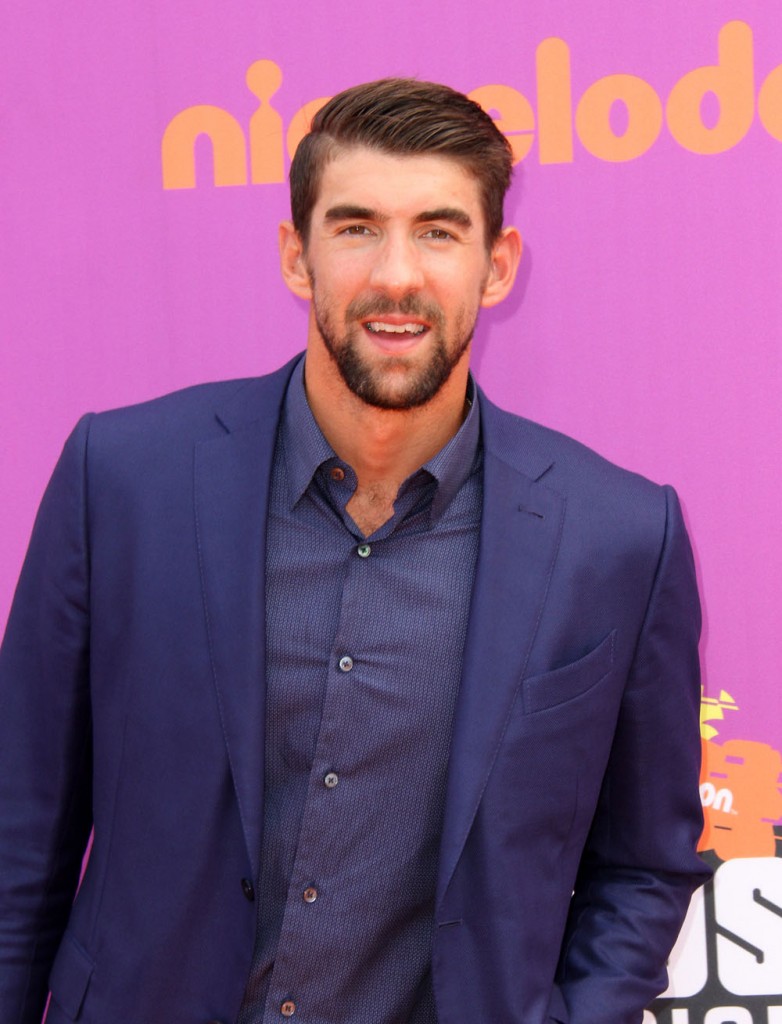 Last night was the big showdown between Michael Phelps and his challenger, Bruce, the great white shark (yes, all Great Whites are named Bruce). I wonder what negotiations for Bruce were like on this deal, "Listen Bruce – can I call you Bruce? Here's how I see this going down: You are in lane one… " and then Bruce eats the studio exec. Michael hyped the hell out of this. Discovery claimed that Phelps went to South Africa to practice swimming in open water. Uhm, *pointing out my window* we have a perfectly good GWS-infested ocean right there, Mike. He also trained with a mono-fin flipper to build up speed. We already know he went in a cage to meet his opponent and study him or her up close. I'll bet Michael gave his signature stankface to psych Bruce out. Bruce was like, "whatever, dude – you're lunch." So the time came, I had my Shark Week-themed snacks and cocktail and watched from the edge of my seat.
Michael and his team went into GWS territory and pulled out every mechanical trick in their bag to clock a GWS in action. Seriously, it was like if Jacques Cousteau moonlighted as Q from James Bond. The catch was sharks tend not to swim in straight lines, which is what they needed for a "fair race". They achieved this by sacrificing countless faux seals to make Bruce give chase. Once they got a time for Bruce, they put Michael in the fanciest wetsuit you've ever seen and his own simulated fin and threw him in the water. And then Bruce ate him. No, that didn't happen. Michael jumped in apparently freezing water with, as he mentioned many times post race, a very thin wetsuit, and swam his hardest. The results? Total annihilation – Bruce had 2 full seconds on him. Like, Bruce was out of the water signing autographs by the time Michael decided to show up at the finish line. And although Michael is an amazing athlete, he is no actor. He was pissed, despite trying to be gracious.
Results are in. pic.twitter.com/HcigiGC0hq

— Darren Rovell (@darrenrovell) July 24, 2017
So, the big question was finally answered. No, Michael could not beat a shark – we all knew that answer – but was he actually racing a shark? Obviously, the answer was no. He did jump into those same waters where Bruce had just been eviscerating million dollar "seals" but he swam him race solo. To Discovery's credit, they simulated racing lanes and Bruce next to Michael and when Bruce first "swam" into his lane, it got me for a sec. However, Twitter was not pleased:
When Michael Phelps said he was gonna race a shark this is how I pictured it happening #SharkWeek pic.twitter.com/GiEfJssNhL

— Ryan Homler (@RHomler) July 24, 2017
Call me crazy but I thought they were gonna put Phelps up against a real shark not a simulation. I feel robbed. #SharkWeek #PhelpsVsShark pic.twitter.com/XgdEphkl6m

— Meg Conley (@MegDownSouth) July 24, 2017
Phelps lost to a digital shark. #SharkWeek #PhelpsVsShark pic.twitter.com/mHQeiUws75

— Joe C. (@HeyJoeC) July 24, 2017
Me realizing I can't ever get back the time I spent watching the fake shark race. #SharkWeek pic.twitter.com/qTGCiermh2

— Kayce Smith (@KayceSmith) July 24, 2017
"Obviously, we cannot put a great white shark in one lane and Michael Phelps in the other."#SharkWeek pic.twitter.com/w6E4Tl1D5X

— CAR Panthers News (@CarPanthersNews) July 24, 2017
Great White: 36.1 seconds

Michael Phelps: 38.1 seconds

Ryan Lochte: Mugged by a hammerhead at gun point and unable to race.

— Matt Meinsen (@mattmeinsen) July 24, 2017
Seriously, the collective cry of "FOUL" was deafening. Don't be too upset, Bruce got a Speedos endorsement and the Wheaties contract. And Boomer still has an un-truncated dad. It's a win for all… except Michael who swears to God if it wasn't so cold he could've smoked Bruce. I smell rematch!
Photo credit: Twitter, WENN Photos and Getty Images