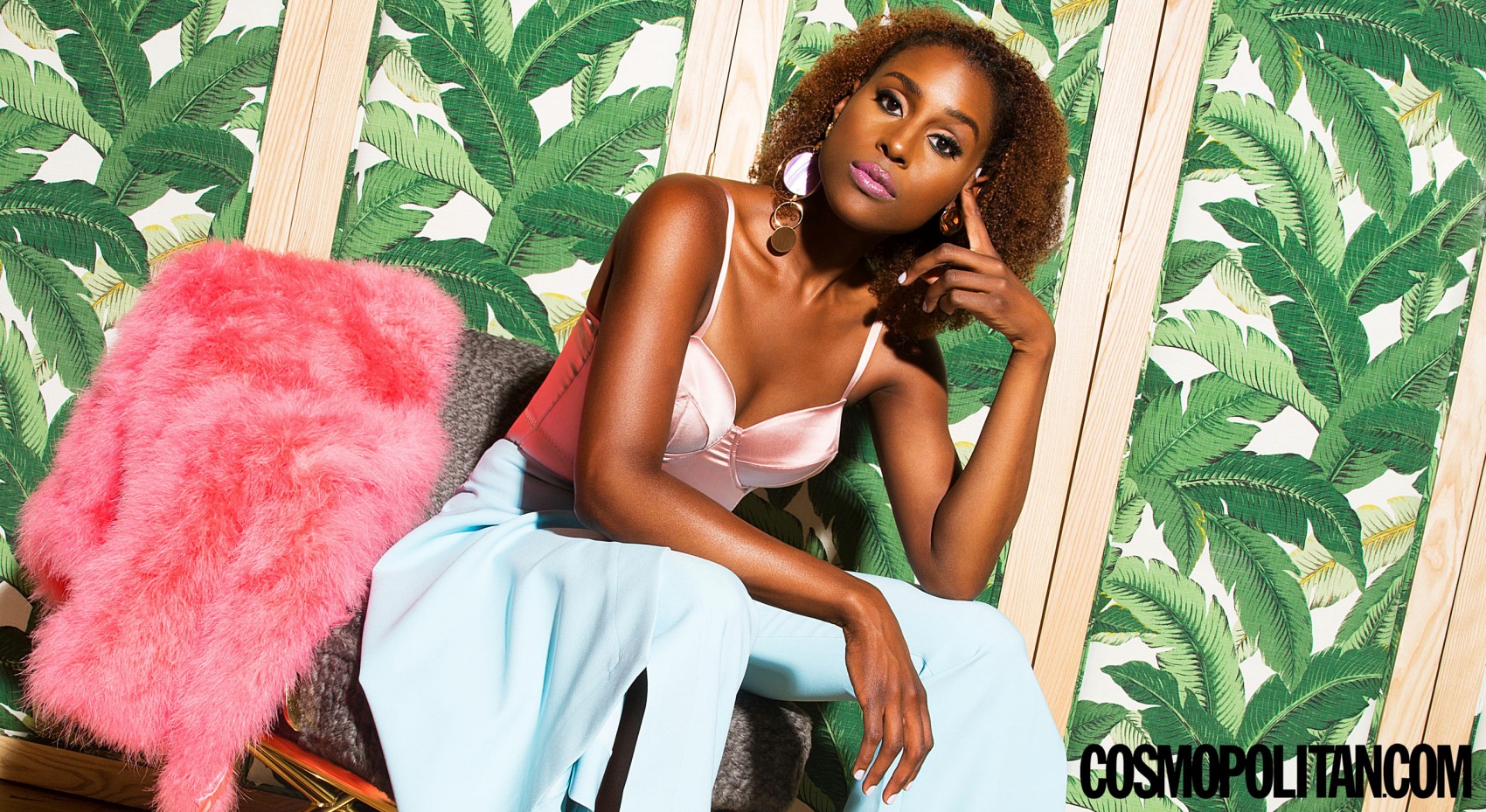 The second season of Insecure premiered Sunday night, after Game of Thrones and Ballers (who watches Ballers??). Insecure follows Issa Rae's self-named character Issa through a fictionalized take on parts of Issa's life. Insecure has been called groundbreaking because the lead is a black woman, most of supporting cast is African-American, and it's not a drama or a procedural show, it's a character study about one woman's life, sex, friendship and more. It's the kind of show that would usually be made about a white woman, honestly. Issa talked to Cosmopolitan about the new season and more – you can read the full piece here. Some highlights:
Cosmo: Insecure also proves that it's okay to just show the mundaneness of black lives — not everything needs to be about harrowing black suffering, which can be overwhelming.
Issa: It's important to show the mundaneness because it shows us as human, and we don't get to have those moments of celebrating ourselves. We have a very specific struggle even in the mundane, like with micro-aggressions. But that doesn't mean the world stops. We still keep moving. We're so trained to continue.

In Insecure, black female friendship is so important. The bond between Issa and Molly is stronger than ever this season. How did you go about creating this kind of bond between the characters?
It feels like I'm cheating, but I tapped into my real life friendships, you know? I have a lot of best friends and I thought, which of those friends could portray this particular friendship [at the center of the show]? One friend stood out to me because of our dynamic. I always look up to her because I feel like I constantly have to get it together. She always calls me to the carpet when I'm f–king up, but even when I'm f–king up, she has my back. I can say that for a lot of my friends, and to not see that [on screen] — to constantly see black women fighting and plotting against each other, really gets to me because that's not what I see to be true of my friends.

Let's talk about sex. Sex is shown so vividly and explicitly on the show. We don't see scenes in which black people are centered like that often. Were you adamant that, in a technical sense, the camera not pan away from these moments because you wanted viewers to see them?
For HBO, we have so much license to show black people loving and f–king. Why wouldn't we take advantage of that? We don't get to see black lust in a normalized and natural way that isn't hyper-sexualized. Young black people have sex. Sometimes it's good sex, sometimes it's bad sex, sometimes it's revenge sex. There's so many different facets. It's such a privilege to show that and it feels so real. The writer in me is always excited to write those scenes. The performer is like, "Oh, sh-t. Why the f–k did I write this because I got to do it?"
You know what this reminded me of? Mindy Kaling talking about The Mindy Project. I know I bring around too many conversations to TMP, but seriously – minus the more explicit sex scenes, this is how Mindy talks about TMP. Women of color are rarely the leads of TV shows, and they're even less likely to end up the leads of shows which they write/showrun and are given creative license to show the mundane, everyday drama of their lives, whether it's work drama or sex drama or friendship drama. It is so important to SHOW THAT.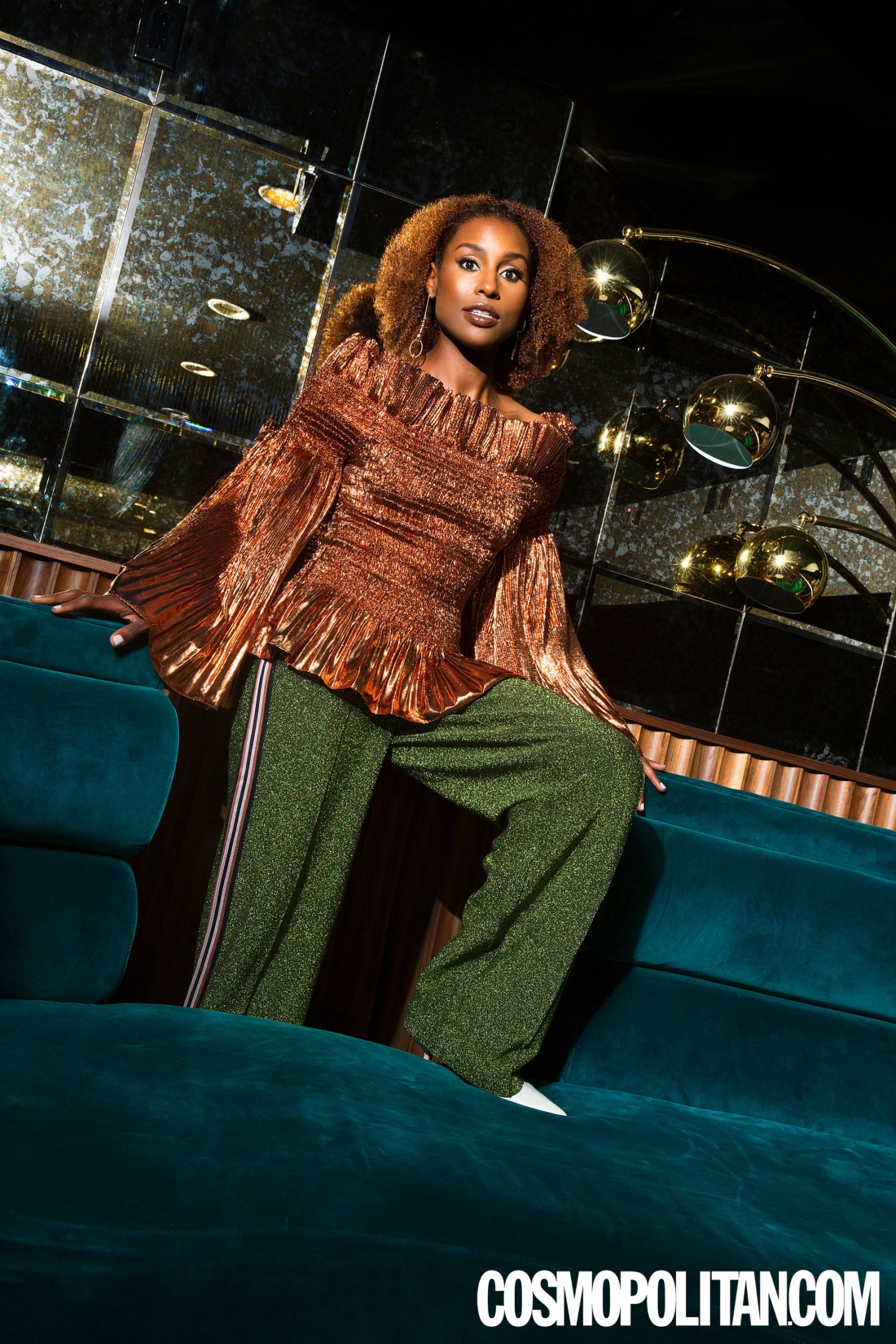 Photos courtesy of Ruben Chamorro/Cosmopolitan.com.