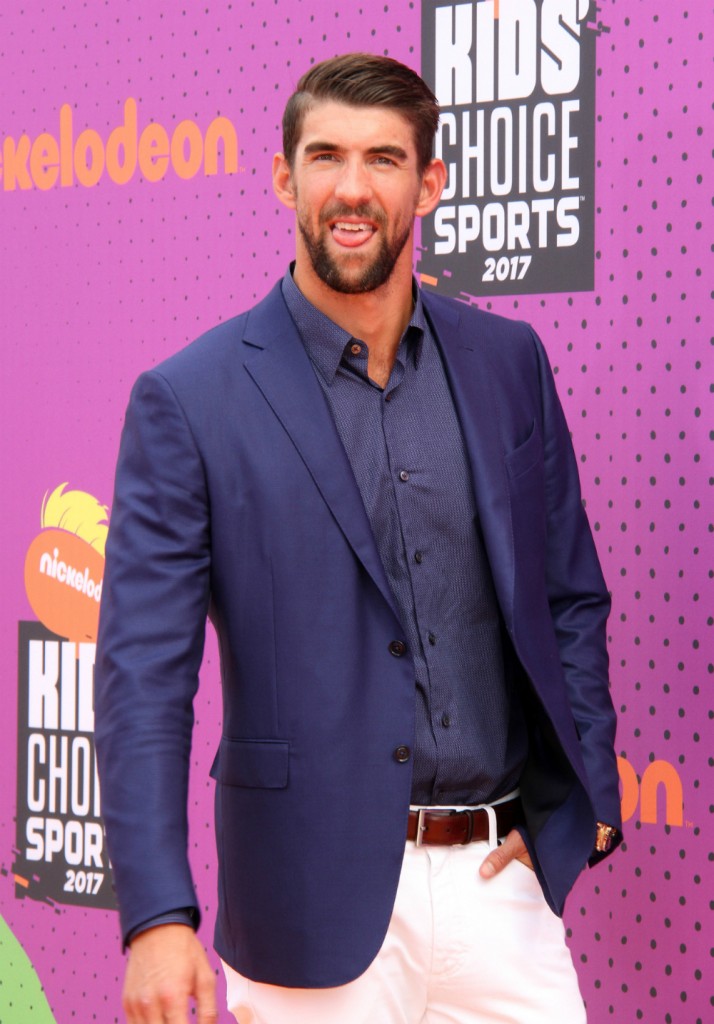 Monday, we talked about the Groan Heard Round the World when Michael Phelps' challenger turned out to be a computer-simulated Great White Shark and not an actual predator racing next to our beloved Olympian. Like, logistics and certain, violent death be damned – when we're promised a shark race, get that shark a lane and some goggles! People were so upset, that Discovery issued a statement addressing it. They actually felt compelled to explain to their decision to keep Michael Phelps in one piece.
Following fan backlash over the use of CGI in Phelps vs Shark: Great Gold vs Great White, Discovery Channel is standing behind its program. The network insisted that the Shark Week kickoff on Sunday, July 23, featuring Michael Phelps was about creating a fun program, and that it was clear the athlete would not be swimming alongside sharks in the competition.

"In Phelps vs Shark we enlisted world-class scientists to take up the challenge of making the world's greatest swimmer competitive with a Great White," Discovery says in a statement to Us Weekly. "The show took smart science and technology to make the challenge more accessible and fun. All the promotion, interviews and the program itself made clear that the challenge wasn't a side by side race."

The network added: "During Michael's pre-show promotion, as well as within the first two minutes of Phelps vs Shark, this message was clear and we are thrilled with the audience and the engagement around the world."
Bruce the Shark has not issued a statement yet.
Did the promotion make itself clear this wouldn't be side-by-side? I mean, granted, common sense should have made that apparent but when #PhelpsvsShark was trending Sunday afternoon, it became obvious rationality was on a smoke break. Sure, Discovery never said the two would be side-by-side but they didn't not say that either, did they? They just assumed we would be so wowed with their computer calculations and robo-seals that we'd walk away satisfied. Uhm, no. There were far too many questions left unanswered by this "stunt." Like, when Bruce jumps the lane to eat Michael, he's disqualified, right? Does being digested disqualify Michael too? If Bruce crosses the finish line with Michael in his belly, who does the win go to? Was Mark Spitz routing for Bruce or Michael?
So we didn't get our race, we merely got Michael swimming sideways in a mono-fin. We were bamboozled, hoodwinked, flimflammed. But folks, take comfort – when tragedy strikes, Twitter responds. And they're still responding. If contract negotiations with Bruce hadn't gone south, we would never have these:
As part of shark week,there was a CGI race between Michael Phelps and a Great White Shark. Here's what happened…#SharkWeek pic.twitter.com/SY1h9Q09Wt

— Paddy Power (@paddypower) July 24, 2017
Michael Phelps To Star In "Sharknado 6" https://t.co/NjEvWJiUxN pic.twitter.com/SQvo7ql1RU

— The End Times (@EndTimesNews_) July 25, 2017
BREAKING: The shark's win over @MichaelPhelps may not hold up after @discovery releases video of the shark vandalizing a gas station.

— Andrew Grose (@GroseAndrew) July 24, 2017
Me pretending to be ok with Michael Phelps not racing a real shark pic.twitter.com/QnCF98NfBB

— Gabi Palamone (@Yo_Gabi_Gabi__) July 24, 2017
Also remember that this was Discovery's statement, not Michael's. That's because Michael is still ticked off about the g-d cold water:
Rematch? Next time..warmer water. #SW30 @Discovery @SharkWeek

— Michael Phelps (@MichaelPhelps) July 24, 2017
This is probably when Boomer found out the shark was a fake:
"You see, the decision to use a simulated shark was based on my desire not to die. Also, have I mentioned how cold it was?"
Photo credit: WENN Photos, Getty Images, Twitter and Instagram