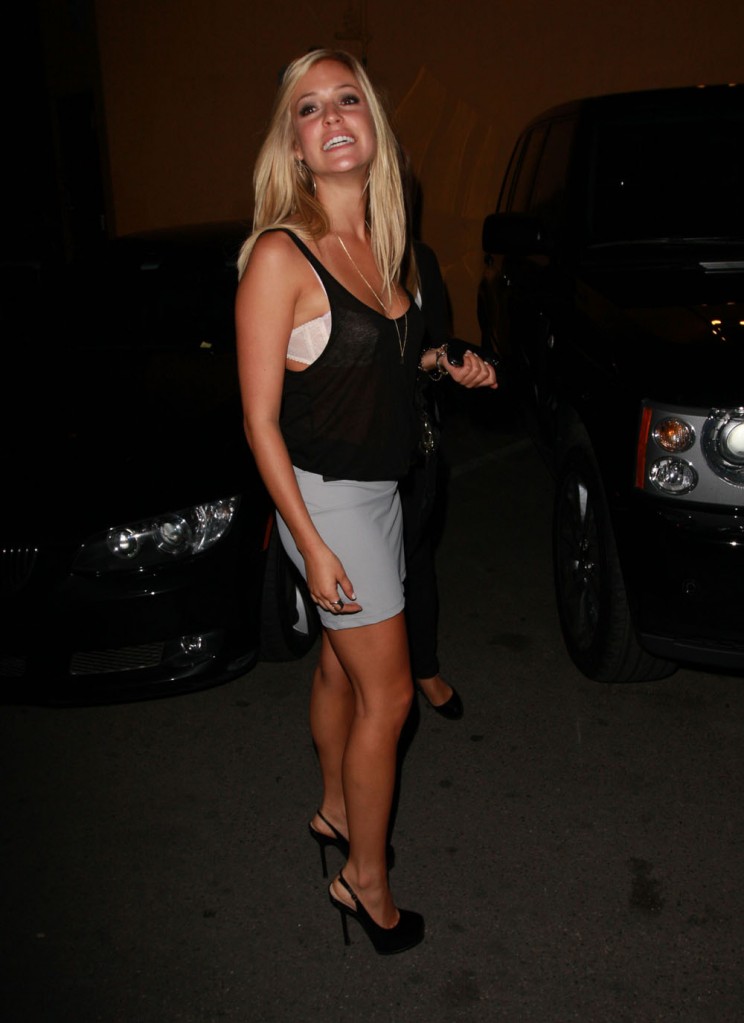 After Lauren Conrad decided she would leave The Hills, there was some talk that the show had no future. People would rather see Speidi's antics in the tabloids than on their show, and Audrina is too vapid to carry it herself. Instead, producers decided to ask Kristen Cavallari (from the original Laguna Beach) to replace Lauren. It seems that it was a good decision, as Kristen is causing some show-worthy drama during filming. According to reports, she is making up one-liners and hogging the camera from the other actors – and the spoiled Hills stars are not pleased. Specifically, Speidi is predictably pissed off because they like the camera all for themselves. Tension between Kristen and the cast got heated at filming for Audrina's recent birthday party, where Kristen fake-flirted with Audrina's on-again-off-again boyfriend Justin Bobby.
Cavallari, who first became known as the bad girl on 2004's "Laguna Beach," made a bad first impression when she recently tried to steal the spotlight at Audrina Patridge's 24th birthday party at L.A.'s London West Hollywood hotel, Starmagazine.com reports.

"Kristin was always making sure to yell out one-liners and hog camera time," says an eyewitness.

When Cavallari began flirting with Patridge's on-and-off boyfriend, Justin "Bobby" Brescia, the birthday girl reportedly lost it.

"Kristin was fake giggling and making it look like she liked him," says a source. "Audrina started yelling at Kristin about how desperate she is and was clapping and yelling, 'Keep it up! You're such a good actress!'"

Adds the source, "Obviously, it's not material they can use on the show, but Audrina didn't care. She wanted to finally tell Kristin what she thought of her."

But Patridge is not the only cast member fuming at Cavallari.

Heidi and Spencer Pratt are also angry about the new addition to the reality show, claiming Cavallari is stealing their spotlight.

"They feel like they worked their butts off for the show, and now Kristin just walks on and becomes the new star," says a source.
[from NY Daily News]
Worked their butts off? They don't even have to memorize lines. They get a scenario from the producers (typically, "talk about last night") and just start twirling their hair and rambling on. It is partially due to these producer-created scenarios that Lauren decided to leave in the first place. In a new interview in Cosmopolitan, Lauren says that filming The Hills wasn't fun anymore as more and more of the show became scripted. The final straw was when producers wrote Heidi into Lauren's birthday party. On camera, the two made up in the finale of the fourth season, but after filming Lauren decided that enough was enough.
Lauren tells us that The Hills producers insisted on finding ways to bring the two together during season five. "What they didn't get is that I didn't want to fight with her anymore," Lauren explains. It's hard to look at somebody who used to be your best friend and say, 'We can't be friends. Too much has happened.' I'm trying to move on, but they won't let me. And when someone keeps pushing you into the same position, well… you get upset."

What fans didn't see was the aftermath. "After the producers did that, I disappeared. If they were disrespectful, I was going to be disrespectful back. I told them, 'You can call me in a week. Think about what you did.'"
[from Cosmopolitan print ed. July 2009]
In the same issue of Cosmo, there's a funny one-page spotlight by one of those "relationship experts" using photos as proof that Speidi isn't really in love with each other (though inevitably in love with itself). Their proof? That Heidi is leaning away from Spencer in a few photos.
Lauren is also publishing a quasi-veiled autobiography called L.A. Candy about a girl who mores to Los Angeles and gets cast on a reality show. Some premise for a fictional novel by a reality star. CB says that she has read excerpts, and it's pretty good considering that Lauren didn't use a ghost writer. Maybe she has a future outside of reality after all.
Here's Kristin Cavallari at Club Delux in Hollywood last night, and filming scenes for "The Hills" the day before. Images thanks to Fame Pictures .