Have you ever heard of The Chivas Venture? I'll admit, I hadn't. Chivas Regal hosts a contest each year in which innovative social businesses apply not only for funding but mentorship to accelerate their growth. Uh – way to go Chivas! Each year, they select a celebrity to help judge the finalists. This year, they partnered with actress Halle Berry. So, way to go Halle! Halle gave an interview to Daily Nation to promote both the Chivas Venture and her new movie Kidnap. Since the bent of the contest is to enable businesses that want to create a better future, much of the discussion was about Halle's views about making a difference in the world.
What made you get involved with Chivas Venture?
One, they asked me. (laughs) Two, I have known about this venture from the beginning and they have done such amazing work with the last two ventures and certainly you don't expect an alcohol company to get into such initiatives. 

You are very involved in humanitarian projects and use your name and brand to help the needy, what really motivated you to get involved?
Being a person of colour in this country, I have always related to people who are subjugated in some way or another. People who have gone without, been discriminated against because of who they are and so I have a natural propensity to want to help the needy. 

My mother was a psych warden in a VA hospital when I was growing up and I saw her helping the Vietnam veterans who were being mistreated after all they had for the country. That instilled in me the need to help and give back to those who are less fortunate. I hope I can also pass it to my children since this is a seed that is planted early on when you are little. As parents, it is our responsibility to raise adults who have empathy and who care and want to make a difference in the world. 

Should this be left to the influential members of the society like you?
Everyone is responsible of making a difference in the world. I have a hard time listening to people talk about what's wrong with the world today and they do not even lift a finger to bring change. These are hard conversations that I have with people and I do not care what your position in life is, you can always do your part. Imagine if everyone did what they can, how different the landscape would be. 

We find people who get punished for doing their bit be they normal people or mega celebrities like you. A good example is NFL star Colin Kapernick who many believe is paying for standing up for how police kill black people…
I think you just said it, no matter what you do, you will be punished. I think you just need to operate within your own moral compass and do what you believe is right always. But also, let us be mindful and respectful of others and not push our agenda so forcefully that we disregard the feelings of others; but have your opinion and die by that. Let us not worry about what others will say because we will be criticised no matter what we do. 

You won an Oscar and it seems like more would follow but that hasn't exactly panned that way. Did your win really change anything?
I was hopeful that there would be more women of colour to stand by me 15 years later. But there have been women of colour who have won in other categories like Lupita, Viola Davis and others. We are also seeing more filmmakers of colour coming up but a lot more needs to be done. I wish there were like five women like me in that category. The more black actors and directors come up, the more opportunities will come. But I do not measure success with how many awards we have on the table. Change will come.
I did not know her mother worked at a VA hospital. I imagine that experience shaped all their lives profoundly. I like how Halle handled this interview. She was unflappable and she spoke loudly with her words, not her volume. I agree about listening to people who complain about the state of things but don't do anything. The problem is, I think many who complain do think they're making a difference. I've been guilty of this. I'm trying to make changes so I can live as Halle said and not only be involved in the hard conversations but do my part to further us as a society. Presently I am examining how I live my life. Like, do I talk about intersectional feminism or do I practice it? Do I talk to my kids or with my kids about sensitive issues? And most of all, do I listen to be educated and not just to what I want to hear? I also appreciate her optimism in her last answer without denying there's a problem.
On a lighter note, the interviewer asked Halle if she's listened to Kill Jay Z and what she thought of the "Never go Eric Benet" line, which refers to Eric cheating and losing Halle years ago. Halle laughed and said, "I do not have a comment for that one. I love Jay Z, put that down." Well handled once again, Halle.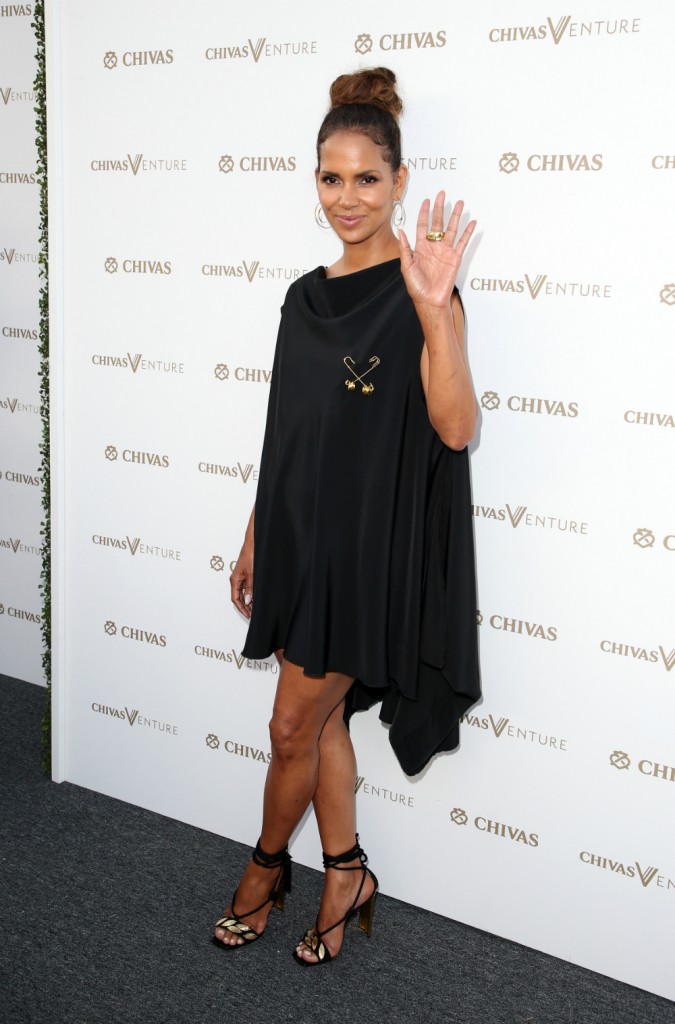 Photo credit: Getty Images, WENN and Backgrid