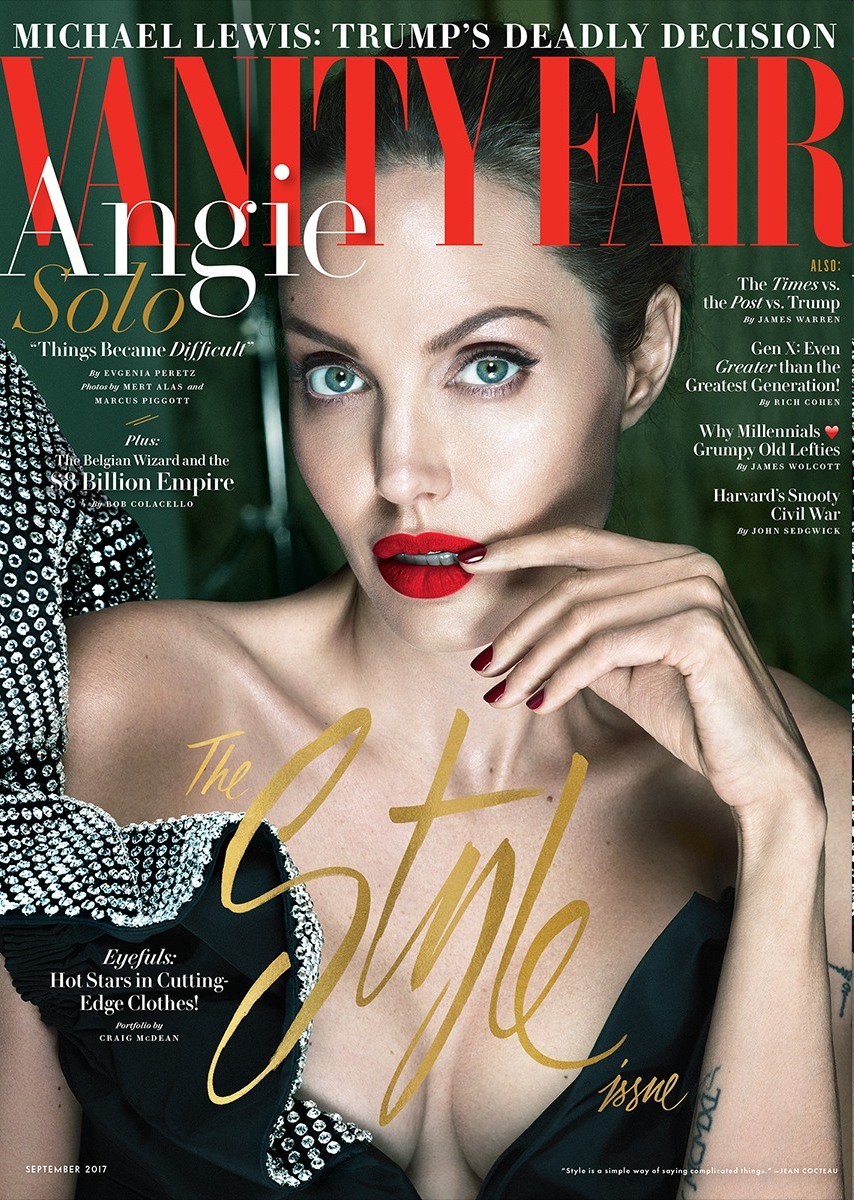 Angelina Jolie covers the September issue of Vanity Fair, and I already covered the quotes about her family and life post-divorce in a previous post (go here to read). Jolie covers VF because she's promoting her Cambodian film (which she directed) First They Killed My Father, based on Loung Ung's memoir. The film features a child actor playing Loung Ung during her childhood under the Khmer Rouge, as well as other child actors. As she was casting the film, Angelina obviously selected an entirely Cambodian cast, and she had a peculiar method for finding the right child actors:
To cast the children in the film, Jolie looked at orphanages, circuses, and slum schools, specifically seeking children who had experienced hardship. In order to find their lead, to play young Loung Ung, the casting directors set up a game, rather disturbing in its realism: they put money on the table and asked the child to think of something she needed the money for, and then to snatch it away. The director would pretend to catch the child, and the child would have to come up with a lie. "Srey Moch [the girl ultimately chosen for the part] was the only child that stared at the money for a very, very long time," Jolie says. "When she was forced to give it back, she became overwhelmed with emotion. All these different things came flooding back." Jolie then tears up. "When she was asked later what the money was for, she said her grandfather had died, and they didn't have enough money for a nice funeral."

That authentic connection to pain was awakened in everyone involved, says Jolie, making for a film set like nothing she'd ever seen. "There wasn't a person who was working on the movie who didn't have a personal connection. They weren't coming to do a job. They were walking in the exodus for the people whom they had lost in their family, and it was out of respect for them that they were going to re-create it . . . It completed something for them." Some had flashbacks and nightmares. For this reason, a therapist was on set every day. And then there were the odd bystanders who hadn't been aware that a movie was being made, and were traumatized. In one scene, recalls Jolie, "when the Khmer Rouge came over the bridge, we had a few people who really dropped to their knees and wailed. They were horrified to see them come back."
As many have pointed out, the story about setting up poor children and orphans to "steal money" seems… exploitative. My first reaction when reading the cover story was that it sounded stupidly unnecessary too – surely there were easier, less complicated and less exploitative ways of auditioning these kids and figuring out if they had the capacity to portray the necessary emotions. It also seemed… odd that this was a story Angelina wanted to be told in her VF profile. Does she not realize how it would come across? Now, all that being said, re-read the passage: they set this up as a game. That's what they told the kids, that it was just a game. I think that's how Angelina justified it to herself, and how everyone around her justified it.
Cover courtesy of Mert Alas and Marcus Piggott/VF and additional photos courtesy of Getty.