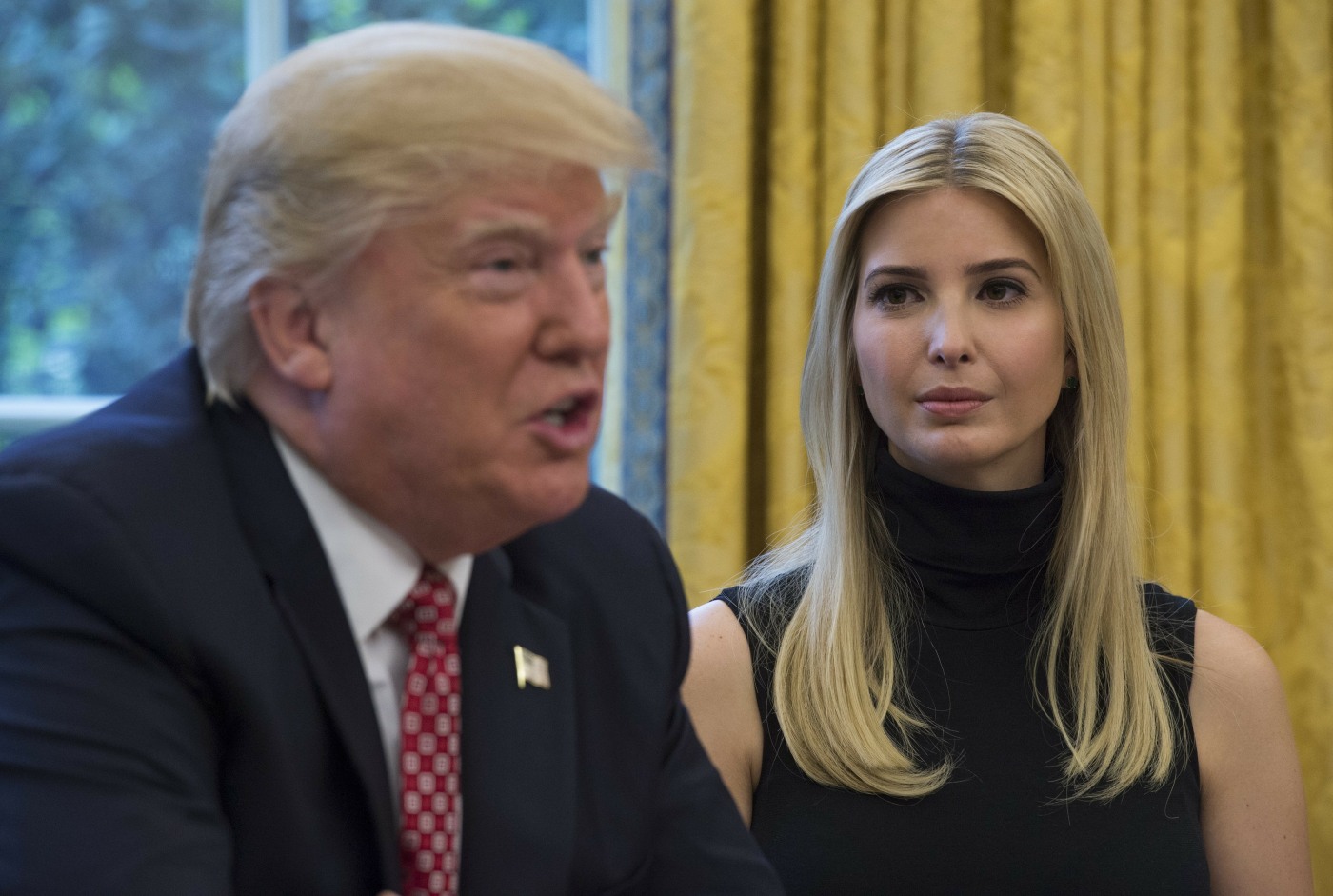 If you want to have a laugh today, please read this Politico story about Ivanka Trump. Daddy's precious angel is having a bad year, you guys. Poor baby! Precious Ivanka moved all the way down to Washington so she could soothe her father's ill temper full-time, and as it turns out, it's WAY harder to control daddy now. She had an easier time when he was just a reality star. Well, considering the series of neverending disasters from the Baby Fists administration, this Politico story wants you to know that Ivanka is no longer really trying to be a moderating influence on her father. She's now trying to lower expectations so that no one blames her for anything, and she's also trying to save her own reputation so she can go to the cool parties in New York when all of this is over. Some highlights (note: I'm using "Javanka" as "Jared & Ivanka").
Javanka succeeded in ousting Reince Priebus. President Donald Trump's daughter and son-in-law had been double-teaming for weeks to persuade him to oust chief of staff Reince Priebus, pushing for a new chief who could "professionalize the West Wing," according to multiple White House officials. That victory followed Trump's appointment a week earlier of financier Anthony Scaramucci, a campaign surrogate and donor, as communications director, a move the couple also strongly supported.

Javanka was blindsided by the transgender tweets. Politico says she learned of Bigly's statements on Twitter, like everybody else. She didn't know her dad was going to do that.

This is what she cares about now: Ivanka is staking out her reputation on getting a child care tax credit passed in a Republican Congress as part of tax reform, and fighting for paid family leave to be included in the budget. She has told allies that she wants to be held accountable solely on those issues she is actively working on — uphill battles that will count as major victories if she is successful — and the success of a World Bank fund she helped start, geared at helping female entrepreneurs gain access to capital. She has also said she wants to make ending human trafficking a White House priority.

She doesn't want to ruin her credibility. Ivanka Trump has explained to critics that she doesn't want to ruin her credibility with Republicans, whose support she will need, by being perceived as what she sometimes refers to as a "super-lib" and expressing her personal disagreement with the administration's most conservative policies.

Lowered expectations. Meanwhile, she desperately wants to lower expectations of what she can achieve in an administration where she views herself as one person on a large team — even though other White House officials said she still has access to the president whenever she desires it. Allies have bucked up her spirits by telling her that her legacy will look better in hindsight if she is successful in moving the needle on her stated issues. And as she navigates the unique role of working-daughter-in-the-White House, she is reading Eleanor Roosevelt's biography for guidance and inspiration.

She's worried about how she'll be received in New York. One well-known socialite who was friendly with Ivanka Trump put it bluntly: "Everyone knew that Jared's father was a felon and her father was a buffoon, but you looked past that because they stood on their own two feet and were sophisticated and presentable. They were accepted despite their parents. Now, there's no separating the two."
[From Politico]

"Meanwhile, she desperately wants to lower expectations of what she can achieve…" Poor baby! She thought she would be the centerpiece of the administration, the most precious jewel, and that her father would submit to her every whim. Now she's actually, like, trying to broker for power like a peasant, like someone who is not precious! And here's what I really love: that Ivanka is actually worried about how she'll be remembered when her father is out of office. Like, she thinks this is going to end in some way other than impeachment, indictments, treason charges and public shame. Like, she thinks that she'll just be able to return to New York and pick up her life unscathed, without anyone remembering her complicity.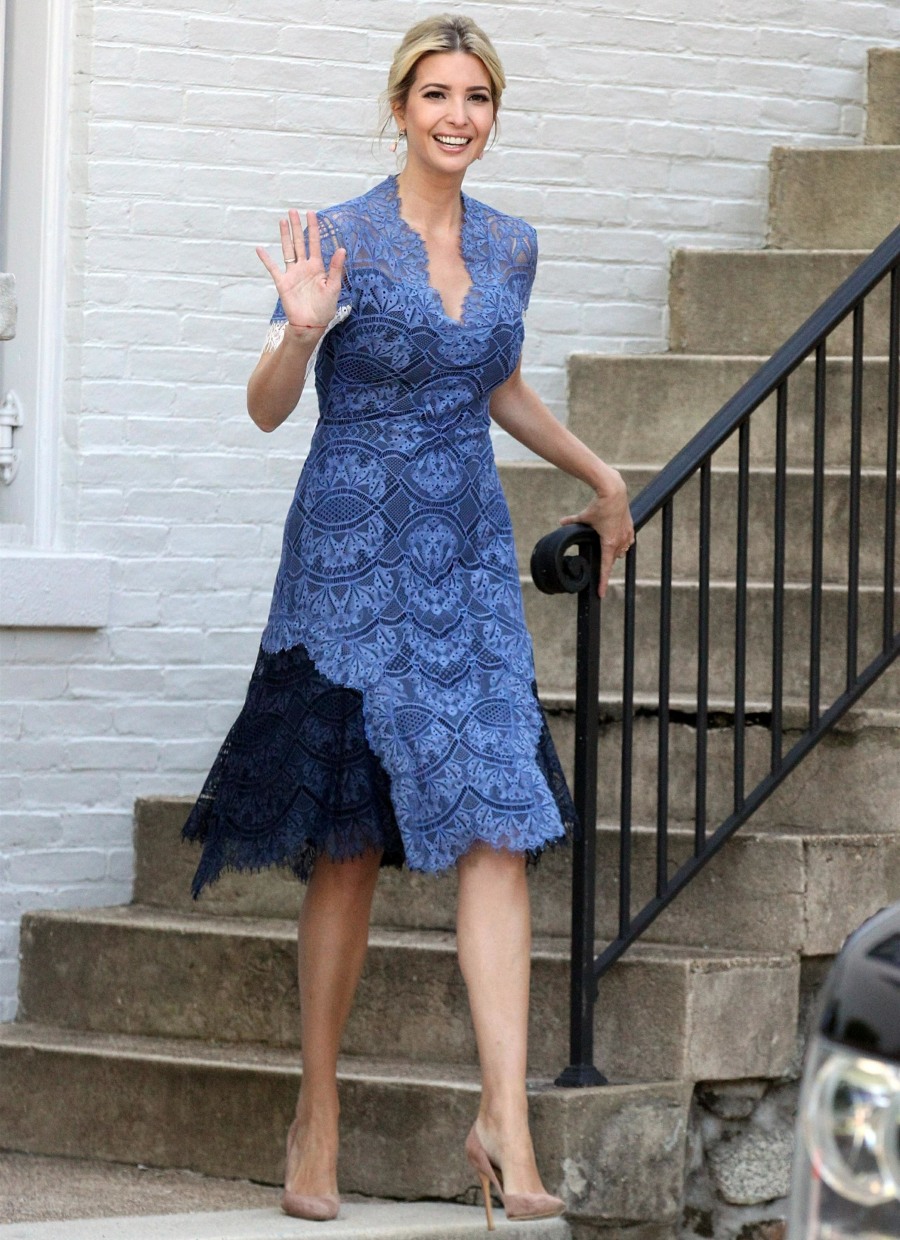 Photos courtesy of Backgrid.