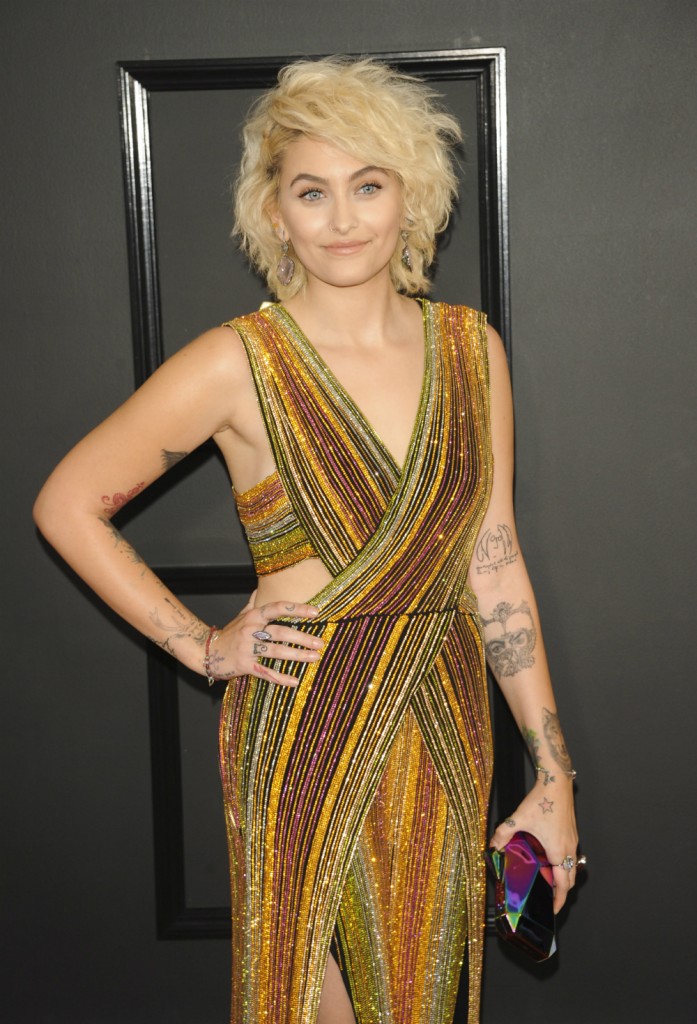 For those of you who didn't know or forgot, Macaulay Culkin is Paris Jackson's godfather. I'd completely forgotten that. Macaulay was a very good friend and staunch supporter of Paris' father, Michael Jackson. There were even bogus rumors after Michael's death that Macaulay was actually Michael's youngest son Blanket's father. Macaulay has stayed close to Paris and she posts the occasional Instagram of the two of them hanging out. They look not only bonded but like they have a lot of fun:
The latest outing for the duo was about more symbolic. They got matching spoon tattoos at Tattoo Mania in West Hollywood: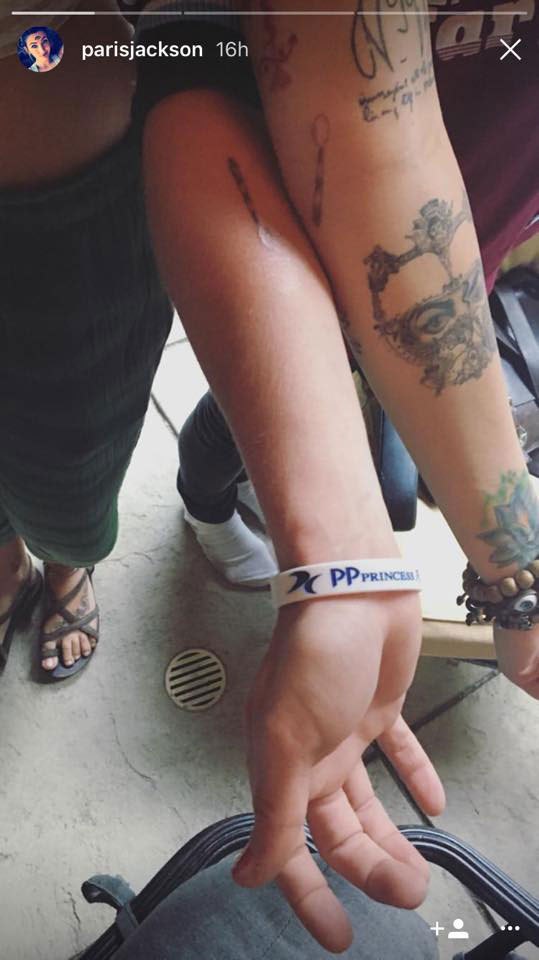 Although Paris documented the trip to her Instagram stories, neither of the two mentioned the significance of the spoons. Many are connecting them to Spoon Theory, which symbolizes disability or chronic illness. I assume, if this is correct, it is either a metaphorical illness or maybe this is for Michael. According to Paris, she is sporting over 50 tattoos. Remember she also got matching tattoos with her older brother Prince. It sounds like tattoos are a manifestation of connections in her life. I like that she has that with her brother and godfather, people who have proven they are looking out for her.
Paris also seems to be looking out for her spiritual side. She took a spiritual retreat at an unidentified (but beautiful) location and posted many pics from it to her Intsagram. Most outlets focused on the fact that Paris was topless in most of the shots but that doesn't bother Paris at all. In May, she posted this photo along with the following caption:
i'll say it again for those questioning what i stand for and how i express myself. nudity started as a movement for 'going back to nature', 'expressing freedom', 'being healthier' and was even called a philosophy. being naked is part of what makes us human. for me it helps me feel more connected to mama gaia. i'm usually naked when i garden. it's actually a beautiful thing and you don't have to make it sexual the way many hollywood stars (and the media) do. not only is your body a temple and should be worshipped as so, but also part of feminism is being able to express yourself in your own way, whether it's being conservative and wearing lots of clothes or showing yourself. there's different ways of absorbing mother earth's energy, my favorites are earthing which is absorbing the earths vibrations from contact between the soil and your bare feet, as well as letting your naked skin absorb the rays of the sun. the human body is a beautiful thing and no matter what "flaws" you have, whether it be scars, or extra weight, stretch marks, freckles, whatever, it is beautiful and you should express yourself however you feel comfortable. if this makes some of you upset i completely understand and i encourage you to maybe no longer follow me, but i cannot apologize for this in any way. it is who i am and i refuse to shy away and keep my beliefs a secret. every one as an opinion and every one has their beliefs. we don't always agree with one another and that's okay. but again, we are all human, and to appreciate the things that other people do that make us human helps us feel connected. how can that be a bad thing?
Meh. I mean, I'm fine with what she's saying. It all sounds very poetic and lovely. I guess I don't see the need for her to defend herself so publicly – she young, happy and a model – if she wants to run around naked, that's fine. I admit that I say that without knowing what incited that response but it just seems so extra.
Another thing Paris is doing on Instagram is photoshopping herself into photos of other famous people and it's creeping me out:
As for Macaulay? He has gone through a bit of a makeover and it suits him. Check him out. Hell-o, Mac.
Pre-makeover Mac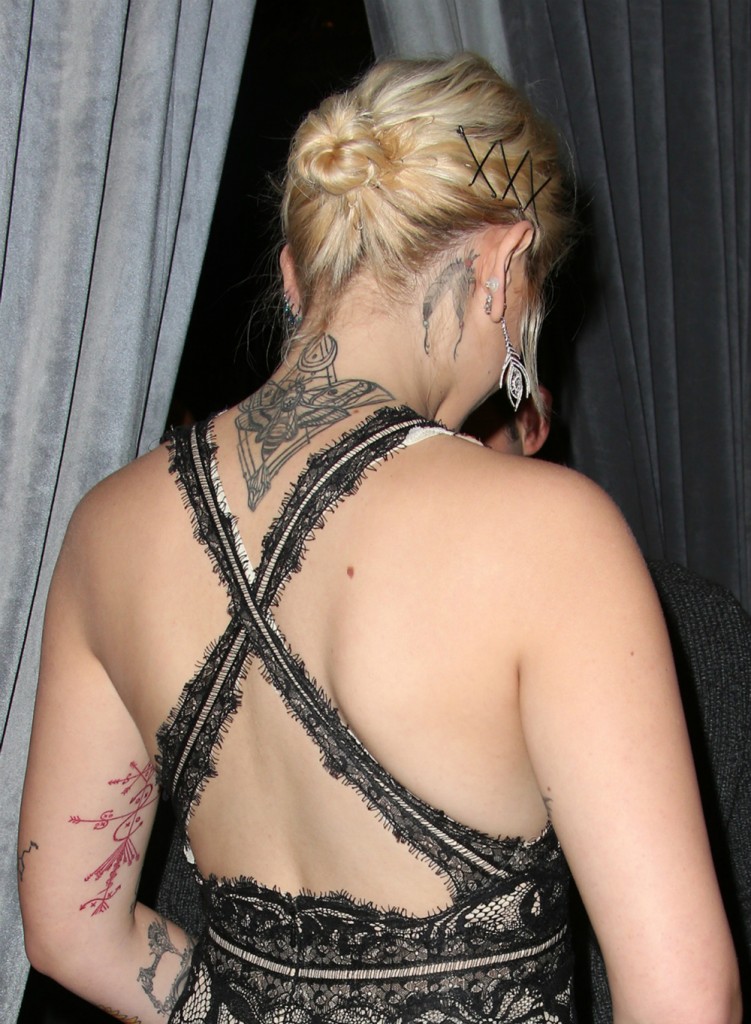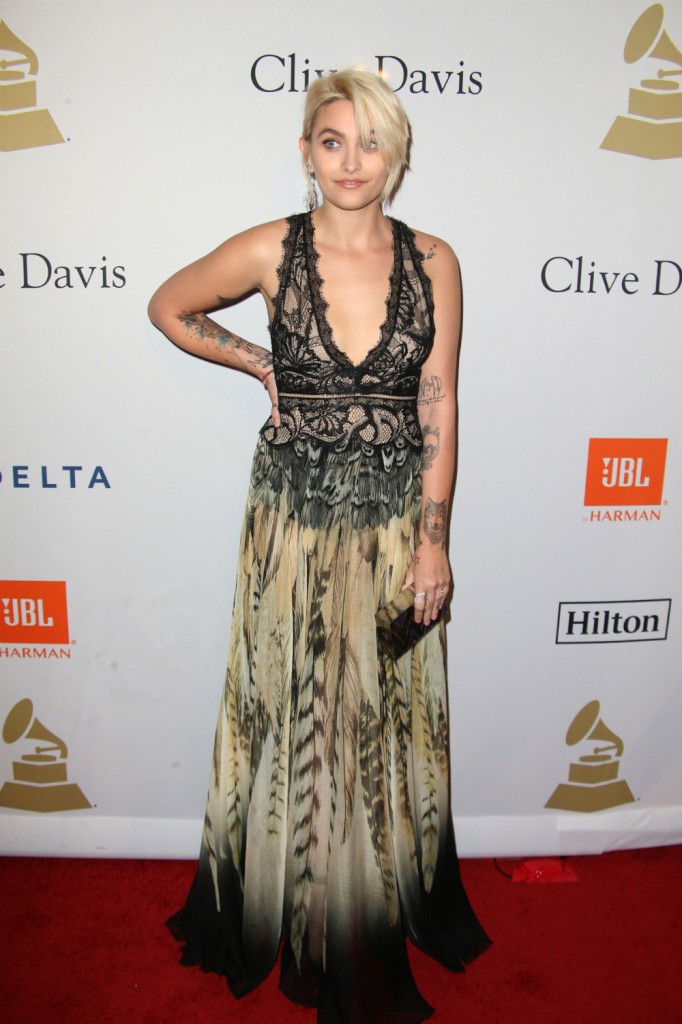 Photo credit: Instagram, Getty Images and WENN Photos