In the coming days and weeks, prepare yourselves for many thinkpieces about and analyses of Kathryn Bigelow's Detroit. Bigelow is the only woman who has ever won an Oscar for Best Director, and she's one of the few women in Hollywood to carve out a consistent place as mainstream director for over two decades. She's dealt with more than her fair share of criticism over the past decade, mostly for her last two feature films, The Hurt Locker and Zero Dark Thirty. Would those films have been *as* criticized if a man had directed them? I still don't know. But I do know that Bigelow seems comfortable with being in a hornet's nest of controversy now, no matter what the film. Detroit is going to be something different though, because it's a story about race, and because Bigelow is a white director telling a story about race. To her credit, Bigelow tells Variety (via People) in a new cover story that of course she doesn't think she was the right person to tell this story:
Whether she should tell the story: "I thought, 'Am I the perfect person to tell this story? No.' However, I'm able to tell this story, and it's been 50 years since it's been told."

When she decided to do the film: Bigelow learned of screenwriter Mark Boal's script for Detroit after a grand jury declined to prosecute Darren Wilson, the officer who shot Michael Brown in 2015 — and the decision convinced her that this story needed to be told. "With the events unfolding today, the story needed to see the light of day. My hope is that a dialogue comes out of this film that can begin to humanize a situation that often feels very abstract."

How her films are often met with controversy: "I always feel that the purpose of art is to agitate for change, but you can't change anything if you're not aware of it. My own personal concerns are at the service of the importance to tell the story. I'm compelled to make emotionally, socially, and politically challenging pieces. That's what intrigues me."

On seeing so few women directors succeed: "It's a travesty. I feel like it's trending in the right direction, but it's painfully slow, and where's that inequity coming from? That's a big and complicated sociological question."

She hasn't seen Wonder Woman yet: Though Bigelow is "thrilled" Patty Jenkins achieved blockbuster success with Wonder Woman, she sheepishly admitted she hasn't been able to see the comic book movie yet: "I've been so busy, but I want to."
I lot of conservatives throw around the term "white guilt" derisively, as an insult to liberals and progressively who work alongside communities of color to affect change. White guilt is a real thing though, and I think Bigelow feels it, just as many white mothers can look at the Mothers of the Movement and genuinely feel a sense of "what if that happened to my child?" Just because Bigelow is a white woman, does that mean she can't feel a sense of outrage, disgust and anger that a white cop killed a black child or adult? Of course she can feel those things. Empathy is something to be celebrated, and I feel like Bigelow is trying to be an effective ally.
The issue, in my mind, is this: "I thought, 'Am I the perfect person to tell this story? No.' However, I'm able to tell this story." The thing is, there are black directors facing the same kind of structural inequality that Bigelow has faced (and still faces) in Hollywood. It would have been great for Bigelow to executive produce and shepherd this film with a black director attached. But I also sort of understand how that happened – she wanted to tell the story, and I feel like the criticism of Bigelow telling a "black story" wouldn't be so harsh if she was a white male director. I don't know. There's a lot of sh-t going on here.
Toure at the Daily Beast also examines in a new piece whether white artists/directors can create black art – go here to read.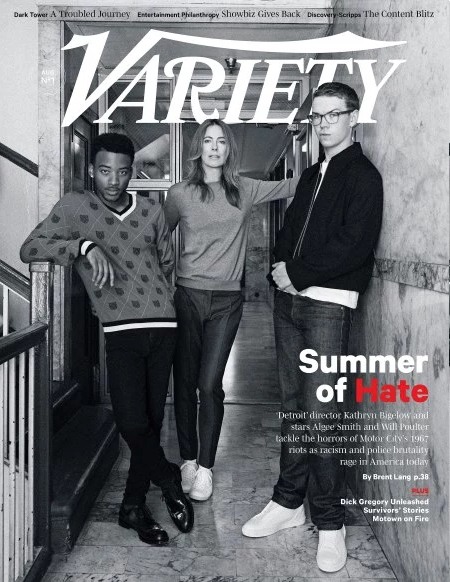 Photos courtesy of Getty, cover courtesy of Variety.