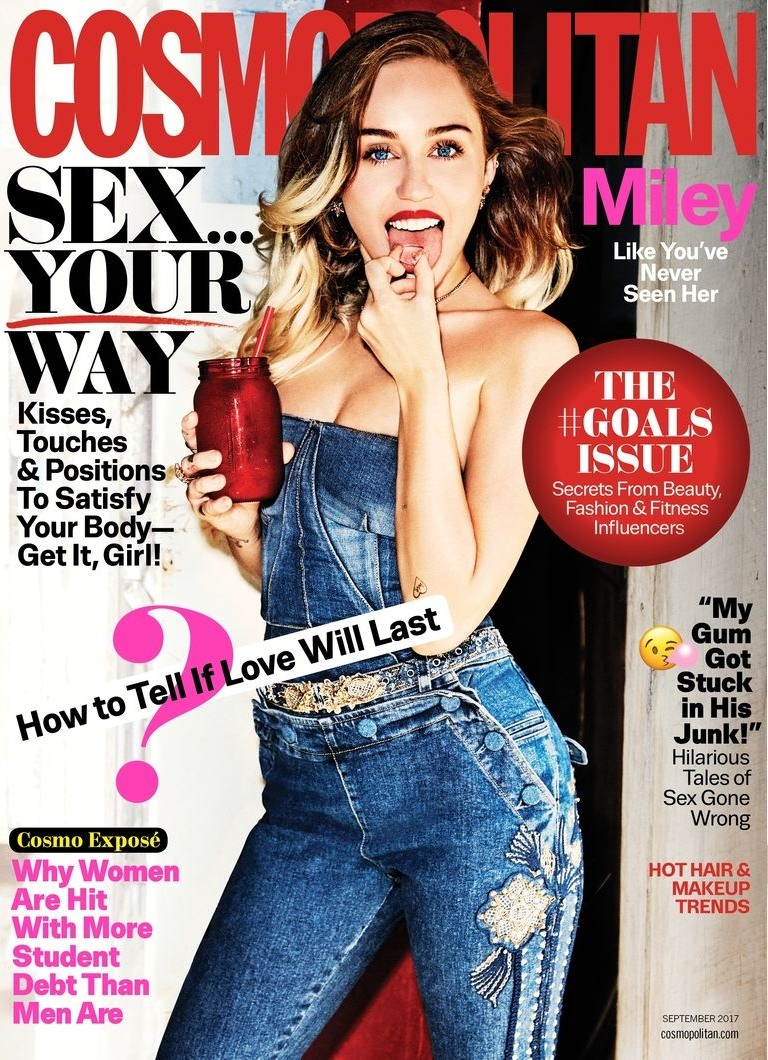 What is there to say, at this point, about the fact that Miley Cyrus 3.0 is a country twanger with the worst ombre hair that side of the Mississippi? Miley 1.0 was Hannah Montana/wannabe-Britney. Miley 2.0 was Miley thinking she could "wear" blackness like a costume, then discarding it when she could no longer profit from it. This is Miley 3.0: Miley is white again, y'all. It's a mess. This Cosmo cover is a mess. The interview is… whatever.
A weird thing that happened during the songwriting process: "I wrote a song on my record in a dream…I dreamt my sis Noah and I were in my car on the way to the movie, a song came on the radio and it was Noah's FAVORITE song! She said everyone was loving it…it's a "smash" then I said "I wish I wrote it"… I woke up… and DID!"

The best part about having Dolly Parton as my godmother: "Having access to her closet! Ha. Seriously, watching the way she treats people with love and respect. Always a reminder to me and my family of what is important. Never let success change your heart."

One thing I've learned about marriage from my parents: "Nothing and no one stays the same. Grow, evolve, change with each other and celebrate your love's journey!

If I were auditioning on The Voice, I'd pick Alicia Keys as my coach because: "She's always made me feel super loved and special. I loved spending time in my big red chair next to my sis!

My favorite look from a red carpet in my career this far: "2015 VMAs! Versace! My least favorite look: Pretty much 2008-2013. The Grammys were rough and tough for me. Yoikes!
I would think her biggest fashion regret would be thinking that she could wear blackness like a coat. What else… I guess Billy Ray and Tish Cyrus are still together? I stopped paying attention to their drama honestly, because it seemed like they were always in a cycle of breaking up or making up, like melodramatic teenagers or something. And the entire time, Billy Ray's mullet wiglets just kept getting worse and worse. As for writing a song in a dream… I sometimes have boring work dreams too, like I'll dream that some big scandal breaks and I have to write about it. It's better than that time that I dreamt I was living in a horror movie and this dude was trying to murder me with an ax in New England. Where did that dream come from???
Photos courtesy of Cosmopolitan, Getty.