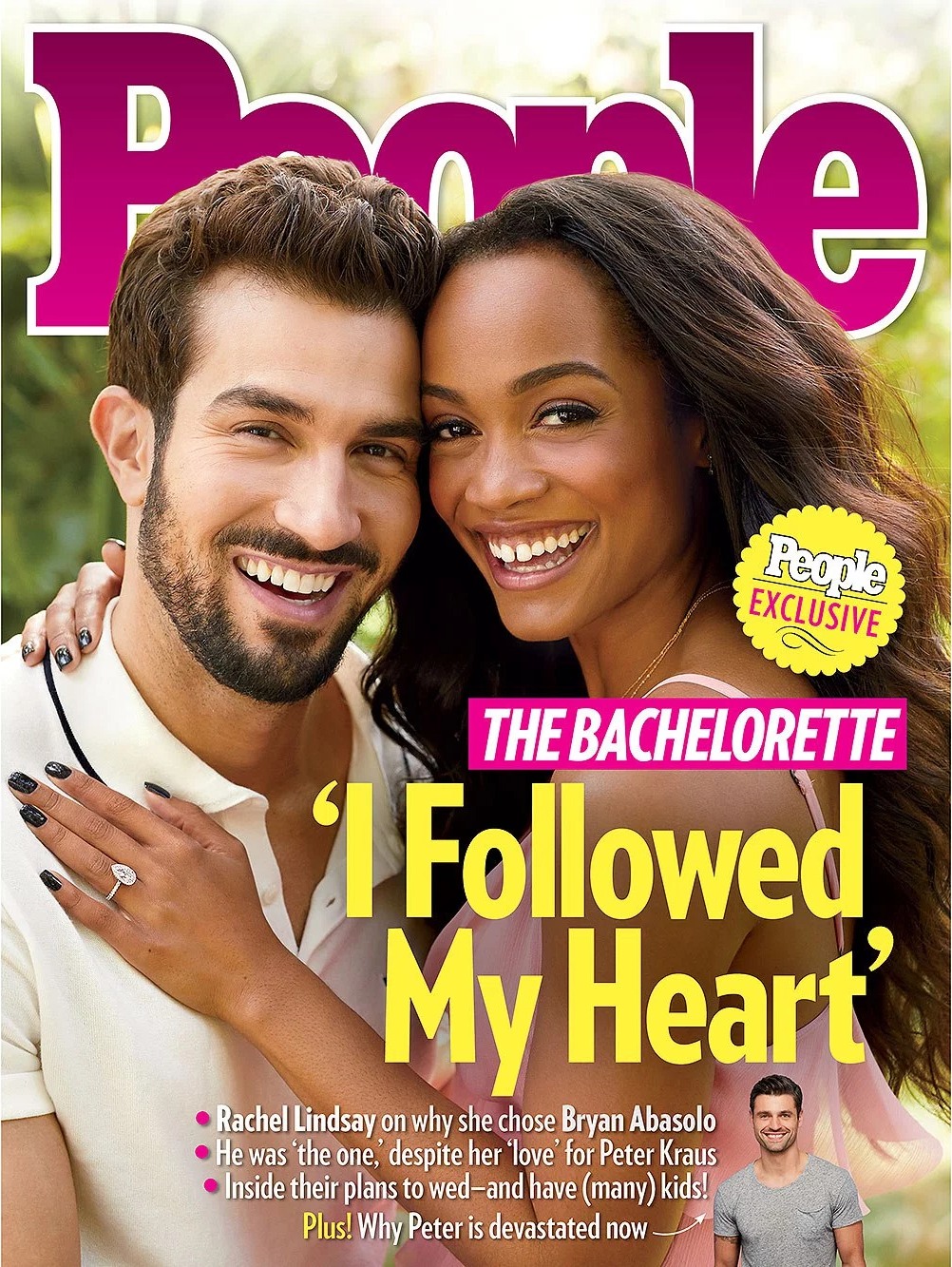 For the first time ever, I found myself watching ten minutes here and there of this season of The Bachelorette. There were so many thinkpieces and analyses about why this season of The Bachelorette was important, mostly because this was our first African-American Bachelorette or first woman-of-color Bachelorette of all time. Rachel Lindsay wore that status well – she wasn't a drama queen, nor did she take a lot of nonsense from the dude-bros who were attempting to woo her. There were first dates and second dates and roses and some racism. There were celebrity cameos and visits to hometowns and lots of smiling and twirling. I can sort of see why some people are into the show, even though I still believe these shows are, like, harbingers of doom when it comes to romance and romantic expectations. Still, Rachel found love. She got engaged on Monday night's episode. She got engaged to Some Dude and now they're on the cover of this week's People.
Rachel Lindsay can't imagine life without her fiancé, Bryan Abasolo. In this week's issue, the 32-year-old attorney from Dallas opens up about why she chose the Miami-based chiropractor and how it wasn't a difficult choice.

"At the end, it was not tough for me," Lindsay says of making her final decision. "Going through it, I felt Bryan was perfect for me. Obviously nobody's perfect — but perfect for me. I still was running away from it. So there were times when I thought, 'Okay, maybe it's not him, maybe it's someone else.' I can't say that the whole way through I was like, 'Yes, it's definitely Bryan,' but I can definitely say that in the back of my mind, 'I really thought it was you.' "

She adds, "I really was scared of Bryan. I really, really was, and I really tried to fight it, and I think I talked about that. I was at this crossroads. I run to the situation that's more difficult for me. It's more of a challenge that I can fix. I'm a fixer, and I run away from the guy who is every single thing that I want because I just think that either I don't deserve it. And for the first time, I stopped running away from it, and I was like, 'Why can't you have what you want?' And that was Bryan."

On Monday night's final episode of The Bachelorette, America watched as Abasolo got down on one knee and proposed to his "soulmate."

"Rachel, when I first stepped out of that limo I knew I was in for the ride of my life," Abasolo, 37, said during the final rose ceremony in Spain. "When we first kissed it was literally like a chemistry bomb had just exploded and I just knew that first night with 100 percent certainty in my heart that we could definitely be something special. You are everything I could ever want in a woman, a wife, the mother of my children. I am completely head over heels totally and absolutely in love with you. I just hope you feel the same."

After Lindsay expressed similar feelings, Abasolo said, "I am the best version of myself when I'm with you — you're so easy and effortless to love. I want to love you for the rest of my life."
Apparently, many people on Twitter did not think Bryan was the guy. They thought Peter was the guy, but Peter wasn't really feeling the whole "proposing after knowing her for a few weeks" thing. Since I'm missing The Bachelorette Gene, I don't know what to tell you. I wish Rachel and Bryan well, but on just a superficial level, I doubt this will last the test of time.
Photos courtesy of Getty, cover courtesy of People.