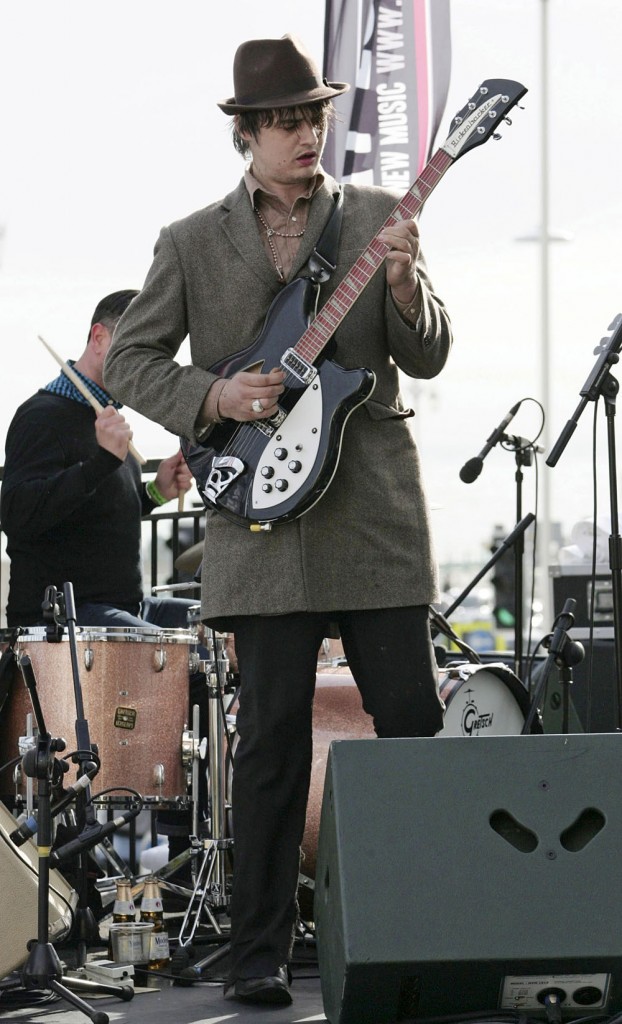 Pete Doherty and Amy Winehouse used to go together like melon balls and prosciutto. You know, they didn't make the most obvious sense together, but once you actually tried them out it turned out to be just the right match. I always imagined them some day getting married and inserting each other with used needles instead of the traditional exchange of rings. But what can I say, I'm a foolish old romantic that way.
In the past year, though, it was starting to seem like my hopes were being dashed. Amy moved to the Caribbean theoretically to get some space and get clean (which is still sort of questionable), while Pete underwent his own sobriety ruse. He managed to stay out of jail since May of 2008. You read that right: a whole freaking year. But for those of you worried this Romeo and Juliet wouldn't find each other and that healthy living might get in their way, don't fear. Turns out Pete hasn't been clean at all: just doing a good job of maintaining the farce.
He was arrested in Switzerland over the weekend after he was found enjoying some heroin for dessert after his lovely British Airways dinner.
ROCKER Pete Doherty has been arrested in Switzerland after being accused of taking drugs on a British Airways flight. The ex-Libertines and Babyshambles singer was detained on arrival at Geneva on Friday after cabin staff found him slumped in a toilet on board. He was escorted back to his economy class seat apparently intoxicated.

A member of the cabin crew found a hypodermic needle in the toilet and the pilot called police to meet the plane… One passenger said: "A few people on the plane recognised Pete and he went to the bathroom more than halfway into the flight… He had been in there for about 25 minutes when the announcement came over the tannoy for the crew to prepare the flight for landing. The crew knocked on the door but Pete didn't come out. They eventually managed to get in 10 minutes before the plane landed. Pete was taken back to his seat and he looked completely out of it. One of the crew took a needle out of the toilet wrapped in a tissue."
[From the Sunday Mail]
According to the Sunday Mail, the British Airways crew contacted the police and Pete was arrested. Apparently all he had to do was pay a fine and leave. I'm not really up on the international drug laws, but somehow I thought bringing drugs and needles onto an international flights – especially when you've got quite the arrest record – would be a bit of a bigger deal. Maybe a night behind bars or something – a token gesture.
Pete was, of course, allowed to carry on his way and even performed at the Neuchatel Open Air music festival, which is why he was in Switzerland. From the way this story is sounding, I'm surprised the Swiss didn't apologize to Pete for the inconvenience, and offer him a fresh supply of new, pointier needles.
Well there goes that pleasant facade about how Pete's all cleaned up and focusing on his music now. I've got to hand it to him – he did a good job. Not of staying sober, but of making us all think he might be sober. I don't think anyone thought he was definitely clean, but there was a real absence of evidence that he was using. And when Pete Doherty's not getting a kitten high, that's practically the same thing as a clean drug test. So long, sober Pete. Hopefully the police in London will be keeping a bit of a closer eye on you.
Here's Pete with his band Babyshambles performing a secret gig on the final day of "The Great Escape" music festival on May 16th. Images thanks to BauerGriffinOnline.