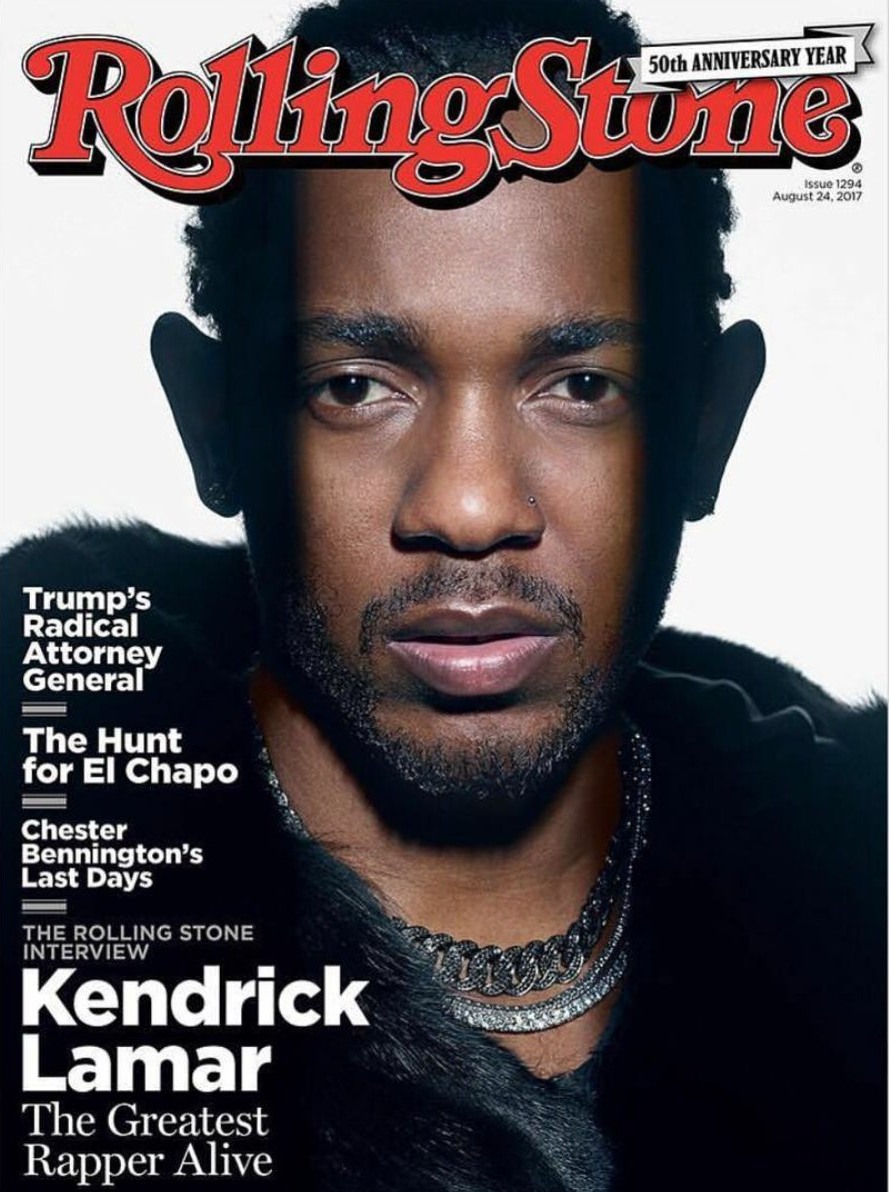 Recently, it's started to feel like the new editorial trend is for magazines to do these crazy "long-read" interviews with celebrities/artists, and the long-reads actually don't have much new information, or even that many good quotes. I'm sure it's always happened, but it seems to be happening A LOT this year. Kendrick Lamar's Rolling Stone interview is not like that. The format is just a straight up Q&A session, and it feels like it was transcribed verbatim. The piece is a really good read – RS flat-out says Kendrick is the greatest rapper alive, which… I think I agree with that? Anyway, the interview got a lot of coverage in the mainstream (re: white) media because he was asked about his involvement on Taylor Swift's "Bad Blood." At the time, I said that Kendrick should be ashamed of himself for participating not only in that messy Mean Girl song, but for actually showing up for the VIDEO too. You can read the full Rolling Stone piece here. Some highlights:
RS: You have that line "Sh-t I've been through probably offend you," and you do that rundown of "murder, conviction, burners. …"
Kendrick: I can't tell you the sh-t that I've been through without telling you the sh-t that I've been through. I'm gonna say, "I know murder, conviction, burners, boosters, burglars, dead, redemption, scholars, fathers dead." I'm-a give you a breakdown of my life from the time I was born all the way till I was 21.

Other than a few lyrics, you've been quiet about Donald Trump. Why?
I mean, it's like beating a dead horse. We already know what it is. Are we gonna keep talking about it or are we gonna take action? You just get to a point where you're tired of talking about it. It weighs you down and it drains your energy when you're speaking about something or someone that's completely ridiculous. So, on and off the album, I took it upon myself to take action in my own community. On the record, I made an action to not speak about what's going on in the world or the places they put us in. Speak on self; reflection of self first. That's where the initial change will start from.

When you did the "Bad Blood" remix with Taylor Swift, were you aware that you were taking sides in a pop beef – since she was apparently addressing Katy Perry?
[Through laughter] No, I wasn't aware of that, bro. That's a great question. No! On the record, no. Which makes it even more funny now, for sure. That's far beyond my concern. I have to stay away from that, for sure. That's some real beef [laughs].

What's your favorite Drake song?
Favorite Drake song [chuckles]. I got a lot of favorite Drake songs. Can't name one off the back. … He has plenty.

Do you prefer him singing or rapping?
Both. Yeah.
That Drake shade is rather beautiful. As is the Donald Trump slam – note how mature and wise Kendrick sounds, especially compared to Emperor Baby Fists' unhinged rants and raves. "It weighs you down and it drains your energy when you're speaking about something or someone that's completely ridiculous." It really does. As for the Taylor stuff… I'm convinced that Kendrick participated in "Bad Blood" as a favor, because Taylor had cited him as one of her favorite new artists (this was years ago), and when they met, he was on camera when he thanked her personally. I think he couldn't believe that this pop-country princess was a fan, and that's how his part in "Bad Blood" came to be.
Also: Kendrick's performing at the VMAs this year (on August 27). Will it be "DNA" or "Humble"? "Humble got more radio play, but just my opinion, "DNA" is the better single.
Cover courtesy of Rolling Stone, additional photo courtesy of Getty.