It's been quite a week for Kim Zolciak. When isn't it, right? This week, like for many of us parents, Kim's kids returned to school (which is nuts because it's the middle of August). For Kim, that included five year-old Kash who started Kindergarten. She didn't take it so well:
Wait – it is okay to drink wine at 7AM, right? Apparently, Kash, who just had his tonsils removed a couple of weeks ago, is shyer than his older brother, KJ (who started first grade the week prior), and that is why Kim was so overcome with him starting school. I can't believe I'm saying this but I get where Kim is coming from. I have a sensitive kid and thought I had to be there to explain him to people. Of course, he proved to have 10 times the mettle I gave him credit for and doesn't need my interference at all. But you must experience them thriving without you first hand to get used to it.
Kim's fans buoyed her with support and similar experiences. It helped ease her nerves and gave her yet another excuse to post to Instagram:
Some of you may remember that Kash was a victim of an unfortunate dog attack last April. Little information was released about the attack itself, like whose dog it was, where it happened, etc. Kim did post much about Kash's surgeries and recovery, which, fortunately, went very well and he's fully mended. Following his recovery, Kim said she was slowly trying to reintroduce Kash to dogs by fostering them. I shouldn't be surprised by this but Kim and I disagree the definition of 'slowly' because two weeks after saying that, she presented a pit bull puppy to Kash for his birthday, which was last Tuesday: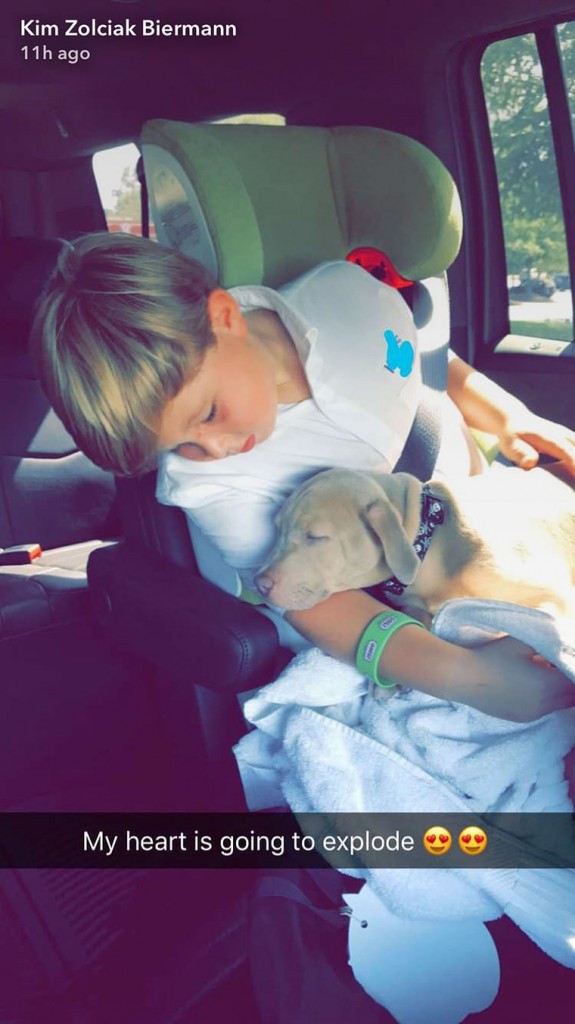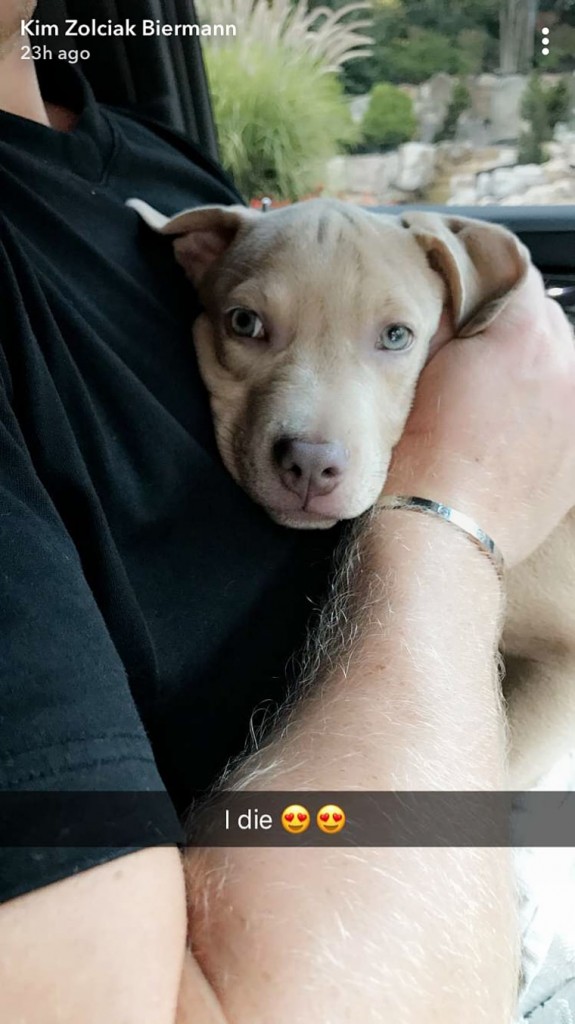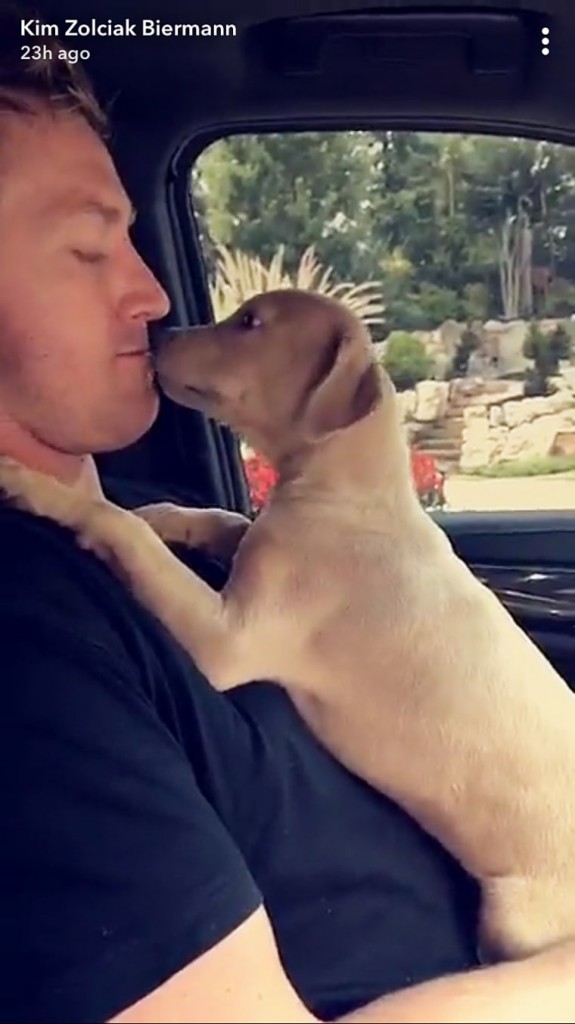 The puppy, whom Kim and husband Kroy named Sailor, is adorable. Kim posted some photos of Kash and daughter Ariana befriending a stray dog while on their vacation in June. At the time, Kim said she was trying to teach Kash proper protocol in greeting and petting dogs they don't know. She indicated that Kash loves dogs so the good news is that it sounds as if he was not emotionally scarred by the attack. However, it sounds like Kim was. During that same vacation, Kim posted a vacation shot to Instagram with the caption, "No place I'd rather be! Happy and at peace (I have had so much anxiety since the incident with Kash often times it's overbearing) thankful I can try and refocus my energy and lift my vibration." This explains the rush of emotions about him going to school and why she got him such a huge gift for his birthday. After all, dogs are a lifetime commitment and they don't stay precious puppies for long. It's a bold choice for a child that required plastic surgery after an attack. Don't get me wrong, I love dogs (and cats) and am thrilled Kash is doing so well but Kim does like to get her name in the headlines. I think the choice of gift, including the breed, was carefully considered… and not just for how Kash would react.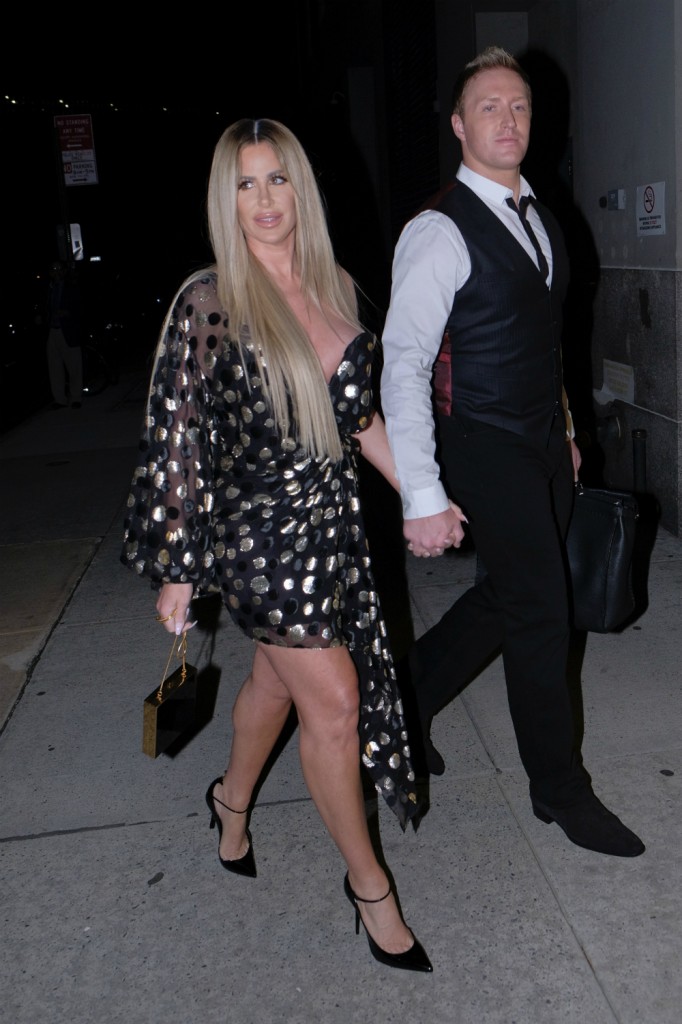 Photo credit: Getty Images, Snapchat and WENN Photos