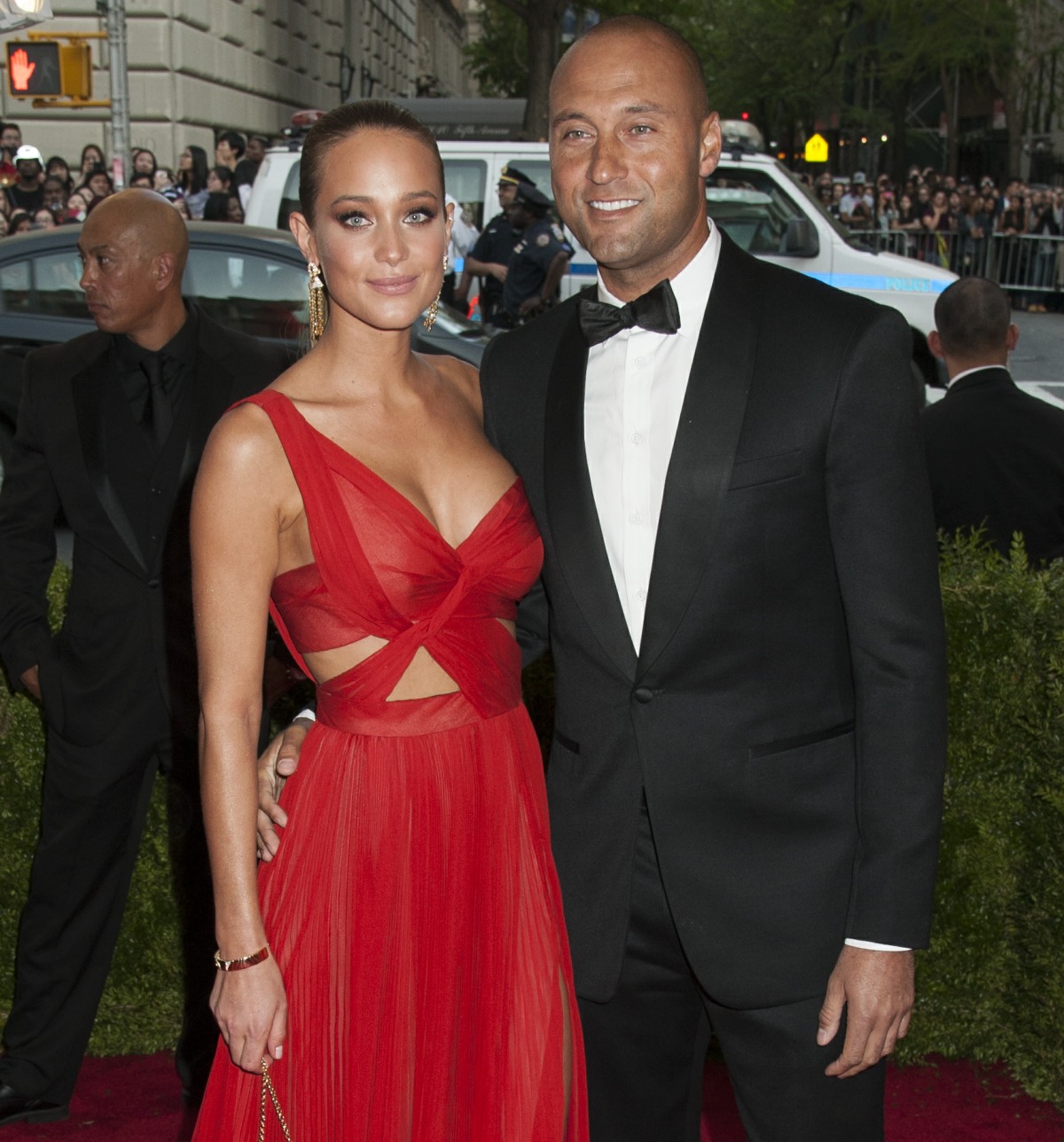 About thirteen months ago, Derek Jeter married his girlfriend Hannah Davis. Hannah was 26 at the time, and Jeter was 42. Jeter was quite a ladies' man for more than a decade, although looking back on those years… he was probably more of a serial monogamist more than anything else. He met Hannah in 2011 and there didn't seem to be any controversy about the relationship – she is beautiful, young and a swimsuit model, so why not? Several months after the wedding, they announced they were expecting. And now they've welcomed their first child!
Big month for Derek Jeter — first he gets the Marlins and now HIS FIRST KID! Jeter's wife, Hannah Davis, gave birth to Bella Raine Jeter on Thursday, August 17, Jeter's media outlet The Player's Tribute confirmed.

The Yankees tweeted a message to Jeter … saying, "Congrats to Derek & Hannah Jeter on the birth of their daughter, Bella Raine Jeter. We can't wait to meet her!"

Question is … with Jeter expected to buy the Marlins, will the kid grow up rooting for Miami or New York!??! Jeter and the Sports Illustrated Swimsuit Edition cover model started dating back in 2011. They got engaged in 2015 and finally tied the knot last year in Napa, California. She's 27. He's 43. Bella is their first child. Back when Jeter retired from baseball in 2014, he said he wanted to start a family. Mission accomplished.
Bella Raine? It sounds very Southern to me, and it also sounds like someone's pseudonym. Like, someone named Mildred von Hamburger would choose to go by the name Bella Raine. In case anyone thought about Christina Aguilera… her daughter is named Summer Rain, which is still so amazingly '70s to me. The name "Bella" is everywhere, but it's my hope that this kid will go by her first and middle name, because Bella Raine has a nice ring to it. Anyway, congrats to Derek and Hannah.
Photos courtesy of Getty, WENN.