Embed from Getty Images
Lena Dunham has a new essay for Lenny about dealing with rosacea which came on after treatment with steroids for endometriosis. (More about her endometriosis here.) At least I think that's what happened, it's hard to discern among all that navel-gazing bulls-t about how happy she used to be with herself and her self image, other than just this one thing – her skin. Apparently the rosacea cropped up, she had a reaction to makeup afterwards, and her whole face was covered with tiny pimples. She then discovered that she was vain, but she only realized that once her skin was blemished because that was the last thing about her outward appearance she was clinging to or something. She always reveled in her beautiful glowing skin prior to this. Before that she was so happy to dress frumpy and do funky things with her hair because what did she care? When her skin broke out all over that was the last straw though and all her insecurities came creeping. Here's some of what she wrote and there's so much more at the source.
She always had high self esteem
I really thought I never cared what I looked like… the basics of bodily self-consciousness — being hyper-critical about my undulating belly, my wide ass, my off-white buck teeth, my whatever being too whatever — have mostly passed me by.

I laughed when I read [mean] comments… Because they didn't know my secret: I AM a model. As Jenni so elegantly puts it, I am Rihanna to myself…

How she got rosacea
A few weeks ago, a course of steroids to treat a massive flare of joint pain and instability led to rosacea's [sic] appearing overnight…

Then, after a long, sweaty night shoot in which I was covered in strange makeup, I washed my face to reveal that the rosacea had become hundreds of tiny pimple-blisters that covered me from forehead to neck…

She had acne in her teens but then got a great dermatologist
But I got used to having good skin over the years. Showing up to photo shoots and being told, "You barely need any makeup at all!"

My skin remained dreamy, even through hormone fluctuations, new medications, and daily, sweaty on-set makeup wear…

Getting rosacea made her realize she was vain
Seven years of being treated in the public eye like a punch line about female imperfection may not have felt like it was wearing me down, but it had actually forced me to rely emotionally on my one area of fully conventional beauty: my perfect f-ng skin.

Now she realizes the negativity has been getting to her after all
But I have been forced to finally mourn the long, slow hit on my self-image. I thought my adolescent attitude, the take-no-prisoners approach to my own look and form, could carry me through the onslaught of critical attention. I thought I could intellectualize it away. But I can't.
I'm really lucky that I don't get adult acne. That can be horrible to deal with from what I understand. After going on birth control I've been getting occasional large pimples for which I discovered Clearasil acne patches. They're clear and cover zits better than any foundation or cover makeup. My friends swear they don't notice them. You just stick one on the zit, the plastic practically blends in and they treat the area. They work fast and are worth every penny.
While I find Dunham grating to say the least, I can't imagine having rosacea all over my face. I would be apoplectic. I mean I get freaked out over one pimple. I'm also much more insecure about my hair, body image and fashion than she is and I work hard on all of that. I guess it makes sense that skin would be Lena's breaking point and she does deserve credit for opening up about it and realizing that she is affected by criticism. She seems somewhat shameless and self absorbed but she's also willing to be vulnerable I guess. Acne is something that a lot of people, teens especially, suffer with in silence. She did dedicate one whole paragraph in this essay to what adolescents must go through, so at least the entire thing wasn't about her.
Here's a photo Lena posted of her acne. She shared in her essay that she had a great dermatologist when she was younger. Surely she can find an excellent cosmetologist. I've seen videos on YouTube of teens covering their acne so well you can hardly tell. This looks like something that can be disguised with the right foundation and shading.
Wrote for @lennyletter about the day I woke up at 31 with my face looking this THIS 🔴🔴🔴 https://t.co/TtFNFSlJDn pic.twitter.com/hPji8gYCMW

— Lena Dunham (@lenadunham) August 22, 2017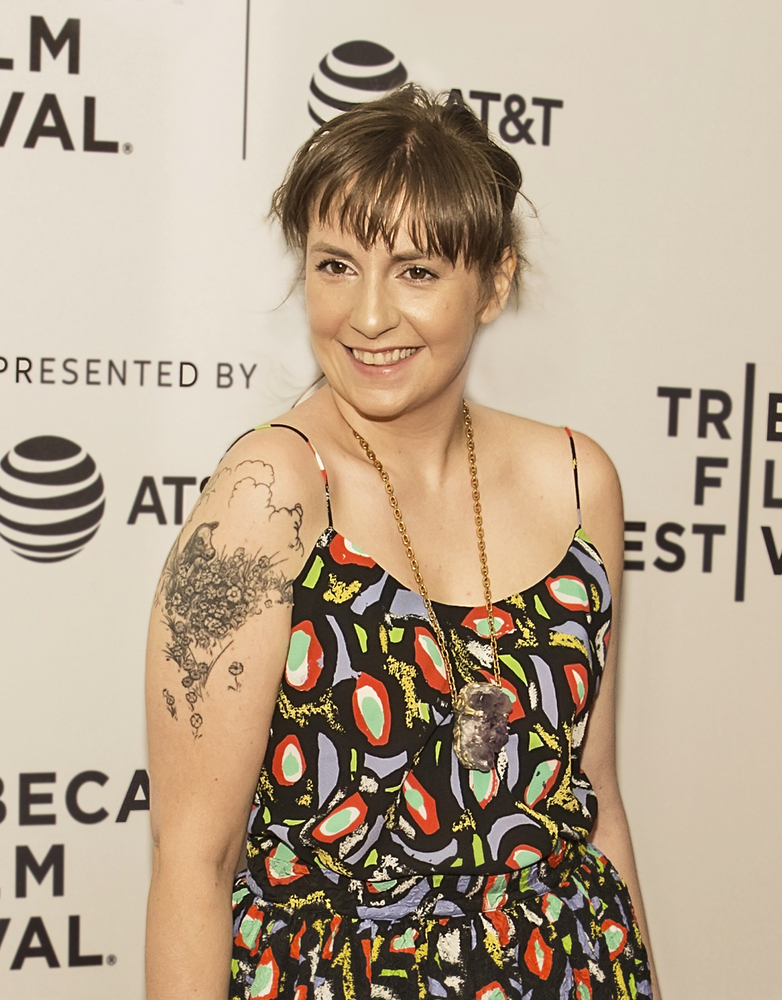 Do you see this photo of Lena clinging to Zoe Kazan? She does that to people often on the red carpet.
Embed from Getty Images
photos credit: PRphotos, Getty, Instagram