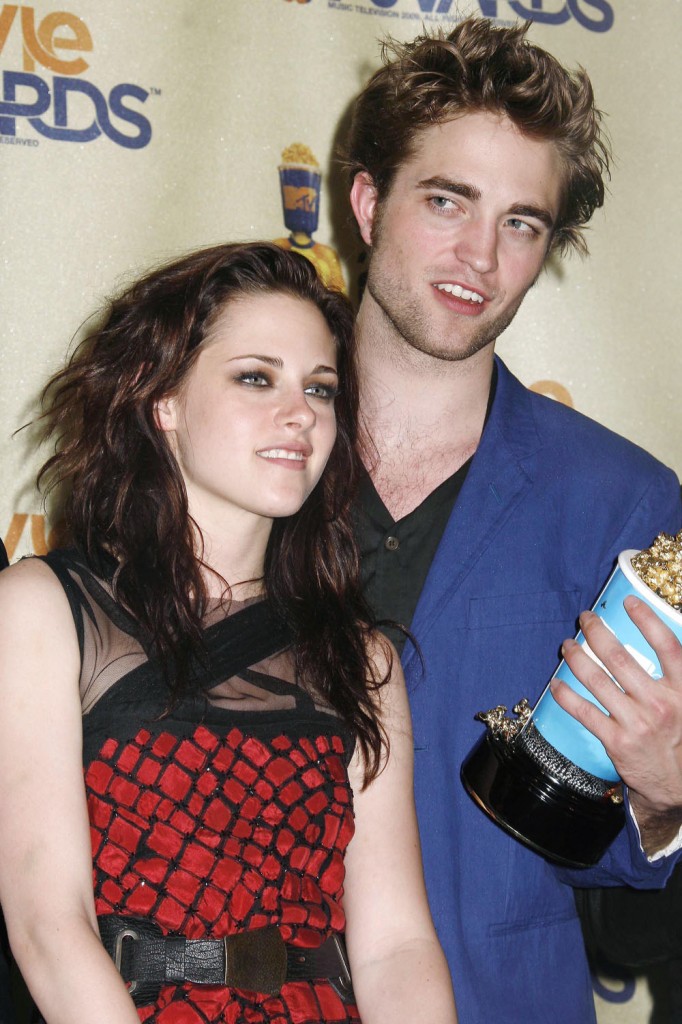 According to a new report, Kristen Stewart is not falling for Robert Pattinson's dreamy eyes and sexy slouch. K-Stew isn't falling for any of this "most beautiful man" crap. She is not following the will of the Twihards. According to the National Enquirer (story via Showbiz Spy), Kristen only "loves" R-Pattz as a friend. Worst. Line. Ever. What's next, Kristen? Are you going to tell my beautiful R-Pattz that of course you love him, you're just not in love with him? And then you'll say "I'm just not attracted to you… but I hope we can still be friends." Sometimes I think Kristen needs a good knock on the head to set her straight. When Robert Pattinson shows you his glorious jaw line, you say "Thank you Pattz, may I have another?" Uh, it's no use talking to her. Apparently, Kristen wants to use their "chemistry" to good use on film, but not in real life. That's another bad line, but it's one only actors can use:
Kristen Stewart has denied claims she's dating her Twilight co-star Robert Pattinson — reportedly telling pals she "loves" him as a friend.

The pair — who play onscreen lovers in the smash hit vampire movie franchise — have been romantically linked for the past few months.

But sources insist Kristen — who is currently in a relationship with actor Michael Angarano — isn't dating the hunky British star.

"She loves Robert as a friend, and of course she thinks he's really hot," a source on the Vancouver, Canada, set of Twilight sequel New Moon told American tabloid the National Enquirer.

"She says as an actress, it helps process along that he's interested in her — it makes it easier for them to build the onscreen chemistry that draws people into their story for the film.

"Kristen just sloughs off any talk of the two of them hooking up. She turns red and says, 'I'm so NOT going there!'"

Twilight director Catherine Hardwicke recently hinted that Robert and Kristen could be dating.

"People love to talk, so let them have fun talking," Hardwicke told E! News. "I think they have an interesting, wonderful connection, so you know…What does dating mean? I don't know. I couldn't say. People love to talk, so let them have fun talking."
[From Showbiz Spy]
Those quotes from Catherine Hardwicke are funny – it's like every single person around Robert and Kristen want them to hook up so badly. Why do we want it so badly? I'd much rather have the Pattz to myself, but I suppose I know that won't happen, so I'm just rooting for him and Kristen. It goes along with my theory that Pattz is totally in love with Kristen, to the point where even random gossip-watchers are following the Teen Beat-style would-be romance. I just want him to be happy. Even if he's not The Most Handsome Man In The World. Speaking of the Vanity Fair poll, there's this little rumor going around the gossip world: Robert Pattinson, Vanity Fair cover boy. Discuss.
Here's Rob and Kristen at the VMAs on May 31st. Images thanks to WENN.com .