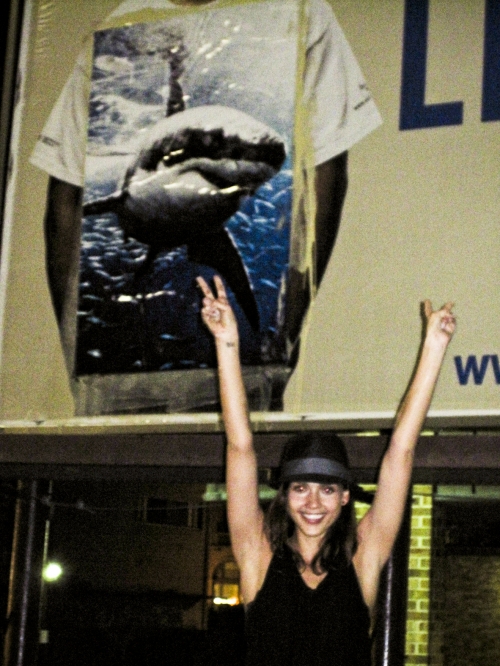 Jessica Alba has issued a public statement apologizing for a bizarre act of guerrilla activism in downtown Oklahoma City, Oklahoma, where she is filming the thriller The Killer Inside Me. Alba used industrial glue to paste posters of great white sharks around downtown Oklahoma City. She then posed for photos standing next to the confusing posters, which were just pictures of scary looking sharks with no message.
Apparently she was trying to help promote shark conservatism in land-locked Oklahoma, which has no great white sharks in any of their aquariums that I could find. Alba's apology explains that she didn't think things through and "got involved in something I should have had no part of."
A red-faced Jessica Alba is apologizing for plastering shark-conservation posters around Oklahoma City – a stunt that sparked a police investigation.

"I got involved in something I should have had no part of," the "Fantastic Four" actress said in a statement Tuesday.

"I realize that I should have used better judgment and I regret not thinking things through before I made a spontaneous and ill-advised decision to let myself get involved with the people behind this campaign."
Her mea culpa came after police opened a probe into the giant shark posters and online photos that showed Alba with buckets of glue at the vandalism sites.

"A number of shark posters were placed around downtown with heavy-duty glue, making them darn near impossible to get off," Sgt. Gary Knight of the Oklahoma City Police told the Daily News on Tuesday.

"It's basically a vandalism case that could involve our new tagger laws," he said. "It will be assigned to a detective, and then we'd send it to the District Attorney's office."

Knight said the 3-by-2-foot posters of great white sharks were slapped on a bridge, electrical boxes and on a United Way billboard.

He didn't to identify Alba by name, but a police report clearly describes the photos of Alba that later appeared on a blog for the conservation group White Mike.

A city worker found the group online, and a local news Web site called TheLostOgle.com posted the Alba photos Monday. The photos then disappeared from the White Mike blog.
[From NY Daily News]
Here's what I think happened – Alba was bored hanging out in Oklahoma city, and met some hot activist guys who convinced her to help them and pose next to the posters while they took her picture. It looks like she got a huge thrill out of it and didn't realize what the hell she was doing. TMZ has more of her statement, and she added "I sincerely apologize to the citizens of Oklahoma City and to the United Way for my involvement in this incident." (One of the shark posters was pasted over a United Way advertisement.)
I looked up the guy White Mike who seems to have met up with Alba in Oklahoma City, and he's been involvedin similar campaigns in Washington, DC and Los Angeles. He says he chose Oklahoma City because "illegal shark fin hunting effects the people of Oklahoma. It affects us all… By some estimates, over 90% of the shark population has been lost in the last 30 years… There is a dire need for us as a human race to try and stop the devastation of the Great White Shark. International pressure is the only way to do it and that starts in Oklahoma, the heartland of America." It looks like he just got much more attention for his cause, thanks to Jessica Alba not thinking things through.
Photo Credit: The Lost Ogle via D-Listed