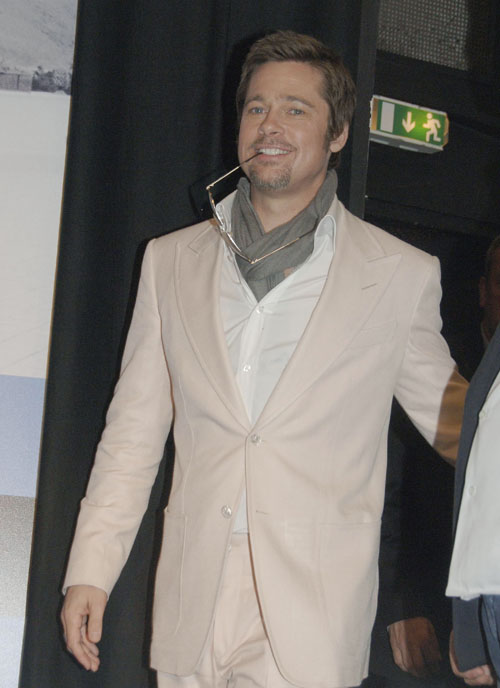 It's never been any kind of secret that Brad Pitt loves his contemporary and modern art. He loves big, expensive pieces, too – big marble tables, Banksy sculptures, and now, a large, million-dollar oil painting by German artist Neo Rauch. Yesterday, the news broke that after Brad had gone to Washington to visit Angelina, he jetted off to Art Basel in Switzerland. Early indications were that he was looking to buy a work by American artist Jim Hodges. Turned out, Brad got into Neo Rauch instead. I was sort of rooting for the Hodges, actually. His work was prettier, and nine-foot wide racecar paintings aren't for everyone – even if Brad meant this purchase to be a belated birthday gift for Angelina's 34th.
A belated 34th birthday gift for Angelina?

On Tuesday, Brad Pitt dropped major bucks at Art Basel, an international art show for modern and contemporary works in Basel, Switzerland.

The actor spent $956,000 on a Neo Rauch oil painting, entitled Etappe, according to Bloomberg. The 9-foot-wide painting, done in 1998, shows a swirling view of a driver behind a red racecar, with workers nearby carrying hoses.

According to the Wall Street Journal, Pitt eyed the painting for several minutes while rubbing his goatee and fidgeting with his tweed hat. He initially walked away. "He's on the fence. Nothing wrong with that, I guess," New York dealer David Zwirner said.

But within minutes, Pitt returned with Los Angeles collectors Eli and Edythe Broad and made the big purchase.

It wasn't the first time Pitt splurged on art.

Last year, he bought a white marble table by a Dutch designer and an aluminum rug by a Colombian designer at the same show.
[From US Weekly]
According to the tabloids, Brad's passion for art has consistently been a sore spot in his relationship with Angelina. First, Angelina wanted Brad to simply get rid of (sell?) his art collection. After that, it seemed the millions of dollars Brad dropped yearly on his art was one of their biggest fights. Most of Brad's pieces will likely grow in value through the years, though. If he's serious about his passion, he will likely hold on to this stuff for decades, or perhaps never sell the stuff. Who knows? Maybe Angelina told Brad before he left, "Buy me something with racecars, please!"
Brad Pitt is shown in the header on 5/20/09 at Cannes. Credit: Fame Pictures. Picture below is of Pitt's new purchase, David Zwirner's 1998 piece Etappe via Art Basel's website