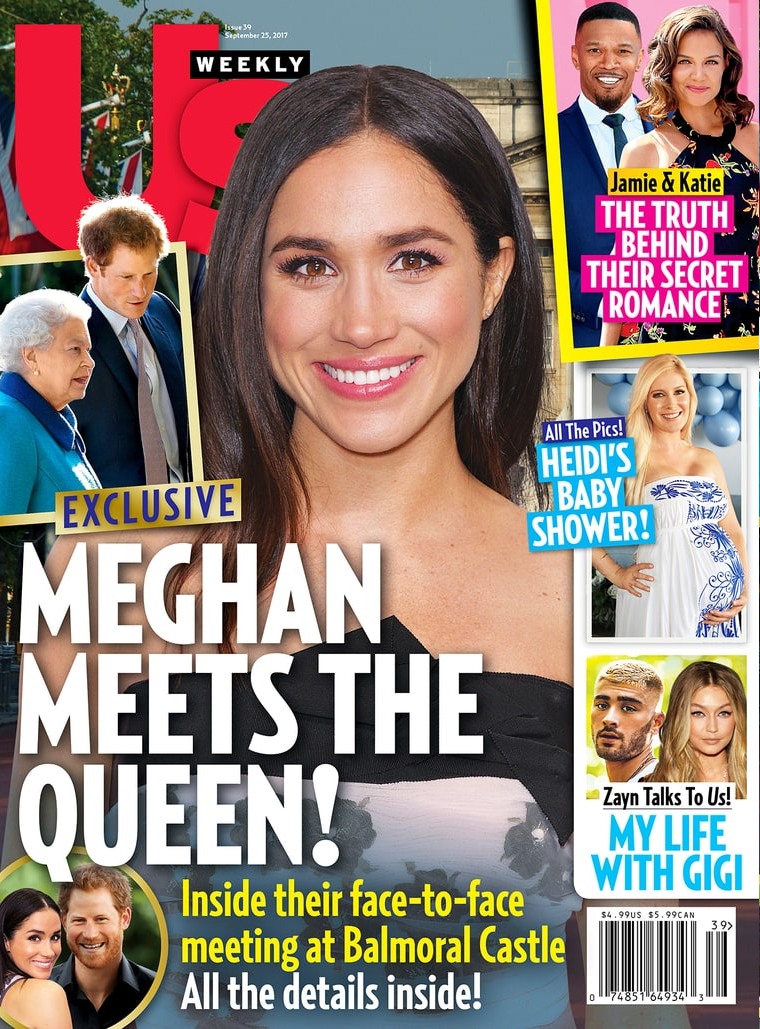 Us Weekly has an answer to a question I had following Prince Harry and Meghan Markle's whirlwind African adventure. Meghan and Harry spent a little less than a month in Botswana, where he likely proposed to her but shhh, we're not supposed to know that yet. They returned to London in time for Harry to participate in the "garden remembrance" thing for his mother's death, which he did with William and Kate (although he doesn't even remember seeing Kate). Meghan only returned to Toronto this week. So I wondered: what were Harry and Meghan up to in those days between the return to London and Meg going back to Toronto? As it turns out, Us Weekly claims that Harry took Meghan up to Scotland to introduce her to the Queen. Whoa.
She had met the parents and charmed her prince's older brother. But there was still one looming introduction that gave Meghan Markle pause. A friend says the Toronto-based Suits actress was "a little nervous" at the thought of meeting boyfriend Prince Harry's beloved grandmother, Queen Elizabeth II. And though it had taken Duchess Kate five years to score face time with the 91-year-old monarch (they chatted at a 2008 royal family wedding), Markle knew she would be curtseying to Her Majesty before year's end. "He's keen to make an introduction," a Harry pal said this spring. "It will happen when it's the right time."

That perfect moment came September 3. Fresh off their three-week vacation in Botswana and Zambia — a getaway one source dubbed "the trip of a lifetime" — the royal whisked 36-year-old Markle 500-plus miles north from his two-bedroom Kensington Palace flat. With his dad Prince Charles and stepmother Camilla, Duchess of Cornwall staying at Birkhall, their 53,000-acre estate in Aberdeenshire, Scotland, "Harry decided to take Meghan to visit as he hadn't been up yet all summer," a Harry source explains in the new issue of Us Weekly.

Another motivation for the two-day trip, says the source: "He wanted to introduce Meghan to the queen." So 24 hours after they arrived September 2, the duo popped over to Balmoral Castle, the queen's summer residence, seven miles away. "It went well," says the source. "It'll no doubt be the first of many encounters."

The next could involve the logistics of a royal wedding. While a source says Harry intended to propose during the African holiday — he created a ring using diamonds from a brooch that once belonged to his mom, Princess Diana — another insider says the former Apache helicopter pilot, 33, "wouldn't tell anyone for a while." Keeping his desire for secrecy in mind, select palace aides have already begun preparations for making an engagement proclamation. "These things are planned well in advance; it's not easy to roll out that kind of news," explains the source. "Everyone knows how happy Harry is and is excited for the day it's announced."

For now, the pair are reveling in a triumphant visit. "The entire weekend was a success," declares the source. For Harry, notes the source, "he was able to introduce someone he loves to someone he cares for deeply."

And the L.A.-born actress received rave reviews. Though the source notes much has been made about the fact that Markle is a commoner, raised by clinical therapist Doria Ragland and former Married. . . With Children lighting director Tom, "she fits perfectly into the family," says the source. "The difference in backgrounds means absolutely nothing." The Northwestern University theater and international studies double major, wed briefly to talent manager Trevor Engelson, "gets on fabulously with Charles," says the source, "as do she and Camilla."
I actually buy that Meghan gets along very well with Camilla and Charles – Harry doesn't have the same struggling relationship with his father that William has with Charles. Harry and Charles are reportedly pretty close, and Harry spends more time with Charles and Camilla than William and Kate spend with C&C. Plus, Charles gets along well with Americans and… I don't know, I kind of think Meghan is Charles' type too. I could just see Charles really liking her. As for the introduction to the Queen… well, who knows? It will be interesting to see if the royal courtiers have some sh-t to say. If the meeting went down, I suspect it happened as Us Weekly said – that Harry took Meghan to Scotland, that the meeting was pretty brief and at Balmoral, etc.
Photos courtesy of Getty, cover courtesy of Us Weekly.