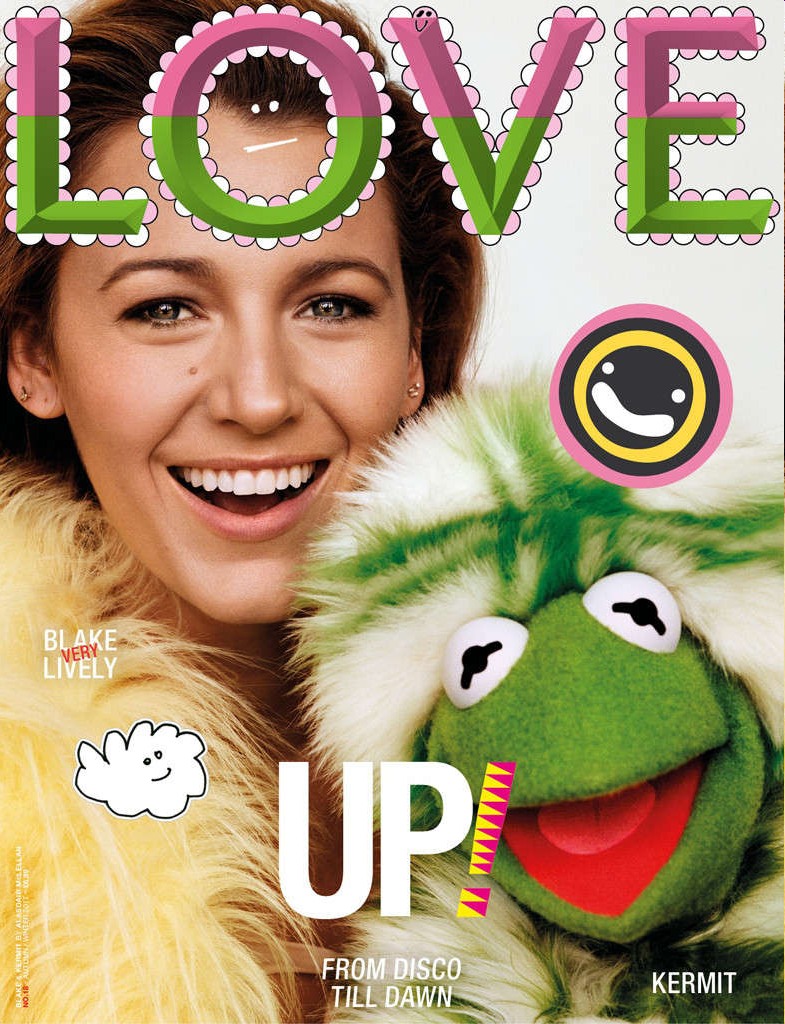 This is honestly one of my favorite things in the world, when magazines give their covers to Muppets. Miss Piggy is obviously my favorite, as she is the Elizabeth Taylor-Burton in any given Muppet situation. Miss Piggy has amazing skin, eyelashes for days and her wig game is on fleek. PLEASE. Miss Piggy should be on EVERY cover. Instead, Love Magazine relegated Piggy to the inside of the magazine and put Kermit (PIGGY'S EX!) on the cover with BLAKE BLOODY LIVELY. I am so mad on Piggy's behalf. Who made this editorial decision? Miss Piggy should sue. She's the star, not assy Blake or milquetoast Kermy.
That frog-stealing hussy Blake was the one who posted these Love Mag photos on her Instagram, because she's shameless and thirsty. She's trying so hard to get a rise out of Piggy, but Piggy won't engage with her Becky bullsh-t. Piggy did engage – likely under duress – long enough to pose for one photo with Blake, which I assume was meant to be the cover because it's a far superior photo. All Love Mag needed to do was Photoshop out the basic blonde.
At the end of the day, Piggy might be playing Blake though. Look at this quote that Piggy gave to Love Mag: "I love dropping in on Blake. She's funny, lovely and talented…and of course it doesn't hurt that her hunky husband Ryan likes to walk around the house with his shirt off." DO YOU HEAR THAT BLAKE??? Piggy is coming for your husband. And when the Piggy comes for your man, there's little you can do to stop her. Hear that Kermy? Piggy doesn't need you anymore either.
Also: hahaha, like Kendall Jenner's dead eyes would ever be a threat.
Photos courtesy of Alasdair McLellan for Love Magazine.