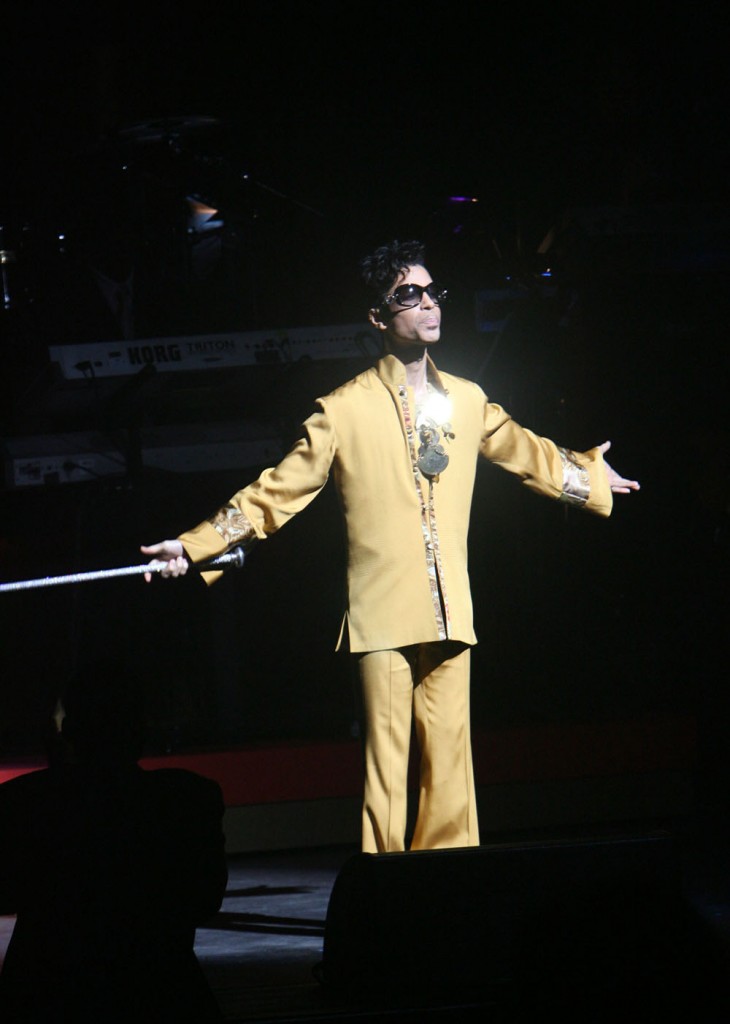 Sometimes because of his little kid-like body, I forget how old Prince really is. A whopping 50-years-old. Okay 50 is not that old, but whenever I hear "hip replacement" I tend to think of someone in their seventies. And you could tell me Prince was really 72 and I'd probably believe it. Of course you could say he's really 32 and I might go for that too. It's just insanely hard to tell with him.
Prince has long been plagued by rumors that he needs hip surgery, and now it's gotten so bad that he needs a double hip replacement. As a devout Jehovah's Witness, Prince cannot have the surgery because he might need a blood transfusion at some point during the procedure.
Prince was on the prowl again last night, making an unscheduled appearance at the Apollo Theater's 75th anniversary celebration to toast Patti LaBelle. But the real buzz on Prince is that his much reported hip problems of the past have now turned into need for a double hip replacement.

Unfortunately, thanks to his practice as a Jehovah's Witness, Prince still refuses surgery. JW's don't believe in blood transfusions. "He's in a lot of pain," said a source who was backstage with him last night at the Apollo. "He's popping pain killers and hoping it will all go away."

But it won't. Back in 2005 reports surfaced that Prince needed one hip replaced. He declined. Then again in 2007 and 2008 came more reports that he'd finally agreed to "secret surgery."

Now the diminutive R&B star is walking with a diamond-studded stick to keep him upright. It's the same stick I saw him with two nights ago at a post-Tony Awards bash. I'm sure he'd rather have a Raspberry beret or a little red Corvette, but for now Prince is stuck with the stick.
[From Showbiz411]
Obviously everyone's medical issues are different, and Prince's interpretation of his religion is solely up to him. However when I looked it up, several sources said Jehovah's Witnesses can generally have artificial hip replacement surgery. There's medication they can take that can help them build up "blood stock" and several surgical techniques that can be used to salvage a person's own blood. The Witnesses beliefs about blood transfusion come from four parts in the Bible that are generally interpreted as having to do with eating blood by other Christians and Jews. However they interpret "consuming" in a different way.
I assume there must be a good reason Prince hasn't had bloodless surgery – and maybe he will. Reading up on Wikipedia about it, it seems like a reasonable possibility. Perhaps there's a technical or spiritual issue standing in his way. I really doubt popping a ton of pain killers is going to be a decent long-term solution. Bu it sounds like he's in a lot of pain; it's reasonable to think he's done/doing everything he can. I wish I could tell Prince to get on Wikipedia, because it seems like there's a way to work around this. But I'm guessing his doctors know what they're doing…
Here's Prince with Mariah Carey at the Apollo Theater 75th anniversary gala in New York on Monday. Images thanks to WENN.com .