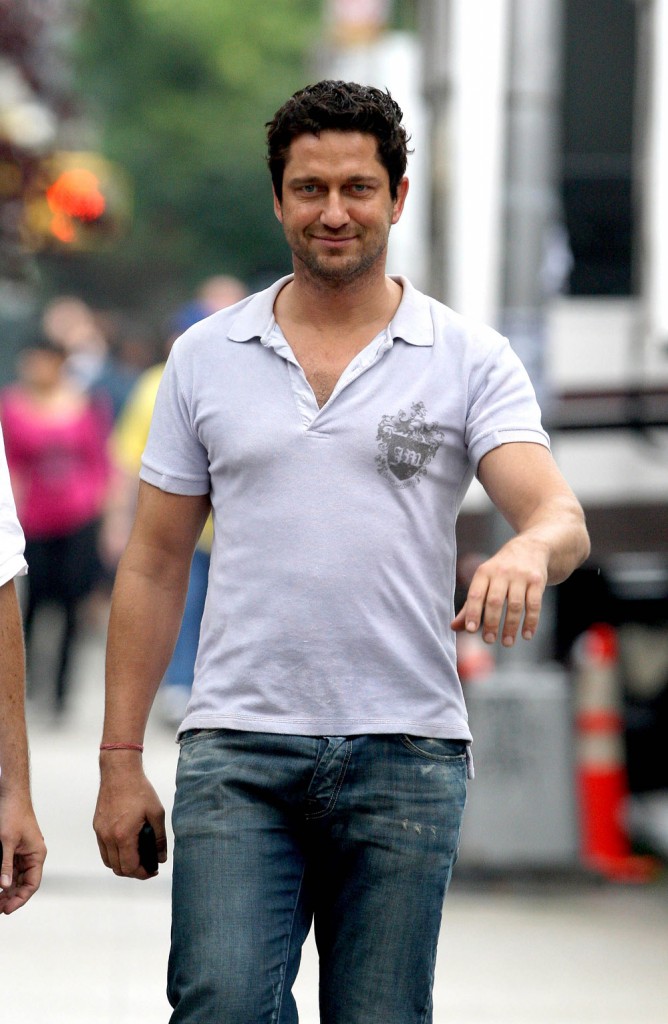 Isn't my boy Gerard Butler looking sexy? He should only wear tight shirts like this. He's in New York right now, where he has already started filming Bounty Hunter, with Jennifer Aniston. Some are claiming that Bounty Hunter is just a variation on Mr. and Mrs. Smith, but we'll see. Allegedly, it's supposed to be more of a comedy.
Gerry's got The Awful Truth (with Katherine Heigl) coming out next month, and he's started to do some press for it. This interview, from Scotland's Daily Record, is really long and quite charming, but I still edited out some parts. If you love Gerard, check out the whole interview though. He's so lovely. Here he is, talking about when he first started getting famous in America, in 2003, when he was promoting Lara Croft, Tomb Raider: Cradle of Life. He also totally denies dating Jennifer Aniston and Cameron Diaz!
FILM giant Paramount made Gerard Butler go on a media course after he made a joke about Angelina Jolie. The big-mouthed 39-year-old Scot starred with the Oscar-winning actress on 2003 film Lara Croft: Tomb Raider: The Cradle of Life.

Cracking up, the Glaswegian laughed: "I sat down and said, "Hey, you know, she may have won the Oscar, but I think I really had to bring my acting down to do these scenes with her.'"

"It was a complete joke. You read it in print and you think it sounds terrible. Angelina was cool. She said she knew I was joking, but Paramount said I was going on a media training course."

So did the media training work? Not exactly, Gerard still likes to tell it like it is. For new rom-com film The Ugly Truth, in which he plays a chauvinistic character, Gerard, who flexed his muscles in 300 admits: "I think every man has a bit of a sexist and a chauvinist in him if he's being honest."

And what about Jennifer Aniston who he has been linked with and who he will be starring with in new film Bounty Hunter.

"I'm working with Jennifer so obviously I'm having a thing with her," he said.

Leaning forward in the American hotel room where he is doing the rounds for The Ugly Truth, he claims the long list of women he's supposedly dated, including Cameron Diaz, are not true.

"None of them are true. I've managed to have a decent long-term relationship that nobody ever found out about.

"But meanwhile, apparently, I'm dating Jennifer Aniston, Cameron Diaz, anybody that I've ever been spotted talking to or becoming friends with. None of those are true."

Certainly Gerard bristles if you suggest he's best known for his macho roles.

"I don't think I am," he said. "I think if you watch Nim's Island, I'm exceptionally geeky. I think that I try and play roles that are vulnerable, lost or crazy. It's just maybe the macho ones I've played have been more memorable movies. I think there's many different sides to me. I try to embrace all of them. So there is a macho element to me, but I also have my feminine side and my vulnerable side. I'm just like everybody. I'm not just one thing."

Along with Amy Winehouse's producer Mark Ronson and The Strokes frontman Julian Casablancas, Gerard has opened up his own restaurant in Los Angeles called Shin, which serves Korean barbecues.

He said: "It's a bunch of my buddies. They also are involved in Geisha House and another and they asked if I wanted to be a part of it. It was a fun idea and Simon Chin who owns it actually cooked me a Korean barbecue at a party about eight years ago when I first arrived in Hollywood and I never forgot it."

The Ugly Truth is released on August 14. Gamer is out on September 4.
[From The Daily Record]
Oh my God, Gerard Butler is a silent partner in a restaurant? Must. Stalk. Korean. Barbecue. Also, I really like when he talks about his "feminine side". I would do filthy things to that feminine side. I have a fantasy where Gerard comes up to me and starts telling me how vulnerable he is. And, yes, in that fantasy, he's wearing a tight white shirt. I have totally mixed feelings about The Awful Truth, though. I will literally watch anything with Gerard in it (thus, I've seen Dracula 2000 about a dozen times), but Katherine Heigl leaves me cold. I'm torn between my stalking instinct (mmm… Korean barbecue) and my gag reflex whenever I hear Heigl's voice. Decisions, decisions.
Here's Gerard walking to the set of 'The Bounty Hunter' in New York City yesterday. Images thanks to INF Photo.