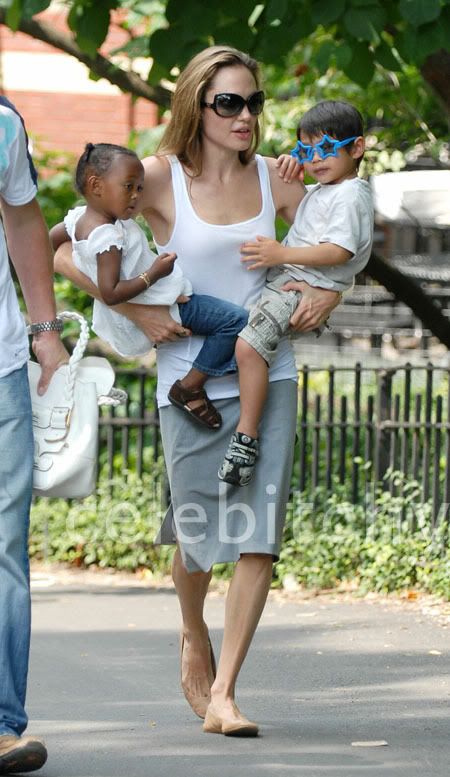 It sells a lot of tabloids to claim that Brad Pitt and Angelina Jolie are breaking up, and they seem to have broken up in the glossies at least three times this year despite the fact that they've only been apart for a few days here and there. This is also one of many times that Angelina has been said to have some medical problem, because it's easy to speculate that she's unhealthy based on how thin she is.
This week is no exception, with The Enquirer claiming that Brad and Angelina had a huge fight and that Brad wants to keep the kids once their relationship inevitably ends. The only thing substantive they seem to have to support this is the fact that Brad told Maddox to say "excuse me" when he interrupted the guide at the Chicago Field Museum, which made Angelina give Brad him a dirty look. There was also a supposed screaming match at home between the two, but to me it sounds like only that detail from the museum is true and that the screaming match was fabricated, because the details are more vague:
When the museum guide was showing the family around the exhibits, excited little Maddox… couldn't help but butt in on the guide's conversation," an insider explained.

"Brad scolded Mads and told him that he needs to say: 'Excuse me, sir," and 'Pardon me, sir' before he jumps in and starts asking questions.

"Brad was trying to teach him some manners, but Angelina was giving Brad dirty looks for scolding Mads."
[From The National Enquirer print edition, September 3, 2007]
The article goes on to say that it happened again at home the next day where Maddox interrupted them and Brad told him to say "excuse me" which resulted in a screaming match because Angelina didn't agree on that issue. If these two break up, Brad will want to make sure that he retains custody of the children, The Enquirer claims.
My husband and I disagree about how to discipline our kid all the time, and we're not going to break up over it. It's hard to reach a common ground on that issue. Angelina rolling her eyes is hardly enough for a full story, so they have to say they were yelling at home over the same thing. It could be true, but I doubt it.
Meanwhile Star takes it to the next level – death – and says that Angelina is suffering from hepatitis. It seems like speculation from journalists who looked at pictures of how thin she is. Remember when The National Enquirer said back in April on the cover that she was suffering from some "Deadly Disease" and then claimed inside that it was anorexia?
Star says that "friends fear" and "doctors, who have not treated the actress, say." That sounds to me like they're making it up and covering their asses.
But now a source tells Star that friends and family of partner Brad Pitt fear that all these symptoms may be pointing to something far more serious than an eating disorder – they're afraid Angie could be fighting a potentially deadly liver disease!

"Angelina has had a lot of doctor's appointments – some she's gone to, some she's skipped," a source notes. Meanwhile, adds the insider, Brad has confided to family members that the 32-year-old actress has an illness that isn't going away, something she "will have to live with… and control with medication."

Brad, says the source, finally "convinced Angelina to go see a doctor because he was afraid something was very wrong with her. She doesn't have much of an appetite and is eating very little. Tests were run and Brad's family were led to believe that her illness might be something like hepatitis, but since then he's clammed up. I think he knows what's wrong, but he's keeping it from people."
There's no evidence that Angelina has hepatitis apart from that supposed vague statement Brad gave. They go on to quote doctors who talk about the disease. Angelina is also said to be having mood swings and fighting with Brad a lot.
In verifiable Brangelina news, the two skinny superstars helicoptered to the Hamptons this weekend to host a benefit for Brad's Make It Right project, which builds environmentally-friendly homes for Katrina victims. I wonder if a caterer witnessed Angelina holding onto a chair for support and if that's going to turn into another medical scare. Maybe she asked Brad to get her wrap from off her chair and that means she's ordering him around.
When it comes to these two, I won't believe it's true without decent evidence. It could be partially true, but the worse their relationship and the more fragile the state of Angelina's health, the more tabloids sell.
Angelina is shown in Central Park with Pax and Zahara on Saturday. Brad is shown at a NY park on the upper east side on Sunday with Pax and Zahara. Maddox was also there. Thanks to Splash News for these photos. The Enquirer and Star covers are our own scans.