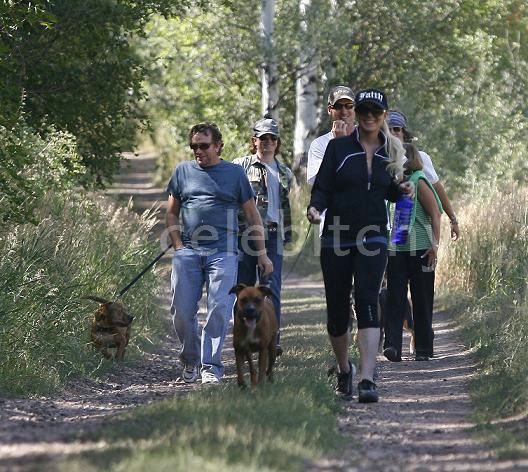 The last time Lohan was in a country club rehab, one of three she's been in this year, she was said to have been caught by staff mixing whippets with cold medicine. The contraband was slipped into Promises by an out patient. She was also said to have skipped AA meetings and group therapy.
Now that she's in Cirque Lodge near the Sundance resort in Utah following her latest DUI, her level of commitment to recovery is just about the same – nil. She was supposedly spotted out buying beer, and she's said to have been accused by staff at the facility of doing drugs. What's more is that she snuck out with some random male patient there and doesn't want to do her required chores. It's all just typical Lindsay.
Since checking into Cirque Lodge earlier this month, Lindsay has acted like a diva who doesn't think rules apply to her. "Lindsay got called into the director's office on Aug. 15 and was questioned about drugs," says the source. "When ordered to take a drug test, she reluctantly complied but screamed and cursed at the medical director before storming out [sic] the room. She was told that if she couldn't conform to the program she'd have to leave."

Although her reps deny the story, sources say Lindsay has broken other rules, including leaving the grounds unsupervised. "On her second night, Lindsay snuck out with an older guy she met at a meeting," says another source.

"That's a no-no, and Lindsay knows it." The actress isn't working very hard on her recovery either, sources reveal. "She shows up at meetings late and sits there writing in a journal," says the source. "Recently, she's been skipping meetings altogether."

Not only did Lindsay sneak in a prohibited cell phone, she's also been demanding star treatment since she arrived, sources say. The luxury rehab, which costs about $30,000 a month, expects patients to work as well as attend group counseling sessions and one-on-one meetings with doctors, psychiatrists and other medical professionals. When told what her daily schedule would be, she said in a sarchastic voice: "F-ck that! I don't think so." One source says, "All the residents help out with course, but Lindsay doesn't lift a finger." Lindsay also refuses to eat and throws plates in the garbage when the chef won't make what she wants, sources added.
[From Star Magazine, print edition, September 3, 2007]
As if all that wasn't enough, ever-reliable News of the World is claiming that Lindsay was busted having sex with another patient – a guy – in a bathroom at rehab. She came out with JBF hair and all red-faced after they were heard making grunting noises in the loo.
None of this is surprising. She is even staging photo-ops from rehab, and gave OK! an exclusive of her sitting there all demure-looking reading an AA book.
Lohan copped a plea for her second DUI, a cross-city chase in which she carjacked the SUV of a guy she met that night, took two passengers hostage and ran over another guy's foot. She will serve just one day in jail after all that. She claimed in an all-too-perfect statement that she's an addict and takes responsibility for her actions, that's she's ashamed and hopes to change. If it was written with a lot of typos and rambling references to political figures and celebrities, I would have believed the statement was from her. As it is, she's showing just how willing she is to change by continuing to behave like a diva in rehab. At least she's still alive and hasn't killed anyone yet.